24 Feb

Migrant Rights and Migrant Melodrama: or Elvira Arellano as Suffering Mother and Evil Mother, Criminal and Saint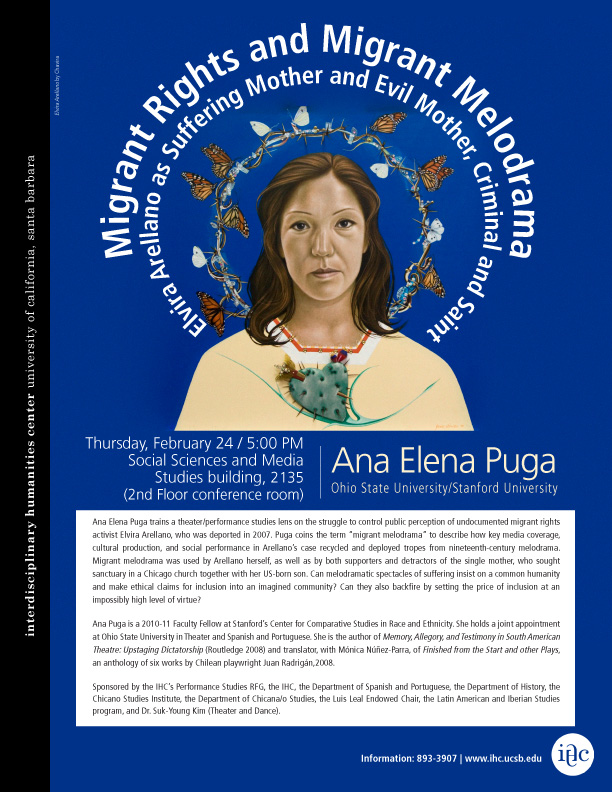 Ana Elena Puga (Ohio State University/Stanford University)
Thursday, February 24 / 5:00 PM
Social Sciences and Media Studies building, 2135 (2nd Floor conference room)
Ana Elena Puga trains a theater/performance studies lens on the struggle to control public perception of undocumented migrant rights activist Elvira Arellano, who was deported in 2007. Puga coins the term "migrant melodrama" to describe how key media coverage, cultural production, and social performance in Arellano's case recycled and deployed tropes from nineteenth-century melodrama. Migrant melodrama was used by Arellano herself, as well as by both supporters and detractors of the single mother, who sought sanctuary in a Chicago church together with her US-born son. Can melodramatic spectacles of suffering insist on a common humanity and make ethical claims for inclusion into an imagined community? Yet can they also backfire by setting the price of inclusion at an impossibly high level of virtue?
Ana Puga is a 2010-11 Faculty Fellow at Stanford's Center for Comparative Studies in Race and Ethnicity. She holds a joint appointment at Ohio State University in Theater and Spanish and Portuguese. She is the author of _Memory, Allegory, and Testimony in South American Theatre: Upstaging Dictatorship_ (Routledge 2008) and translator, with Mónica Núñez-Parra, of _Finished from the Start and other Plays_, an anthology of six works by Chilean playwright Juan Radrigán (Northwestern University Press 2008).
Sponsored by the IHC's Performance Studies RFG, the IHC, the Department of Spanish and Portuguese, the Department of History, the  Chicano Studies Institute, the Department of Chicana/o Studies, the Luis Leal Endowed Chair, the Latin American and Iberian Studies program, and Dr. Suk-Young Kim (Theater and Dance).