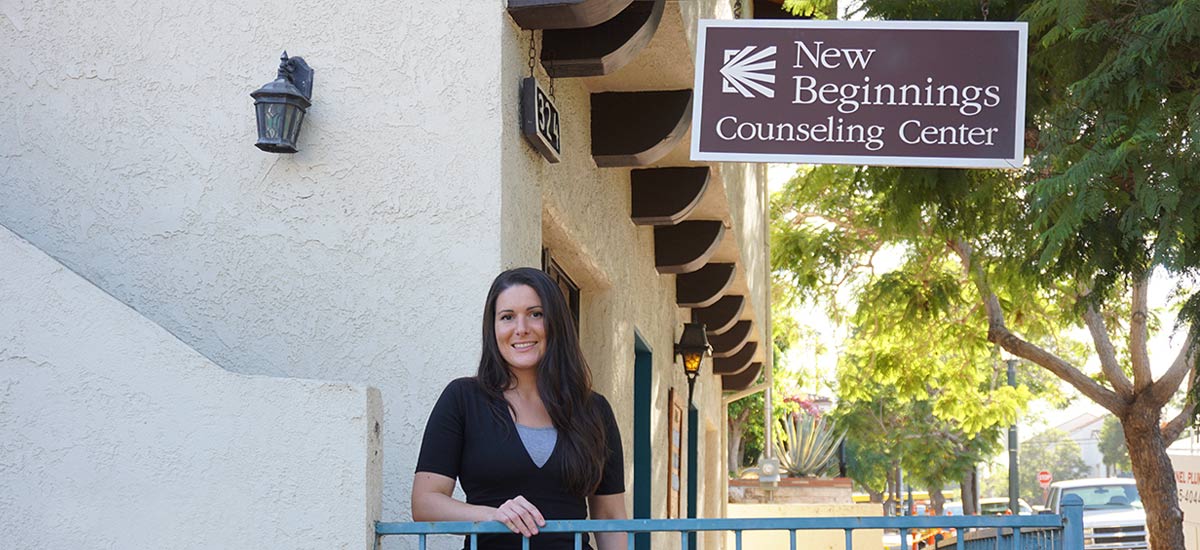 21 Oct

IHC Public Humanities Graduate Fellow Intern Olga Faccani

Tell us about the projects you have been working on this summer at New Beginnings.  

I've been working on a variety of different projects at New Beginnings this summer, all under the common goal of establishing their Safe Parking Program® as an evidence-based model. Safe Parking Program® is the nation's leading solution to provide safe, overnight, designated parking spaces, case management, and housing services for 150 people who live out of their vehicles in our community. The program is the first of its kind in the United States and is the best practice model program for serving the vehicular homeless. While the program has been featured in dozens of national and international media outlets (including HBO's VICE News, the LA Times, and Rolling Stone magazine, among others), I was involved in researching the effects of the program on a more local level. I delved into the specifics of Safe Parking in our community and worked closely with the Development Manager and Executive Director of the organization to structure and coordinate the task of establishing the program as evidence-based (gathering and analyzing data to measure program outcomes). I also worked on improving the Safe Parking Program Manual in preparation for its second edition, to teach other communities how to implement similar programs. Since dozens of communities have already started implementing similar programs on the West Coast, it is important to develop a fidelity measure to ensure that the basic components of the program remain consistent. This kind of work made me appreciate the impact that the Safe Parking Program® is having on our community and neighboring areas, but it also made me more aware of the procedures that have to be put in place to ensure the overall success of the program.

How is your work contributing to New Beginnings' mission?

New Beginnings has operated the Safe Parking Program® since 2004, and since then they have been committed to providing case management and services to the homeless and safe overnight parking to individuals and families living in their vehicles. I was very aware of the importance of the work I was doing, since more than 40% of the identified unsheltered homeless population in Santa Barbara County live in their vehicles. Many of these people have full-time jobs, are single parents, or are seniors who have been evicted from their home due to unexpected medical expenses, rental increases, and other life circumstances. My work contributed to New Beginnings' mission on several levels. I ensured consistency in the way the Safe Parking Program® would be replicated, and I structured and organized the long process of establishing the program as evidence-based. Moreover, through my work on the second edition of the Safe Parking Program Manual, I was able to focus on areas that I thought required improvement and to help other communities successfully set up their own Safe Parking programs.

How have the skills you've developed as a humanities graduate student helped you to be successful in this position?

My proof-reading and writing skills definitely came in handy in terms of improving the Safe Parking Program Manual in preparation for its second edition. Research skills were also important to finalize the steps to be taken for establishing the program as evidence-based. For example, we had to decide how we would conduct an outcome evaluation that would not go against our ethical principles. Typically, experimental and quasi-experimental designs involve comparing two groups to see if the desired outcomes are more likely to occur in the group that received the intervention (in our case, that meant receiving Safe Parking services). However, when thinking about following one of these designs, there arose the ethical problem of having to turn down some of our clients who would not receive the intervention. Through research and conversations with other professionals in the non-profit world, we decided to offer the intervention to our clients in Santa Barbara, and then compare the results against those of a group from a similar neighborhood in California that did not offer a Safe Parking program. This is an example of a time when my generic resume skills such as "teamwork" or "problem solving" or "critical thinking" actually came to life and contributed to the success of the project.

What insights into working with a nonprofit organization has this experience afforded you?

Working for New Beginnings on their Safe Parking Program® has been very illuminating for me. Every day I came to work I would truly feel part of a collaborative and energy-driven team of professionals working under a common goal. I familiarized myself with the different programs offered by New Beginnings, such as the Supportive Services for Veteran Families (SSVF) Program and the Counseling Clinic working very closely with the Safe Parking Program®. I really appreciated how my colleagues, collaborators and supervisors all shared the same passion and drive to help and better the community. I was also lucky to have the opportunity to work closely with New Beginnings' Development Manager Michael Berton and Executive Director of the organization Kristine Schwarz. Their energy and dedication were truly inspirational and contributed to making this experience unforgettable and valuable.

You are a Ph.D. student in the Department of Classics specializing in ancient theater. Have your academic interests resonated with the work you are doing at New Beginnings?

While working on the Safe Parking Program®, I was able to reflect more deeply on the way different issues can be conveyed to different audiences. As part of my research on Greek tragedy, I look at the way affective bonds are dramatized on stage and in front of an audience. The question of how to communicate New Beginnings' mission effectively, through performance, or storytelling, or written delivery, was foundational to much of my work there. For example, performance became an important way to raise awareness of our mission to a wide and diverse audience through the reading of a play on vehicular homelessness at one of the yearly events organized by the New Beginnings. Moreover, my work on the Safe Parking Program® is in line with my interests as a publicly engaged scholar, and in continuation with similar work in the public sphere I continue to be involved in. For example, while working on the Safe Parking Program Manual, I was also involved in revising an edition for the manual of The Odyssey Project, a collaborative theater process between youth from a juvenile detention facility in Santa Barbara county and undergraduate students from UCSB.

How has your work in the public sphere influenced your academic work?

Thanks to my work in the public sphere, I have a better idea of the impact I want my research to have not only on an academic audience, but also on wider and more diverse public audiences. The experiences I had as part of my graduate career made me more aware of the many opportunities to make the work I do as a scholar available also in contexts outside university classrooms or seminar rooms. I value the interdisciplinary nature of my academic work because it allows me to be in conversation with scholars and professionals from different fields and areas of specialty. I am grateful for the support I received and continue to receive to pursue publicly engaged research and broaden my academic horizons by becoming involved in opportunities such as the Public Humanities Graduate Fellows Program.

How has your participation in the Public Humanities Graduate Fellows Program shaped your understanding of publicly engaged scholarship and/or the public humanities?

My participation in the program contributed to cementing my belief that my scholarly work and my work in the public humanities are in continuous conversation and inform and enrich each other. My research on Greek tragedy directs my attention to questions of staging, delivery, movement, and language that are often reflected by very contemporary concerns, such as how to deliver a message to a specific audience, or how to effect positive change in a population. Similar concerns and the solutions we are able to propose as humanists continuously prove the transferability and resonance of much of our training as academics. The relationship of mutual enrichment and improvement that exists between work inside and outside of academia makes programs such as the Public Humanities Graduate Fellows Program even more significant and necessary for graduate students.

Click here to learn more about IHC Public Humanities Graduate Fellows Internships.