01 Nov

Gonda van Steen (Greek Studies, University of Florida)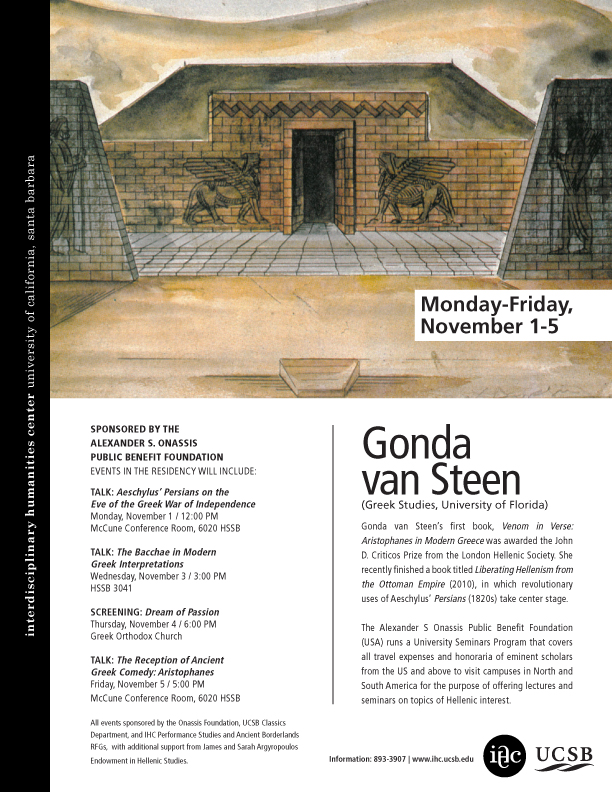 Monday-Friday, November 1-5
Gonda van Steen's first book, Venom in Verse: Aristophanes in Modern Greece was awarded the John D. Criticos Prize from the London Hellenic Society. She recently finished a book titled Liberating Hellenism from the Ottoman Empire (2010), in which revolutionary uses of Aeschylus' Persians (1820s) take center stage. Events in the residency will include:
TALK: Aeschylus' Persians on the Eve of the Greek War of Independence
Monday, November 1 / 12:00 PM
McCune Conference Room, 6020 HSSB
TALK: The Bacchae in Modern Greek Interpretations
Wednesday, November 3 / 3:00 PM
Religious Studies Seminar Room
SCREENING: Dream of Passion
Thursday, November 4 / 6:00 PM
Greek Orthodox Church
TALK: The Reception of Ancient Greek Comedy: Aristophanes
Friday, November 5 / 5:00 PM
McCune Conference Room, 6020 HSSB
All events sponsored by Onassis Foundation and the IHC's Ancient Borderlands and Performance Studies RFGs.