INT 185 AP
Advanced Public Speaking
4 units
Instructor: Jodi Enders
Tuesday and Thursday 11:00 AM – 12:45 PM
Prerequisite: THTR 65 (Introduction to Public Speaking) or equivalent
Required text: Jay Heinrichs, Thank You for Arguing
Recommended: Richard Lanham, Handlist of Rhetorical Terms
In these days of economic instability, one thing never goes out of style nor does it lose its power:  the ability to communicate effectively.
Focused on oratory and its many rhetorics, Advanced Public Speaking is the first follow-up course to the very popular THTR 65;  it is taught by the same professor who created that course.  Since seminar participants—limited to 15 only—are already familiar with the history and theory of rhetoric as well as with discourse analysis, our primary focus in the seminar is practical work in public speaking and advocacy, with extensive feedback from both the professor and the class.
In addition to weekly speaking opportunities of varying duration, the main class project (which may be collaborative) will be at your own initiative.  In consultation, you will propose a project that involves public speaking:  for example, advocacy or community work, motivational speaking engagements, political speaking, etc., so long as you are committed to effecting change through oratory.  Your individual role in such social issues as domestic violence, the justice system, the California budget crisis, health care, and the like is crucial;  and the Interdisciplinary Humanities Center (which is hosting our course) has many connections to local non-profit organizations as well.
On the first day:  Please be prepared to present a speech of no more than 2 minutes.  N.B.  It is possible that you will be asked to "audition" for this course
INT185CE/INT201CE
Student Based Creative Exchange
Instructors: Laurel Beckman & Lauren Norby
Mondays 7:30-9:30pm
Arts 1340
SBCE is a course run by students for students with the purpose of facilitating regular conversation, collaboration, and experimentation between diverse interdisciplinary students working on creative projects. Students work on self-directed individual or group projects throughout the quarter with the goal of an end of the quarter an exhibition/screening at a soCal venue. Potluck media and skill exchanges, screenings, projections, presentations, web resources. Open to all interested parties, SBCE is a unique opportunity to form a self-directed, active creative community with unlimited potential. Join us. Contact Lauren Norby at laurennorby@gmail.com.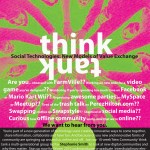 INT185/201TT
Think Tank
Instructors: Stephanie Smith
Friday TBA
Are you… obsessed with FarmVille?? Working on new code for a video game you've designed?? Wondering if you're spending too much time on Facebook or Mario Kart Wii?? Organizing awesome parties on MySpace or Meetup?? Tired of the trash talk on PerezHilton.com?? Swapping clothes on Swapstyle?? Skeptical of social media?? Curious how offline community works now that we're online?? We want to hear from you.
You're part of a new generation of technology users creating innovative ways to come together, share information, collaborate and have fun. And because of you new and innovative forms of community are springing up around us, online and off. Join our 10-week 'New Community' think tank a multi-generational group led by Stephanie Smith to look at new digital communities and why they matter. Sign up now for Winter 2010 undergraduate or graduate interdisciplinary elective course credit (2.0 units) under INT 185/201TT. Art majors may petition for elective credit up to 4.0 units through the department. For information and updates, email contact both zchapman@ucira.ucsb.edu and stephaniesmithucira@gmail.com
INT185 HF
High Five
Instructor: Richard Ross
CANCELLED
INT 185IV / THTR 42/142
I.V. LIVE Staff
Instructor: Ellen K. Anderson
Monday 3-3:50 PM TD 2609
This course produces a weekly performance series in Isla Vista. Students get first-hand experience in the rigors of theatrical production, as they learn to execute all logistical, technical and promotional details. The course is affiliated with Isla Vista Arts (www.islavista-arts.org). Enrollment: A maximum of 16 units of Theater 42 and 142 combined may be accepted for credit in the major. For more information, contact eanderson@theaterdance.ucsb.edu.
INT185MX/201MX
Social Technologies: new models of value exchange
2 units
Instructor: Marko Peljhan
Short Description: This is an intensive, low-residency course with at least one meeting taking place over 3-4 days at UC Santa Barbara. Throughout history, artists have created new forms of collective practice that enable them to work and operate in the most difficult and challenging economic and societal conditions. From the historical avant-gardes to their work in current open source/open knowledge systems, artists have created participatory practices based on new models of evaluating production and capital. Current economic conditions have precipitated a re-emergence of such forms of collectivism, exchange and 'anticipatory' practices, i.e. those that seek to imagine and address possible future economic and social modalities. This course will establish opportunities for students from across the UC system to explore new methods of value and idea exchange necessary to navigate a rapidly evolving 21st century environment. Visiting artists may include members of the Journal of Aesthetics and Protest (Los Angeles), Chto Delat (St. Petersburg) and the arts-centered, community organizing project, AREA of Chicago. For more information, please contact zchapman@ucira.ucsb.edu.
INT 185ST
WORD: Isla Vista Arts and Culture Magazine
Instructor: Ellen K. Anderson and D.J. Palladino
Friday 3-5 PM, Girvetz 2128
The course publishes a free quarterly magazine that is designed, compiled, researched, written, edited, and distributed by students. We explore the burgeoning artistic endeavors in Isla Vista and highlight topical issues uncovered by student editors. Attendance at all production meetings is mandatory.
For more information, contact eanderson@theaterdance.ucsb.edu.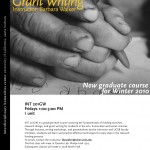 NEW GRADUATE COURSE FOR WINTER 2010
INT 201GW
Grant Writing
Instructor: Barbara Walker
Fridays 1:00-3:00 PM
1 unit
INT 201GW is a graduate-level course covering the fundamentals of funding searches, research design, and grant writing for students in the arts, humanities and social sciences. Through lectures, writing workshops, and presentations by the instructors and UCSB faculty members, students will learn and practice effective techniques for every step in the research funding process. To enroll, contact the instructor: blewalker@isber.ucsb.edu. The first class will meet in Gaviota Lab: Phelps Hall 1529. Subsequent classes will meet in 2208 North Hall.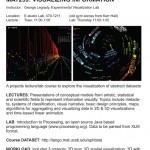 INT 259
Visualizing Information
Instructor: George Legrady
Tuesday, Thursday 11:00 AM-1:00 PM, E-Studio Lab: 479 1211
4 units
Course Website
Lectures will consist of presentations of conceptual models from artistic, statistical and scientific fields to represent information visually. Topics include metadata, systems of classification, visual narrative, basic design principles, maps, algorithms for aggregating and visualizing data in 2D & 3D visualizations and time-based linear animation. Labs will focus on an introduction to Processing, an open source Java based programming language (www.processing.org). Data to be parsed from XLM format.
INT 594 AB
Ancient Borderlands
Instructor: Elizabeth Digeser, Christine Thomas
TBA
This course is affiliated with the Ancient Borderlands Research Focus Group. The Ancient Borderlands Research Focus Group unites UCSB faculty and graduate students with common research interests in the history of Mediterranean antiquity, broadly conceived. We are investigating the process by which groups define, create and maintain their identities over time. The creation of boundaries, among ethnic, political, or religious groups, is a dynamic activity that can be reflected, not only by changes in material culture, but also in the rhetorical strategies adopted by ancient authors and the political tactics pursued by those seeking power. As members of several departments, including Classics, History and Religious Studies, we are also interested in challenging the disciplinary boundaries between us, believing that we have much to learn from one another.
INT 594 IS
Identity Studies
Instructor: Cynthia Kaplan
TBA
This course is affiliated with the Identity Studies Research Focus Group. For more information, contact Professor Cynthia Kaplan of the Political Science department: kaplan@polsci.ucsb.edu.
INT 594 ST
IHC Pre-doctoral Fellowship Seminar
Instructor: Ann Bermingham
TBA, HSSB 6056
This one-unit seminar is open to recipients of the IHC pre-doctoral fellowship. Participants meet regularly throughout the year to present work in progress.
For more information on the course, contact Ann Bermingham: bermingham@arthistory.ucsb.edu.