01 Nov

Being there (virtually): Night of the Dead on Janitzio and in Hannover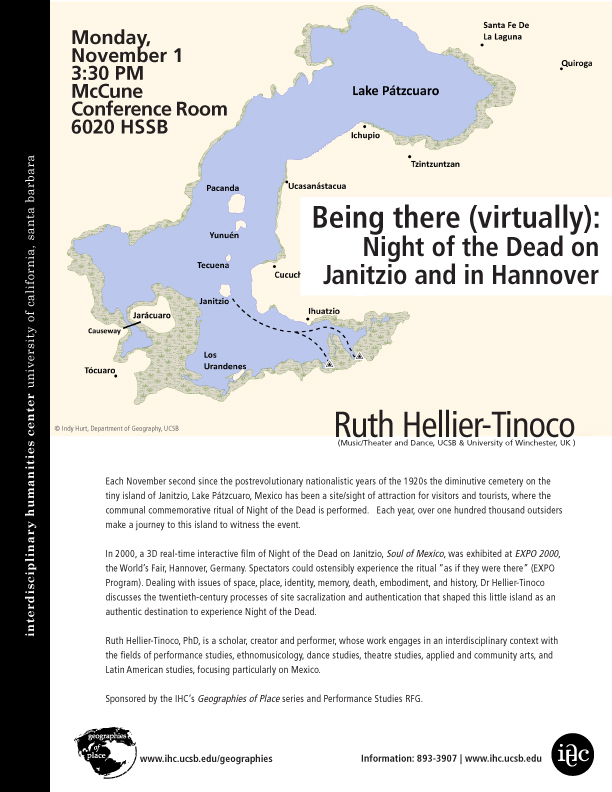 Ruth Hellier-Tinoco (Music/Theater and Dance, UCSB & University of Winchester, UK )
Monday,  November 1, 2010/ 3:30 PM
McCune Conference Room, 6020 HSSB
Each November second since the postrevolutionary nationalistic years of the 1920s the diminutive cemetery on the tiny island of Janitzio, Lake Pátzcuaro, Mexico has been a site/sight of attraction for visitors and tourists, where the communal commemorative ritual of Night of the Dead is performed.   Each year, over one hundred thousand outsiders make a journey to this island to witness the event.
In 2000, a 3D real-time interactive film of Night of the Dead on Janitzio, Soul of Mexico, was exhibited at EXPO 2000, the World's Fair, Hannover, Germany. Spectators could ostensibly experience the ritual "as if they were there" (EXPO Program). Dealing with issues of space, place, identity, memory, death, embodiment, and history, Dr Hellier-Tinoco discusses the twentieth-century processes of site sacralization and authentication that shaped this little island as an authentic destination to experience Night of the Dead.
Ruth Hellier-Tinoco, PhD, is a scholar, creator and performer, whose work engages in an interdisciplinary context with the fields of performance studies, ethnomusicology, dance studies, theatre studies, applied and community arts, and Latin American studies, focusing particularly on Mexico.
Sponsored by the IHC's Geographies of Place series and the IHC's Performance Studies RFG.