24 May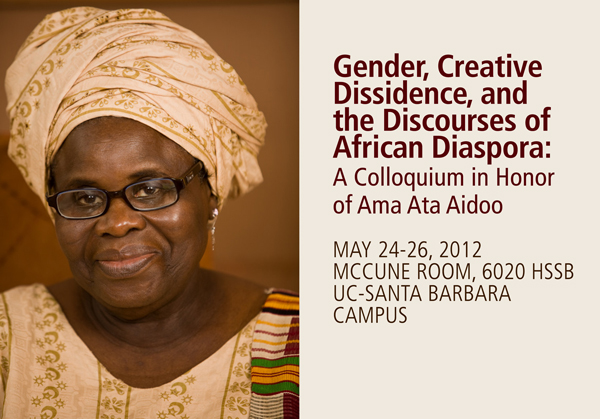 © Nana Kofi Acquah
The African Studies Research Focus Group at UCSB proudly presents Gender, Creative Dissidence, and the Discourses of African Diaspora, a three-day conference at that will explore the work of eminent Ghanaian author Ama Ata Aidoo and the broader questions of Diaspora and gender it raises. Due to her illustrious literary repute, contributions to Ghanaian national culture, and global commitment to women's liberation and anti-imperialism, Ms. Aidoo is the ideal pivot for this colloquium. Along with her keynote address, the conference will feature speakers who will engender novel feminist approaches to Diaspora that elucidate its potential as a site of solidarity, new cultural formations, and political possibilities, paying particular attention to relationships between gender constructs and cultural specificities. Invited speakers include scholars and grad students from the UC system and various U.S. universities.
Ama Ata Aidoo is both the Regents' Lecturer (UCSB Arts & lectures) and the Michael Douglas lecturer for this year (UCSB Theater & Dance).
Bio
Ama Ata Aidoo's literary career dates from when, as an undergraduate, she wrote her first play, The Dilemma Of A Ghost (1964), which was subsequently produced and published. She followed that up with Anowa (drama 1970). Since then, she has published novels, including Changes (1991), volumes of poetry and short stories including An Angry Letter In January & Other Poems (1992) and The Girl Who Can & Other Stories (1997). Her third collection of short stories Diplomatic Pounds & Other Stories was published on 1st March 2012 by Ayebia Clarke Publishing Limited, UK. She also edited the widely-acclaimed African Love Stories Anthology, published by Ayebia Clarke Publishing Limited (Oxford, UK, 2006). Her books for children include Birds & Other Poems (2002). Aidoo has taught at colleges and universities in Ghana and the United States including the University of Cape Coast and Brown University. She currently lives in Ghana and is the Executive Director of Mbaasem, a foundation to promote the work of Ghanaian and African women writers.
To download reading material please visit: https://www.ihc.ucsb.edu/reading-aidoo/
Anowa (click here for more info)

A play by Ama Ata Aidoo, Directed by Irwin Appel
Dates: May 25-26 & 31-June 2 @ 8:00pm; June 2 @ 2:00pm
Location: Hatlen Theatre, UCSB campus
Cost: $13/Student, Seniors, UCSB Faculty & Staff; $17/General Admission
Conference Schedule:
Thursday, 5/24:
4:00: Keynote Address by Ama Ata Aidoo / Hatlen Theatre
"A MINED SPACE or a Contemporary Matrilineal Society Under Pressure
from Global Patriarchy?: A Reading"
(Regents' Lecture / Michael Douglas Lecture)
Friday, 5/25:
9:00 Coffee and light refreshments
9:30 Welcoming remarks / McCune Room
10:15-11:45     Panel #1, Gender, Sexualities, and Cultural Politics (McCune Room)
Chair: Eileen Boris (Feminist Studies, UCSB)
Carole Boyce Davies, "Sexuality and Ama Ata Aidoo's Vision of African Women's Intellectual  and Political Lives"
Boatema Boateng, "How Not to Write about African Women: Breaking Stereotypes with Ama Ata Aidoo's Changes"
Meredith Heller, "Production and Reproduction: Ama Ata Aidoo's Anowa and the Reconception of Womanbeing"
12-1:15 Lunch break / McCune Room
1:15-3:30 Undergraduate Staged Reading and Roundtable – A session that fuses an undergraduate staged reading of excerpts from Ms. Aidoo's novels and plays with a roundtable discussion involving the playwright and undergraduate students reading her work in various departments at UCSB / McCune Room. Staged reading directed by Michael Morgan (UCSB Theater & Dance). Roundtable led by Jude Akudinobi (UCSB Black Studies) and Christina McMahon (UCSB Theater & Dance).
3:30-4 Coffee Break
4-5:30      Panel #2, Mapping the Diasporic Imagination / McCune Room
Chair: Bishnupriya Gosh (English, UCSB)

Anne V. Adams, "'Ja, das Schwar[t]ze Mädchen': The Trajectory of Self-Consciousness in Two Generations of Autobiographical Writings by Afro-German Women"
Malik Gaines, "Origin Myths in Black Modernity: The Dilemma of a Ghost"
Ketu Katrak, "Gendered Resistance at 'Home' and in the 'Diaspora' in Ama Ata Aidoo's Selected Works"
8-10:30 p.m. Collective attendance of UCSB's production of Anowa, followed by a question-and-answer session with the playwright, cast, and director / Hatlen Theatre
Saturday, 5/26:
9-10:15 Roundtable discussion on publishing African literature / McCune Room
Nana Ayebia Clarke and Nana Wilson-Tagoe
10:30-12 Panel #3, Narratives of Memory and Identity / McCune Room
Chair: Stephan F. Miescher (History, UCSB)
Catherine M. Cole, "Trying to Remember, Trying to Forget: Anowa and Ishi–A Tale of Two Plays"
Vincent Odamtten, "Story-Telling as Performance: From No Sweetness Here to Diplomatic Pounds"
Kwaku Larbi Korang, "Lost in Betrayal, Sought in Retrieval: Community and Identity in Ama Ata Aidoo's Literary Project"
12-1:30 Lunch Break
1:30-3:00 All-conference response / McCune Room
Nana Wilson-Tagoe
Panelists
Anne V. Adams; Cornell University
Nana Ayebia Clarke; Ayebia Clarke Publishing Ltd
Boatema Boateng;  UC-San Diego
Carole Boyce Davies; Cornell University
Catherine M. Cole; UC-Berkeley
Malik Gaines; Hunter College
Meredith Heller; UC-Santa Barbara
Ketu Katrak; UC-Irvine
Kwaku Larbi Korang; Ohio State University
Vincent Odamtten; Hamilton College
Nana Wilson-Tagoe; University of Missouri, Kansas City
Conference Organizers:
Jude Akudinobi (Black Studies, UCSB)
Christina McMahon (Theater and Dance, UCSB)
Stephan F. Miescher (History, UCSB)
Registration Information
Sponsored by the Arts & Lectures Regents' Lecture Program, the Michael Douglas Lecture program, the IHC's African Studies RFG, the UC African Studies Multicampus Research Group, Comparative Literature Program, Department of Black Studies, Department of Feminist Studies (Hull Chair funds), Department of History, Department of Theater & Dance, Division of Humanities and Fine Arts, Education Abroad Program, Friends of Africa – Santa Barbara, Hemispheric South/s Research Initiative, the New Sexualities RFG (IHC), Suk-Young Kim (Theater and Dance), Christina McMahon (Theater and Dance), Office of the Associate Vice Chancellor for Diversity, Equity and Academic Policy, Office of the Executive Vice Chancellor, the Office of the Chancellor, the IHC's Performance Studies RFG, UC Center for New Racial Studies, UCSB Center for Black Studies, UC Humanities Research Institute, UC Institute on Global Conflict and Cooperation and the Orfalea Center for Global Studies, University of California Institute for Research in the Arts, Santa Barbara Travel Bureau, the Upham Hotel, The Bagel Café, UCSB's Multicultural Center (MCC) and the IHC.
Please contact aidooconf@gmail.com with any questions
Map of Theater & Dance Buildings (UCSB)
(visitor parking permits are available for purchase in Lot 23, which provides closest access to the Hatlen Theater, and Lot 27, which provides closest access to HSSB)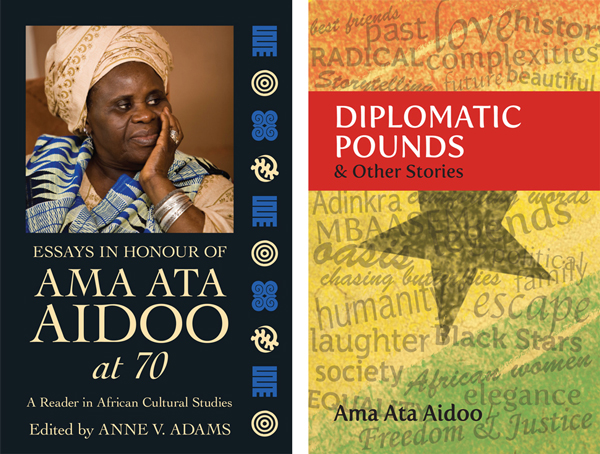 © Ayebia Clarke Publishing Ltd.