13 Oct

Geographies of Place Inaugural Lecture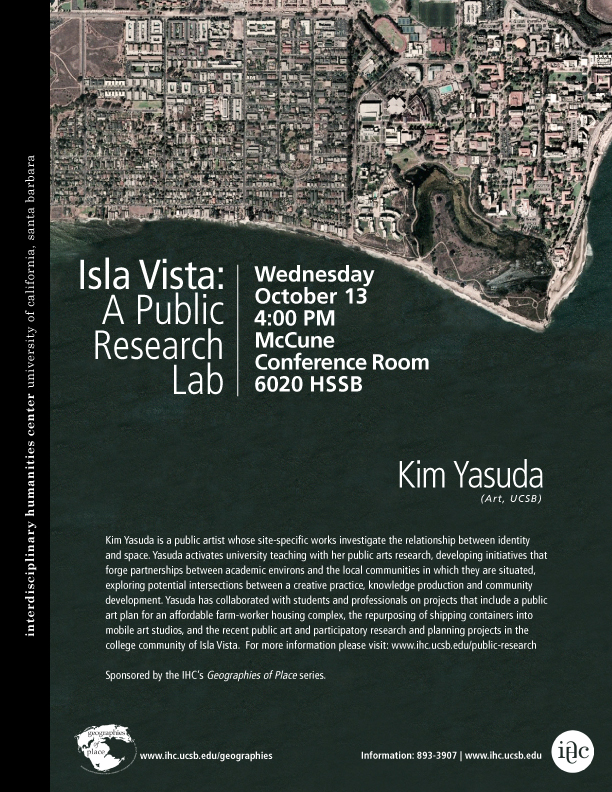 Kim Yasuda (Art, UCSB)
"Isla Vista: A Public Research Lab"
Wednesday, October 13, 2010 / 4:00 PM
McCune Conference Room, 6020 HSSB
"We are within and part of what we study. Participatory research thus begins with the assumption that all forms of meaning, doing, making, thinking and knowing are participatory entanglements with both discursive and material systems."
Iain Kerr, Participatory Research: Geography: Experimental

PROXIMITY RESEARCH: ISLA VISTA, CA
In the disciplines of public arts, design, planning and geo-sciences alone, we are experiencing a natural alignment of our fields within the spatial turn of the 21st century. With the contextual formations afforded by available tools and technologies, such as VGIS (voluntary geographic Information systems), we now have the opportunity to form research alliances to tackle much larger scale issues and problems, brought about by this amplified definition of the public sector – one that now exists both on and off line in huge numbers of globally distributed geographies and subjectivities. This has, in turn, fueled disciplinary collaborations that can tackle the increased scale of a networked world and, at the same time, draw from this powerful workforce of voluntary observations, opinions and data submitted to these open contributory networks.
Proximity Research continues a multi-year (2005-2010), arts + planning initiative to expand university investment within a community context through new disciplinary clusters that engage the college town of Isla Vista as a socially-embedded studio/laboratory for new research. Through public art, planning and emergent participatory technologies, a cultural infrastructure is being explored to enhance spatial and social networking amongst the broad range of academic and non-university stakeholders in Isla Vista. This hyper-local research model also provides opportunities to study the social influences within a dominantly student-centered, geographically defined space, as well as point to hybrid curricular, program and planning methodologies that could inform future decision-making toward community-driven change. Through a map that continually changes with user input, community investment is activated and actuated through personal, anecdotal and public information layers that help render the complex nature of visual, spatial and social connectivity. These patterns can be visually intriguing, as well as bring visibility to the complex assets/challenges that render the character of a given community.
Kim Yasuda is a public artist whose site-specific works investigate the relationship between identity and space. Since 2005, she has served as co-director of the multi-campus research unit, UC Institute for Research in the Arts (UCIRA). For the past 5 years, Yasuda has activated university teaching with her public arts research, developing initiatives that forge partnerships between academic environs and the local/regional communities in which they are situated, exploring potential intersections between a creative practice, knowledge production and community development. Yasuda has collaborated with students and professionals on projects that include a public art plan for an affordable farm-worker housing complex, the repurposing of shipping containers into mobile art studios and the recent public art and participatory research and planning projects in the college community of Isla Vista, California with architect and urban designer Seetha Raghupathy.
Through these 'proximity research' field experiments, Yasuda established Friday Academy, a temporary instructional environment within the university that maintains its own academic calendar and curricula to conduct year-round, off-site and project-based learning experiments – a response to what Yasuda believes is "a critical need to retool existing institutional learning structures toward a model of 'anticipatory education' — one that prepares the 21st century practitioner with the creative skill set and nimble capacity to navigate a perpetually changing and uncertain future".
Yasuda has commissioned public works throughout California and has exhibited her installation work internationally at venues including the Art Gallery of Ontario, Canada; Camerawork, London; the New Museum of Contemporary Art, New York, The Whitney Museum of American Art, Connecticut and MIT List Visual Arts Center, Boston.  She is the recipient of two visual arts fellowships from the National Endowment for the Arts.