08 Nov

Where Soldiers Come From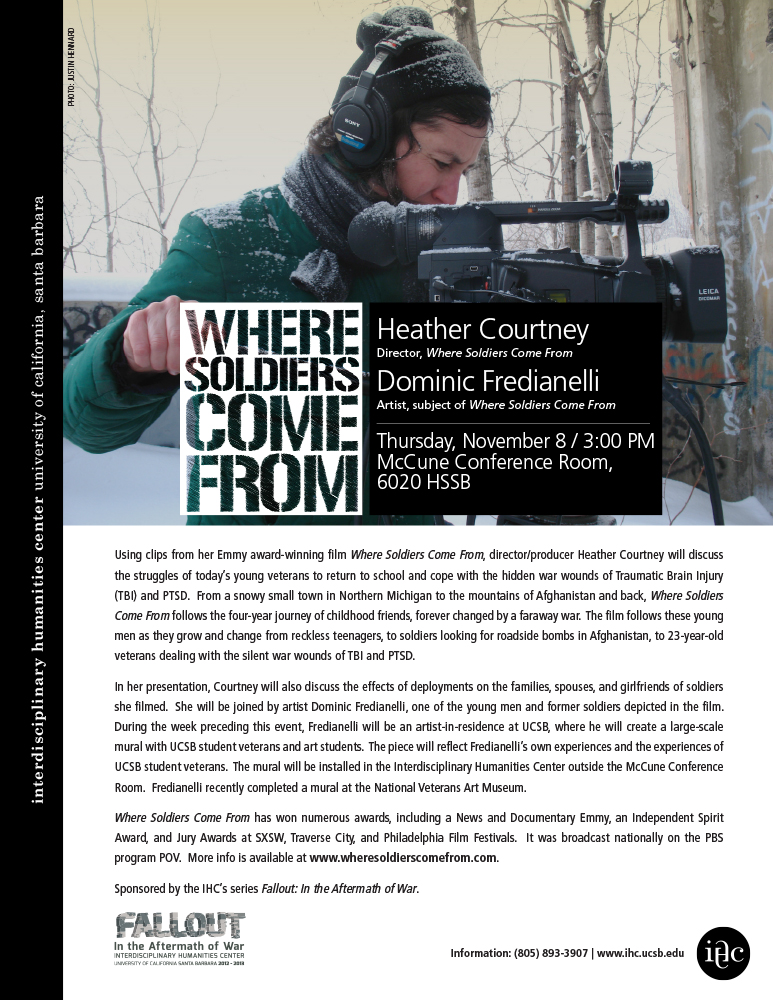 Heather Courtney (director, Where Soldiers Come From)
Dominic Fredianelli (artist, subject of Where Soldiers Come From )
Thursday, November 8, 2012 / 3:00 PM
McCune Conference Room, 6020 HSSB
Using clips from her Emmy award-winning film Where Soldiers Come From, director/producer Heather Courtney will discuss the struggles of today's young veterans to return to school and cope with the hidden war wounds of Traumatic Brain Injury (TBI) and PTSD.  From a snowy small town in Northern Michigan to the mountains of Afghanistan and back, Where Soldiers Come From follows the four-year journey of childhood friends, forever changed by a faraway war.  The film follows these young men as they grow and change from reckless teenagers, to soldiers looking for roadside bombs in Afghanistan, to 23-year-old veterans dealing with the silent war wounds of TBI and PTSD.
In her presentation, Courtney will also discuss the effects of deployments on the families, spouses, and girlfriends of soldiers she filmed.  She will be joined by artist Dominic Fredianelli, one of the young men and former soldiers depicted in the film. During the week preceding this event, Fredianelli will be an artist-in-residence at UCSB, where he will create a large-scale mural with UCSB student veterans and art students.  The piece will reflect Fredianelli's own experiences and the experiences of UCSB student veterans.  The mural will be installed in the Interdisciplinary Humanities Center outside the McCune Conference Room.  Fredianelli recently completed a mural at the National Veterans Art Museum.
Where Soldiers Come From  has won numerous awards, including a News and Documentary Emmy, an Independent Spirit Award, and Jury Awards at SXSW, Traverse City, and Philadelphia Film Festivals.  It was broadcast nationally on the PBS program POV.  More info is available at www.wheresoldierscomefrom.com.
Sponsored by the IHC's series Fallout: In the Aftermath of War.
Click here to listen to a recording of Heather Courtney and Dominic Fredianelli's talk for the IHC's Fallout series.

View UCSB Dominic Fredianelli Residency in a larger map