12 May

What Is Greek Slavery? In Search of a Novel History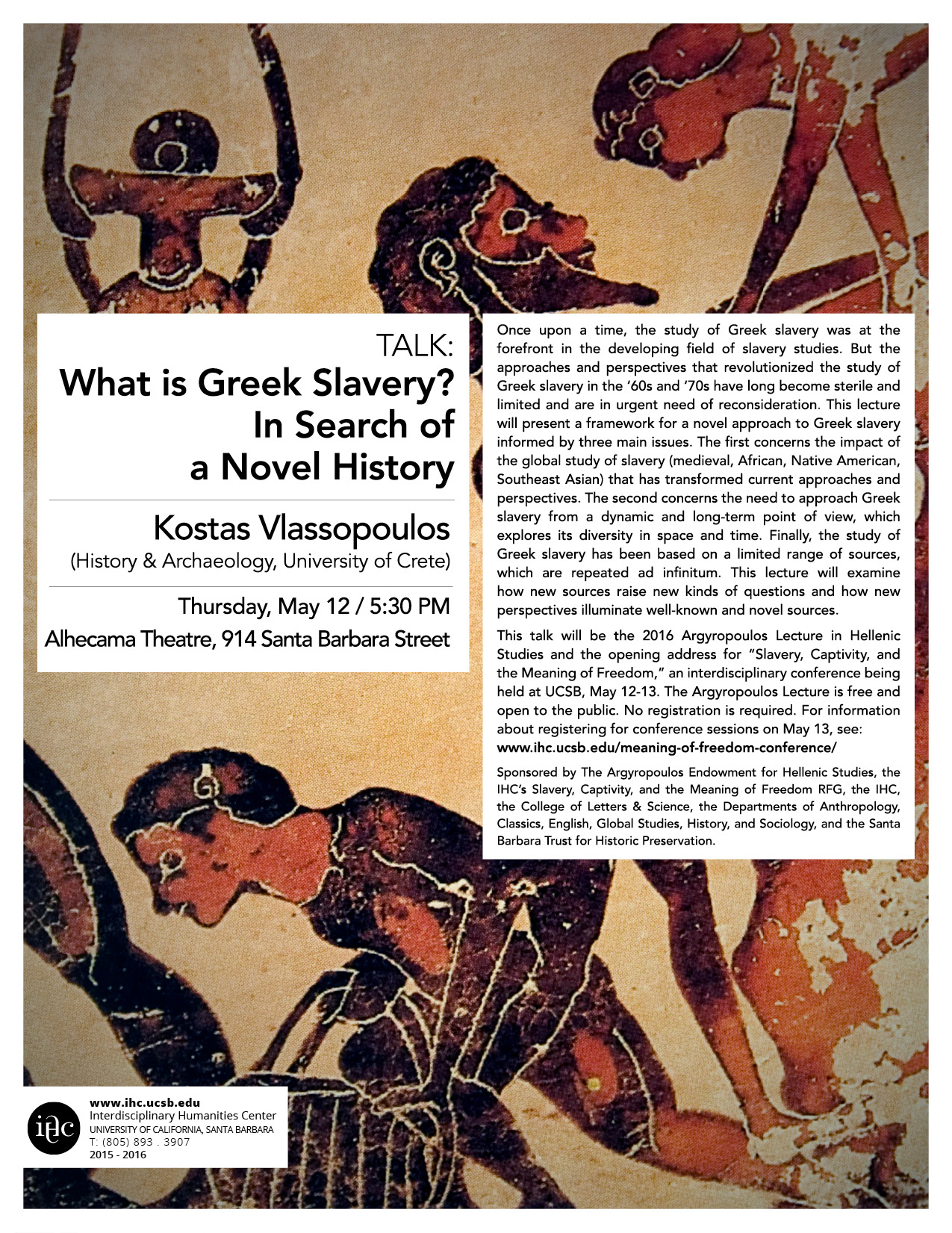 Kostas Vlassopoulos (History & Archeology, University of Crete)
Thursday, May 12, 2016 / 5:30 PM
Alhecama Theatre, 914 Santa Barbara Street 
Once upon a time, the study of Greek slavery was at the forefront in the developing field of slavery studies. But the approaches and perspectives that revolutionized the study of Greek slavery in the '60s and '70s have long become sterile and limited and are in urgent need of reconsideration. This lecture will present a framework for a novel approach to Greek slavery informed by three main issues. The first concerns the impact of the global study of slavery (medieval, African, Native American, Southeast Asian) that has transformed current approaches and perspectives. The second concerns the need to approach Greek slavery from a dynamic and long-term point of view, which explores its diversity in space and time. Finally, the study of Greek slavery has been based on a limited range of sources, which are repeated ad infinitum. This lecture will examine how new sources raise new kinds of questions and how new perspectives illuminate well-known and novel sources.
This talk will be the 2016 Argyropoulos Lecture in Hellenic Studies and the opening address for "Slavery, Captivity, and the Meaning of Freedom," an interdisciplinary conference being held at UCSB, May 12-13. The Argyropoulos Lecture is free and open to the public. No registration is required. For information about registering for conference sessions on May 13, see: www.ihc.ucsb.edu/meaning-of-freedom-conference/
Sponsored by The Argyropoulos Endowment for Hellenic Studies, the IHC's Slavery, Captivity, and the Meaning of Freedom RFG, the IHC, the College of Letters & Science, the Departments of Anthropology, Classics, English, Global Studies, History, and Sociology, and the Santa Barbara Trust for Historic Preservation.