25 Oct

War in History and Memory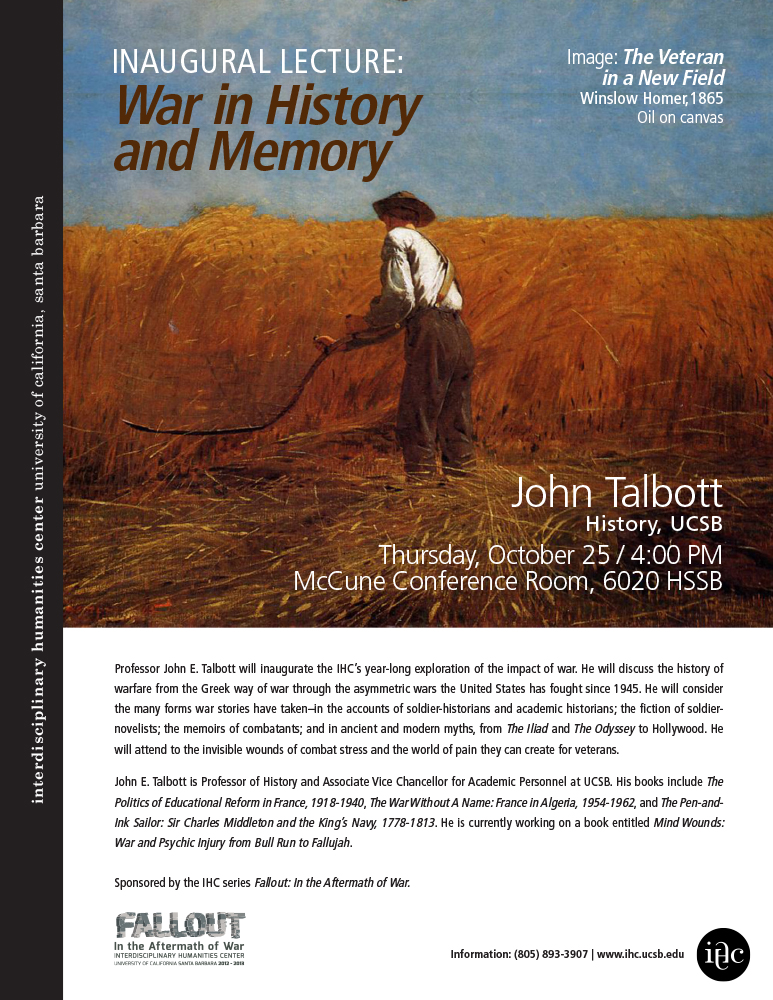 Thursday, October 25, 2012 / 4:00 PM
John E. Talbott (History, UCSB)
McCune Conference Room, 6020 HSSB
Professor John E. Talbott will inaugurate the IHC's year-long exploration of the impact of war. He will discuss the history of warfare from the Greek way of war through the asymmetric wars the United States has fought since 1945.  He will consider the many forms war stories have taken–in the accounts of soldier-historians and academic historians; the fiction of soldier-novelists; the memoirs of combatants; and in ancient and modern myths, from the Iliad and the Odyssey to Hollywood. He will attend to the invisible wounds of combat stress and the world of pain they can create for veterans.
John E. Talbott is Professor of History and Associate Vice Chancellor for Academic Personnel at UCSB.  His books include The Politics of Educational Reform in France, 1918-1940, The War Without A Name: France in Algeria, 1954-1962, and The Pen-and-Ink Sailor: Sir Charles Middleton and the King's Navy, 1778-1813.  He is currently working on a book entitled Mind Wounds: War and Psychic Injury from Bull Run to Fallujah.
Sponsored by the IHC series Fallout: In the Aftermath of War.
Click here to listen to a recording of John E. Talbott's inaugural talk for the IHC's Fallout series.