02 Nov

Velázquez in the Basement: Connoisseurship and the Politics of Art History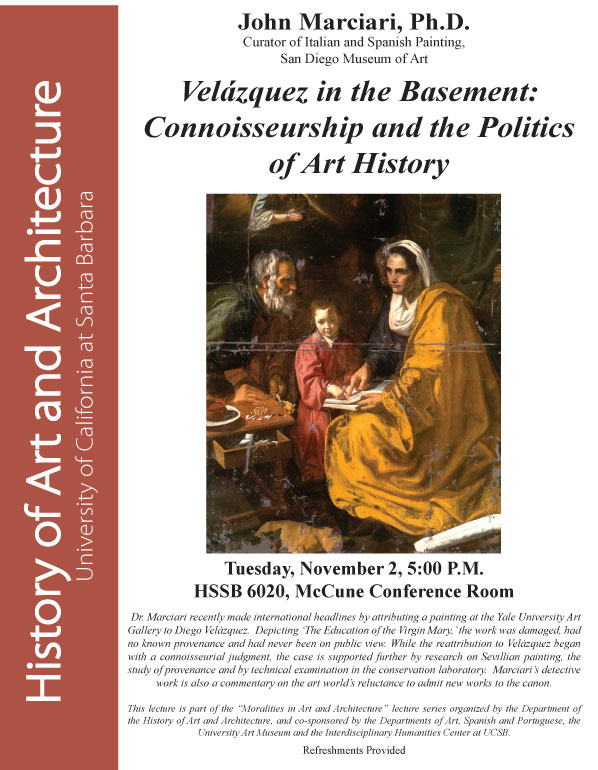 Dr. John Marciari (San Diego Museum of Art)
Tuesday, November 2 / 5:00 PM
McCune Conference Room 6020 HSSB
Dr. Marciari recently made international headlines by attributing a painting at the Yale University Art Gallery to Diego Velázquez. Depicting 'The Education of the Virgin Mary', the work was damaged, had no known provenance, and had never been on public view. While the reattribution began with a connoisseurial judgment, the case is supported further by research on Sevillian painting and the first years of Velázquez's career, by the study of provenance, and by technical examination in the conservation laboratory.  Marciari's detective work is also a commentary on the art world's reluctance to admit new works to the canon.
Dr. John Marciari is the Curator of Italian and Spanish Painting and the Head of Provenance Research at the San Diego Museum of Art. He was previously the Nina & Lee Griggs Associate Curator of Early European Art at the Yale University Art Gallery. He received his B.A. degree in Classics from Grinnell College, and his M.A. and Ph.D. in the History of Art from Yale University. He is a Fellow of the American Academy in Rome.
Sponsored by Department of the History of Art and Architecture (organizer); Sponsors: Department of Art; Department of Spanish and Portuguese; IHC; University Art Museum.