20 Apr

Urban Hallucinations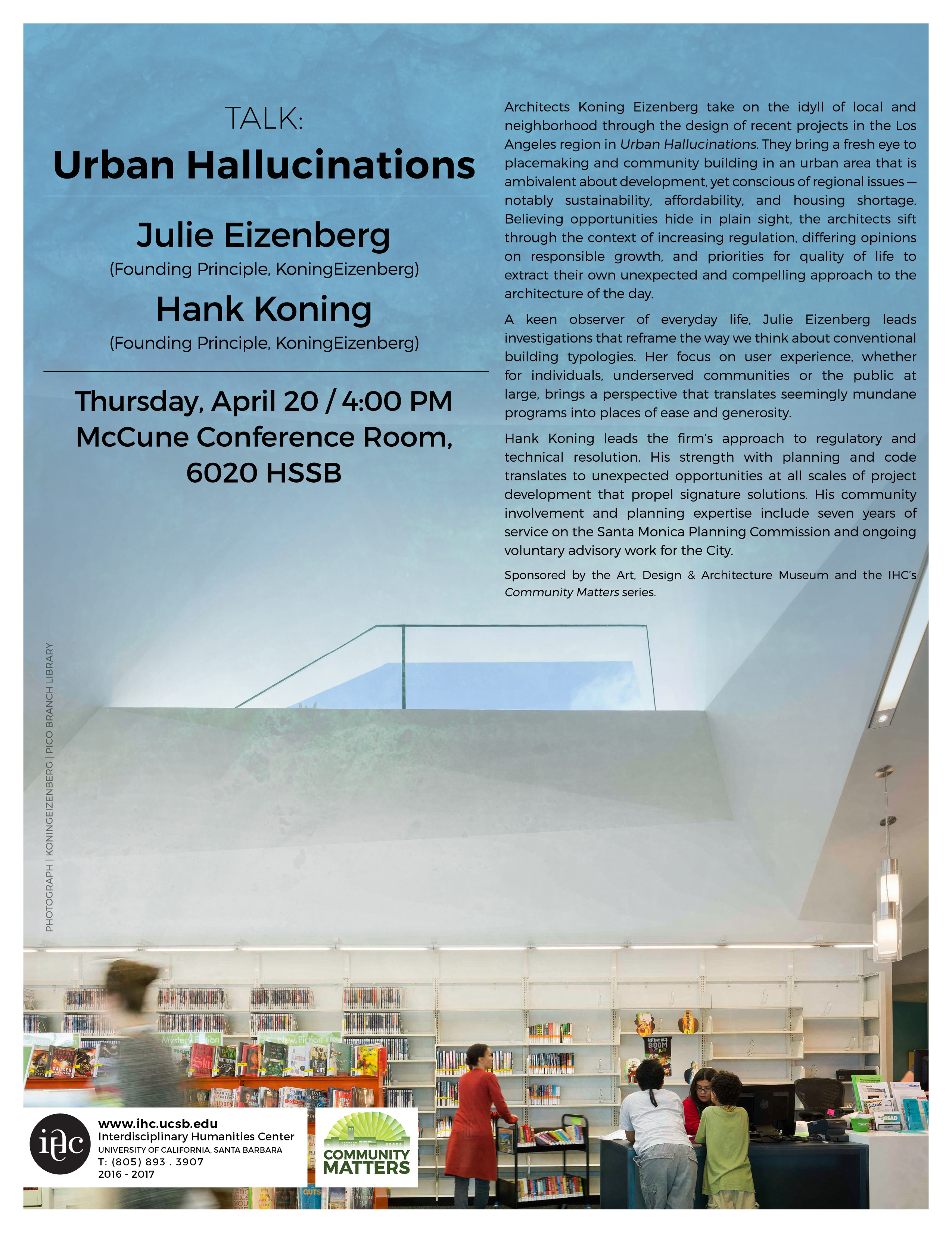 Julie Eizenberg (Founding Principle, KoningEizenberg)
Hank Koning (Founding Principle, KoningEizenberg)
Thursday, April 20, 2017 / 4:00 PM
McCune Conference Room, HSSB 6020
Architects Koning Eizenberg take on the idyll of local and neighborhood through the design of recent projects in the Los Angeles region in Urban Hallucinations. They bring a fresh eye to placemaking and community building in an urban area that is ambivalent about development, yet conscious of regional issues — notably sustainability, affordability, and housing shortage. Believing opportunities hide in plain sight, the architects sift through the context of increasing regulation, differing opinions on responsible growth, and priorities for quality of life to extract their own unexpected and compelling approach to the architecture of the day.
Koning Eizenberg Architecture was established in 1981 in Santa Monica, California. Working collaboratively, principals Hank Koning, Julie Eizenberg, Brian Lane, and Nathan Bishop continue to think with developers, cities, and not-for-profit clients to reveal new possibilities for the design of housing and neighborhood places that strengthen community. Their groundbreaking work has been published extensively both in the US and abroad, and has earned over 135 awards for design, sustainability, and historic preservation.
A keen observer of everyday life, Julie Eizenberg leads investigations that reframe the way we think about conventional building typologies. Her focus on user experience, whether for individuals, underserved communities or the public at large, brings a perspective that translates seemingly mundane programs into places of ease and generosity.
Hank Koning leads the firm's approach to regulatory and technical resolution. His strength with planning and code translate to unexpected opportunities at all scales of project development that propel signature solutions. His community involvement and planning expertise include 7 years of service on the Santa Monica Planning Commission and ongoing voluntary advisory work for the City.
Sponsored by the Art, Design & Architecture Museum and the IHC series Community Matters.