31 May

Tides by Pedro Xavier Solís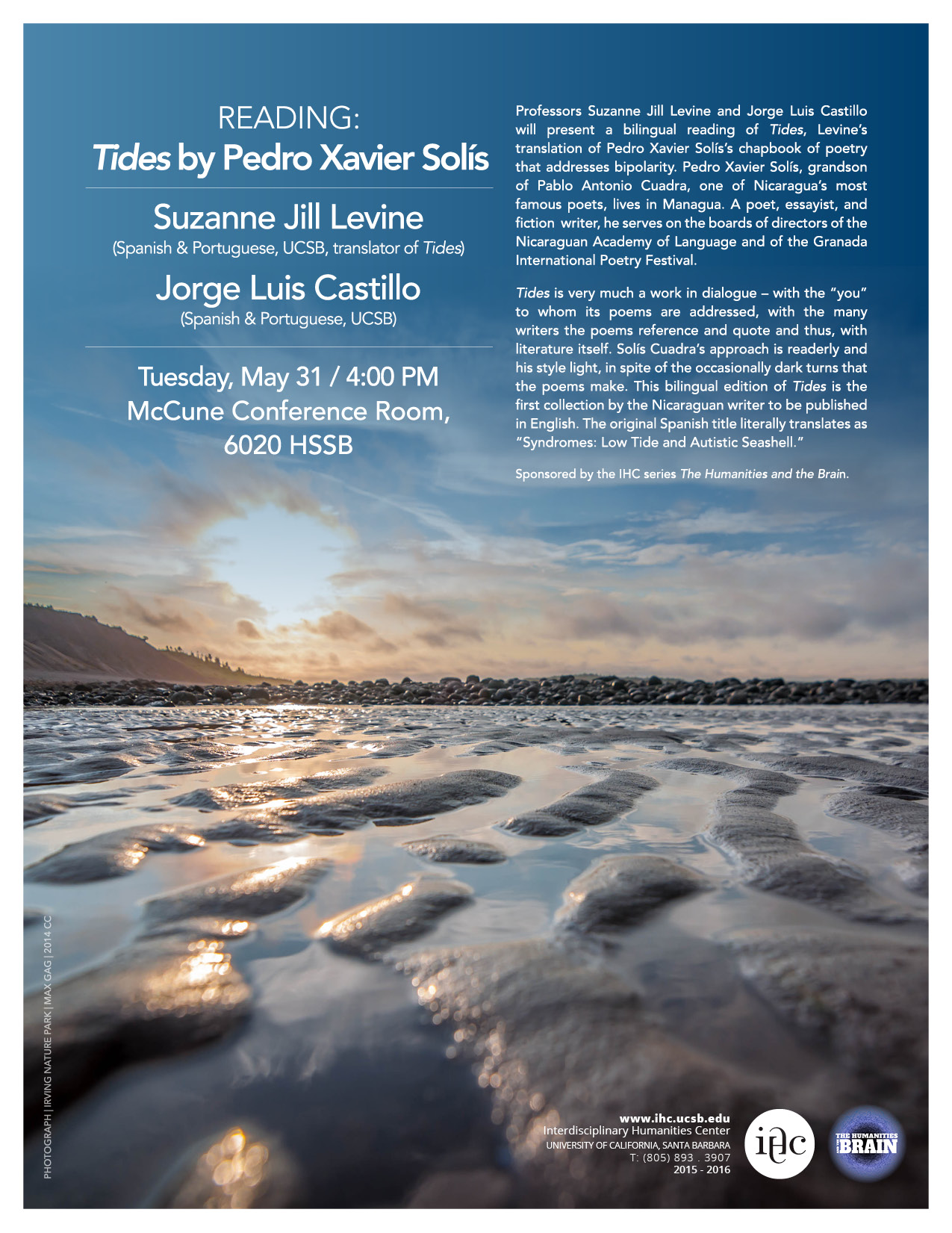 Tuesday, May 31, 2016 / 4:00 PM
McCune Conference Room, 6020 HSSB
Suzanne Jill Levine (Spanish & Portuguese, UCSB, translator of Tides)
Jorge Luis Castillo (Spanish & Portuguese, UCSB)
Professors Suzanne Jill Levine and Jorge Luis Castillo will present a bilingual reading of Tides, Levine's translation of Pedro Xavier Solís's chapbook of poetry that addresses bipolarity. Pedro Xavier Solís, grandson of Pablo Antonio Cuadra, one of Nicaragua's most famous poets, lives in Managua. A poet, essayist, and fiction  writer, he serves on the boards of directors of the Nicaraguan Academy of Language and of the Granada International Poetry Festival.
Tides is very much a work in dialogue – with the "you" to whom its poems are addressed, with the many writers the poems reference and quote and thus, with literature itself. Solís Cuadra's approach is readerly and his style light, in spite of the occasionally dark turns that the poems make. This bilingual edition of Tides is the first collection by the Nicaraguan writer to be published in English. The original Spanish title literally translates as "Syndromes: Low Tide and Autistic Seashell."
Suzanne Jill Levine's recent work includes the poetry chapbook Reckoning  (Finishing Line Press) and a five-volume Penguin Classics edition of  Jorge Luis Borges. The director of Translation Studies at UCSB, and  recipient of many honors, she received in 2012 her third PEN prize for  translating José Donoso's The Lizard's Tale (Northwestern University  Press).
Jorge Luis Castillo is a distinguished scholar of Latin American  literature and poetry and a Cuban novelist and short-story writer who  grew up in Puerto Rico.  His first book of fiction won the international PEN Prize.

Click here to listen to a recording of Suzanne Levine and Jorge Castillo's reading from the 2015-16 IHC series: The Humanities and the Brain.
Sponsored by the IHC series The Humanities and the Brain.