16 Apr

Three Minutes in Poland: Discovering a Lost World in a 1938 Family Film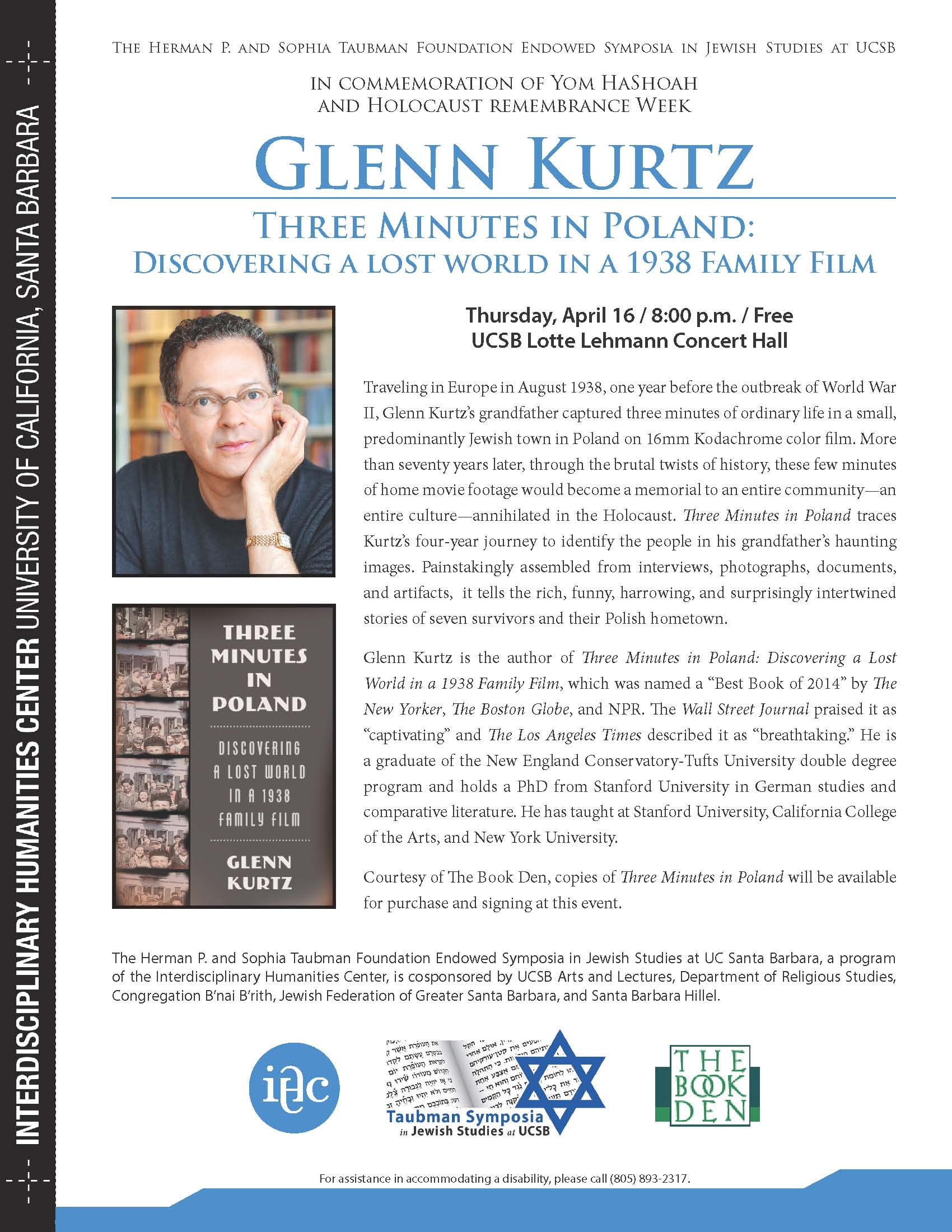 Glenn Kurtz (author)
Thursday, April 16 / 8:00  PM
Lotte Lehmann Concert Hall
In Europe in August 1938, one year before the outbreak of World War II, Glenn Kurtz's grandfather captured three minutes of ordinary life in a small, predominantly Jewish town in Poland on 16mm Kodachrome color film. More than seventy years later, through the brutal twists of history, these few minutes of home movie footage would become a memorial to an entire community—an entire culture—annihilated in the Holocaust.
Three Minutes in Poland (Farrar, Straus and Giroux, 2014), which was named a "Best Book of 2014" by The New Yorker, The Boston Globe, and NPR, traces Kurtz's four-year journey to identify the people in his grandfather's haunting images. His search took him across the United States, to Canada, England, Poland and Israel, to archives, film preservation laboratories, and an abandoned Luftwaffe airfield. Ultimately, he encountered seven living survivors from this lost town, including an eighty-six-year-old man who appears in the film as a thirteen-year-old boy.
Painstakingly assembled from interviews, photographs, documents, and artifacts, Three Minutes in Poland tells the rich, funny, harrowing, and surprisingly intertwined stories of these seven survivors and their Polish hometown.
Presented by the Herman P. and Sophia Taubman Foundation Endowed Symposia in Jewish Studies at UC Santa Barbara, a program of the Interdisciplinary Humanities Center,cosponsored by the Dept. of Religious Studies, Congregation B'nai B'rith, Jewish Federation of Greater Santa Barbara, and Santa Barbara Hillel.
Website: www.ihc.ucsb.edu/endowments/taubman