03 Nov

The Sacred and Natural Disasters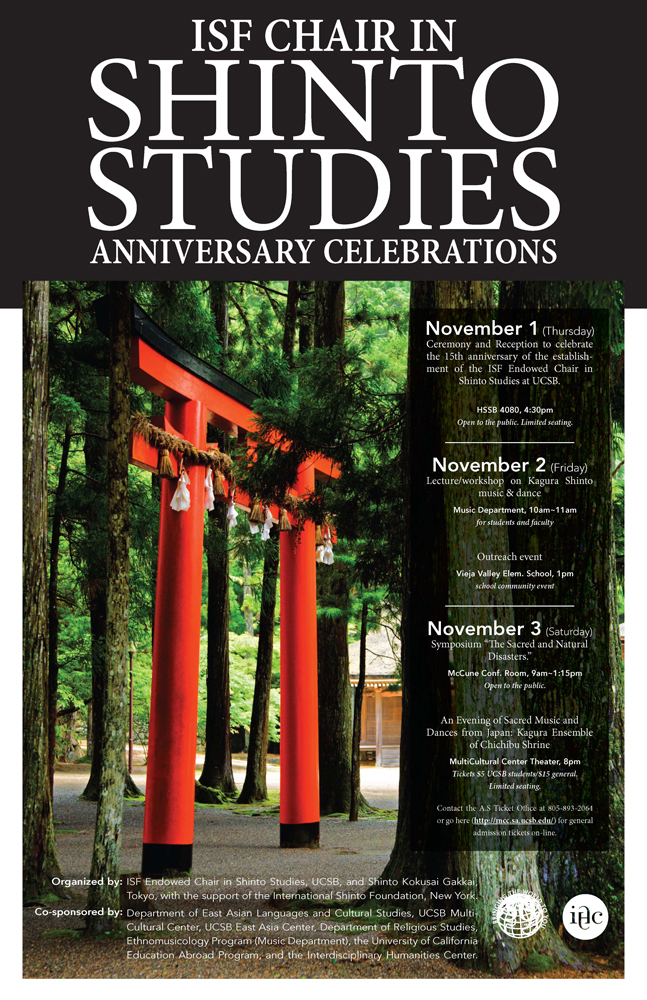 Saturday, November 3 / 9:00 AM
McCune Conference Room, 6020 HSSB
In the aftermath of the earthquake and tsunami that hit Japan on March 11, 2011, this symposium will discuss some of the ways in which religious traditions, in Japan and elsewhere, have historically conceptualized and rationalized natural disasters, as well as religious strategies implemented to overcome loss and destruction. The presenters include both scholars of different traditions and religious practitioners.
In connection with the symposium, there will be a performance of sacred music and dances (Kagura) from the Japanese Shinto tradition, based on an ancient myth of disaster and regeneration. The symposium and the Kagura performance are part of a series of events to celebrate the 15th anniversary of the establishment of the ISF Chair in Shinto Studies at UCSB.
Sponsored by UCSB ISF Chair in Shinto Studies, Shinto Kokusai Gakkai, International Shinto Foundation, Department of East Asian Languages and Cultural Studies, Department of Religious Studies, East Asia Center, UC EAP, and the IHC.