17 Apr

The Politics of Passion: Activists Take To The Streets In Mexico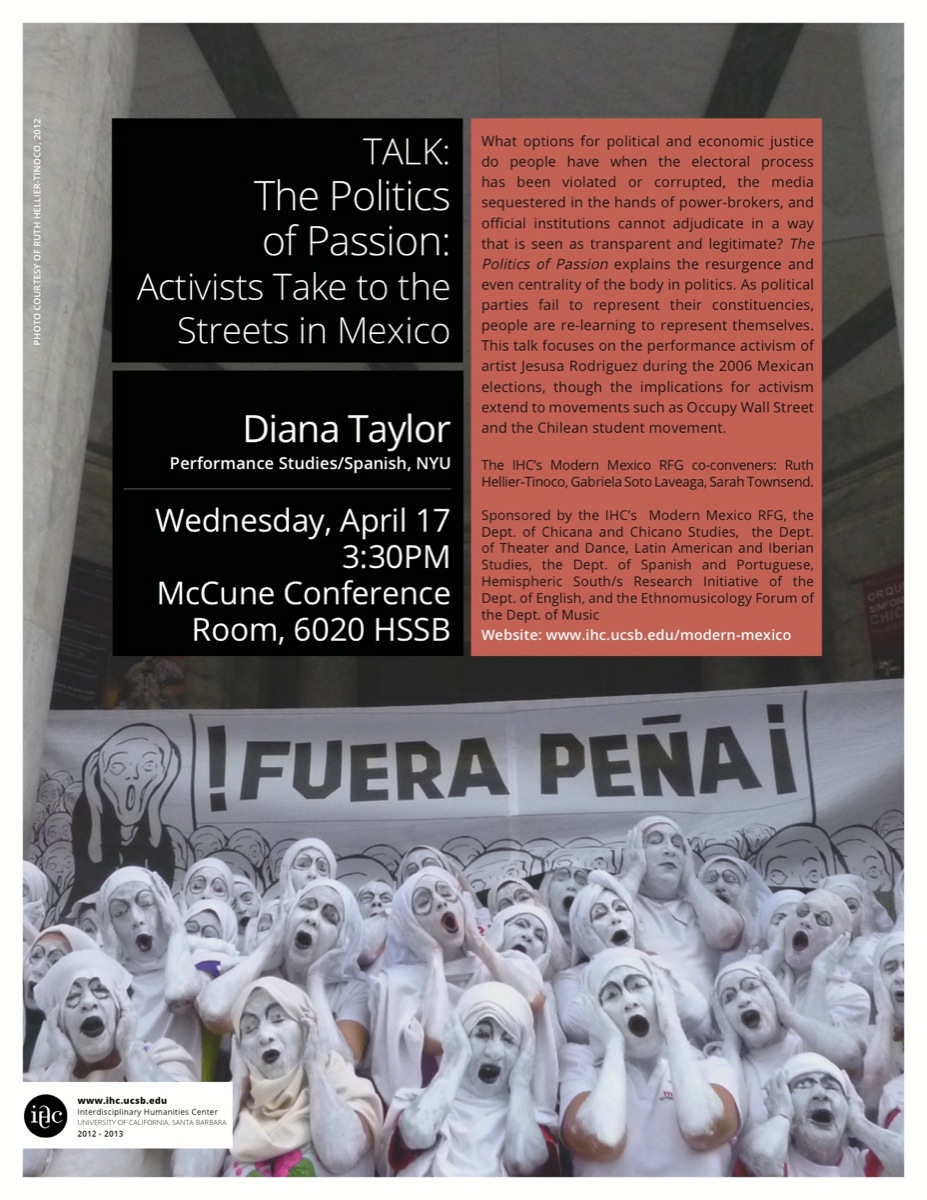 Diana Taylor (Performance Studies/Spanish, NYU)
Wednesday, April 17 / 3:30PM
McCune Conference Room, 6020 HSSB
What options for political and economic justice do people have when the electoral process has been violated or corrupted, the media sequestered in the hands of power-brokers, and official institutions cannot adjudicate in a way that is seen as transparent and legitimate? The Politics of Passion explains the resurgence and even centrality of the body in politics. As political parties fail to represent their constituencies, people are re-learning to represent themselves. This talk focuses on the performance activism of artist Jesusa Rodriguez during the 2006 Mexican elections, though the implications for activism extend to movements such as Occupy Wall Street and the Chilean student movement.
Diana Taylor is Professor of Performance Studies and Spanish at NYU, and founding director of the Hemispheric Institute of Performance and Politics. She is the author of the award-winning Theatre of Crisis: Drama and Politics in Latin America (1991), and many other books including: Disappearing Acts: Spectacles of Gender and Nationalism in Argentina's 'Dirty War' (1997); The Archive and the Repertoire: Performing Cultural Memory in the Americas (2003); PERFORMANCE (Argentina, 2012); and Acciones de memoria: Performance, historia, y trauma (Peru, 2012). She has lectured extensively around the world, and is the recipient of many awards and fellowships.
Talk to be followed by a reception – all are welcome.
The IHC's Modern Mexico RFG co-conveners: Ruth Hellier-Tinoco, Gabriela Soto Laveaga, Sarah Townsend.
Sponsored by the IHC's  Modern Mexico RFG, the Dept. of Chicana and Chicano Studies,  the Dept. of Theater and Dance, Latin American and Iberian Studies, the Dept. of Spanish and Portuguese, Hemispheric South/s Research Initiative of the Dept. of English, and the Ethnomusicology Forum of the Dept. of Music
Website: www.ihc.ucsb.edu/modern-mexico