14 May

The Jazz Singer: From the Melting Pot to a Multicultural America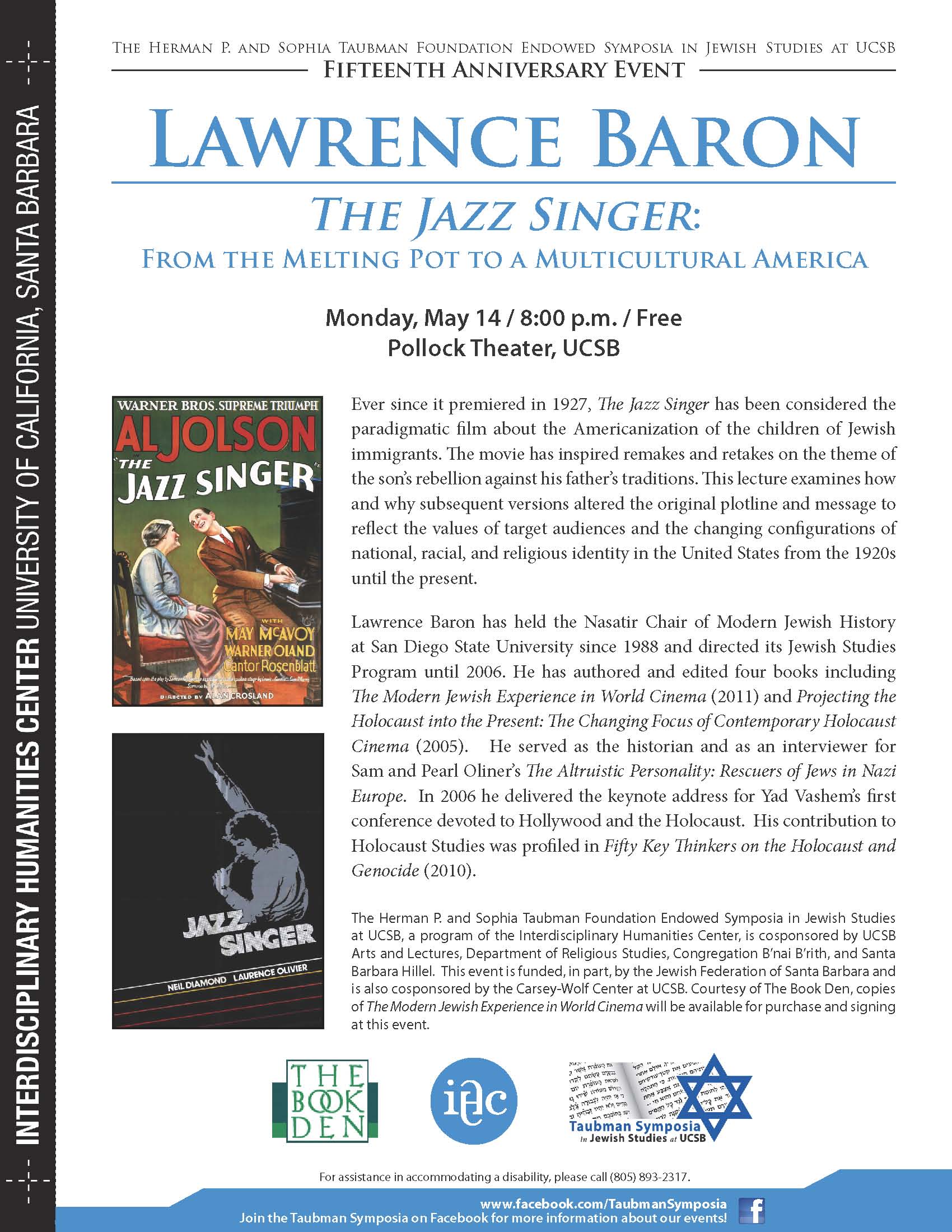 Lawrence Baron  (History, San Diego State University)
Monday, May 14 / 8:00 PM
Pollock Theater
Ever since it premiered in 1927, "The Jazz Singer" has been considered the paradigmatic film about the Americanization of the children of Jewish immigrants. The movie has inspired remakes and retakes on the theme of the son's rebellion against his father's traditions. This lecture examines how and why subsequent versions altered the original plotline and message to reflect the values of target audiences and the changing configurations of national, racial, and religious identity in the United States from the 1920s until the present.
Lawrence Baron has held the Nasatir Chair of Modern Jewish History at San Diego State University since 1988 and directed its Jewish Studies Program until 2006. He has authored and edited four books including The Modern Jewish Experience in World Cinema (2011) and Projecting the Holocaust into the Present: The Changing Focus of Contemporary Holocaust Cinema (2005).  In 2006 he delivered the keynote address for Yad Vashem's first conference devoted to Hollywood and the Holocaust.  His contribution to Holocaust Studies was recently profiled in Fifty Key Thinkers on the Holocaust and Genocide (2010).
Sponsored by UCSB Arts and Lectures, Department of Religious Studies, Congregation B'nai B'rith, Jewish Federation of Greater Santa Barbara, and Santa Barbara Hillel, the Carsey-Wolf Center, and
The Herman P. and Sophia Taubman Foundation Endowed Symposia in Jewish Studies.