28 Jan

Interdisciplinary Dialogues: The Humanities and the Neurosciences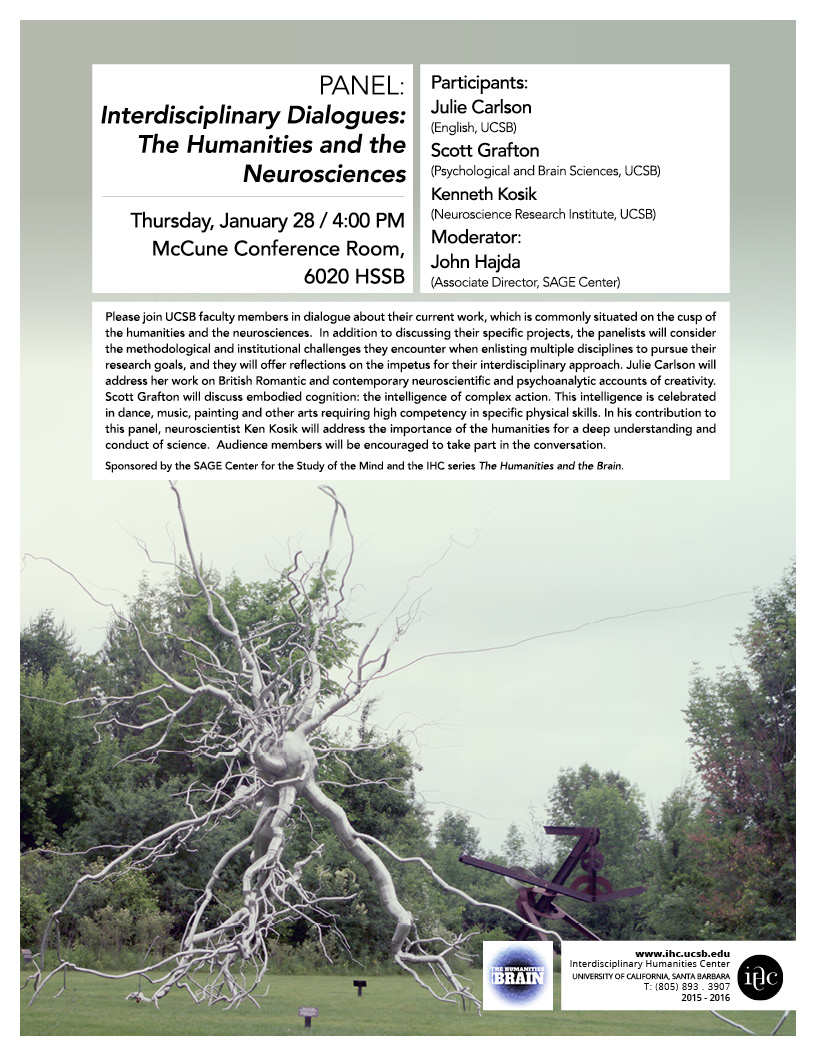 Moderator: John Hajda (Associate Director, SAGE Center)
Participants: Julie Carlson (English, UCSB)
Scott Grafton (Psychological and Brain Sciences, UCSB)
Kenneth Kosik (Neuroscience Research Institute, UCSB)
Thursday, January 28, 2016 / 4:00 PM
McCune Conference Room, 6020 HSSB

Please join UCSB faculty members in dialogue about their current work, which is commonly situated on the cusp of the humanities and the neurosciences.  In addition to discussing their specific projects, the panelists will consider the methodological and institutional challenges they encounter when enlisting multiple disciplines to pursue their research goals, and they will offer reflections on the impetus for their interdisciplinary approach. Julie Carlson will address her work on British Romantic and contemporary neuroscientific and psychoanalytic accounts of creativity. Scott Grafton will discuss embodied cognition: the intelligence of complex action. This intelligence is celebrated in dance, music, painting and other arts requiring high competency in specific physical skills. In his contribution to this panel, neuroscientist Ken Kosik will address the importance of the humanities for a deep understanding and conduct of science.  Audience members will be encouraged to take part in the conversation.

Click here to listen to a recording of the panel from the 2015-16 IHC series: The Humanities and the Brain.
Sponsored by the SAGE Center for the Study of the Mind and the IHC series The Humanities and the Brain.