01 Feb

The Fight to Stay Put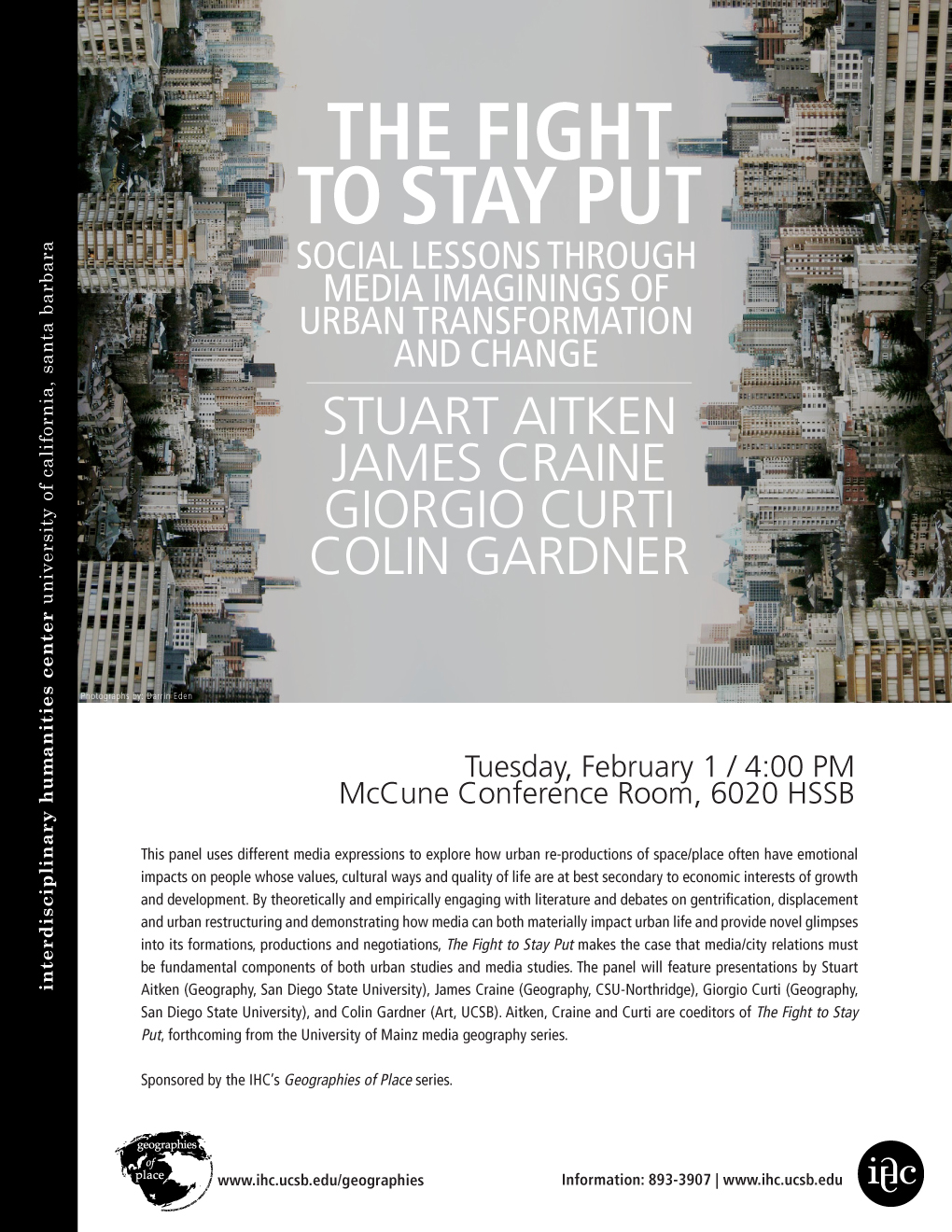 Tuesday, February 1, 2011 / 4:00 PM
McCune Conference Room, 6020 HSSB
This panel uses different media expressions to explore how urban re-productions of space/place often have emotional impacts on people whose values, cultural ways and quality of life are at best secondary to economic interests of growth and development. By theoretically and empirically engaging with literature and debates on gentrification, displacement and urban restructuring and demonstrating how media can both materially impact urban life and provide novel glimpses into its formations, productions and negotiations, "The Fight to Stay Put" makes the case that media/city relations must be fundamental components of both urban studies and media studies. The panel will feature presentations by Stuart Aitken (Geography, SDSU), James Craine (Geography, CSU-Northridge), Giorgio Curti (Geography, SDSU), and Colin Gardner (Art, UCSB). Aitken, Craine and Curti are coeditors of The Fight to Stay Put, forthcoming from the University of Mainz media geography series.
Sponsored by the IHC's Geographies of Place series.
Bios:
Stuart Aitken
Stuart Aitken is Chair of the Department of Geography at San Diego State University. He has completed substantive areas of research in urban and social geography with an emphasis on families and communities, children and youth, and  film.
Jim Craine
Jim Craine is an assistant professor of geography at California State University, Northridge. Specializing in the geography of media, his most recent work centers around exploring the affective qualities of digital cartography and examining the role of visual media in the production of space. He is a co-founder and co-editor of Aether: The Journal of Media Geography.
Giorgio Curti
Giorgio Hadi Curti recently defended his dissertation in the San Diego State University – University of California, Santa Barbara Joint Doctoral Program in Geography. He currently works as an Adjunct Professor in the Department of Geography at San Diego State University and serves as the Review Editor for Aether: The Journal of Media Geography. Giorgio's dissertation, titled "The Body Geographic: Affect, Imagination and the Relationality of Be(com)ing, or Movements Through Spinozan Earth-Writings", focused on the work of philosopher Benedict de Spinoza and argued that his ontological and epistemological perspectives offer especially constructive ways to approach and understand contemporary and emerging theoretical issues in geography and cognate disciplines, including interests in the nonrepresentational and considerations of the social as more-than-human. Highlights from this research include publications related to the Japanese animated film Ghost in the Shell (1995), Shinto, the city and landscape; urban re-development projects in Hollywood, CA and how they affect and are affected by popular geographical imaginations; animated subtitles in the Russian language film Night Watch (2004) and how they reveal the material and corporeal forces of language and text through spatially affective- and expressive-movements of filmic scapes; the Palestinian-Israeli conflict as a material and embodied fight over memory and forgetting; becomings of children and adults beyond representation; and how new geographies are created through affective interactions between media and the body.
Colin Gardner
Working at the intersection of film, art and interdisciplinary media theory, Colin Gardner earned his M.A. in History from St. John's College, Cambridge and Ph.D. in Cinema Studies at UCLA before becoming Professor of Critical Theory and Integrative Studies at the University of California, Santa Barbara, where he teaches in the Departments of Art, Film & Media Studies, Comparative Literature, and the History of Art and Architecture.
Gardner has published two books in Manchester University Press's "British Film Makers" series: a critical study of the blacklisted American film director, Joseph Losey (2004), and a monograph on the Czech-born British filmmaker and critic, Karel Reisz (2006). Related research has also appeared in the Franco-American film journal, Iris; the Parisian web-based theoretical journal, Critical Secret No. 6 (2001), Interdisciplinary Humanities (2002), and Media History (2006). He is currently researching a book on Samuel Beckett's experimental work for film and television.