03 Apr

The Archaeology of Shipwrecks: Treasuring the Past?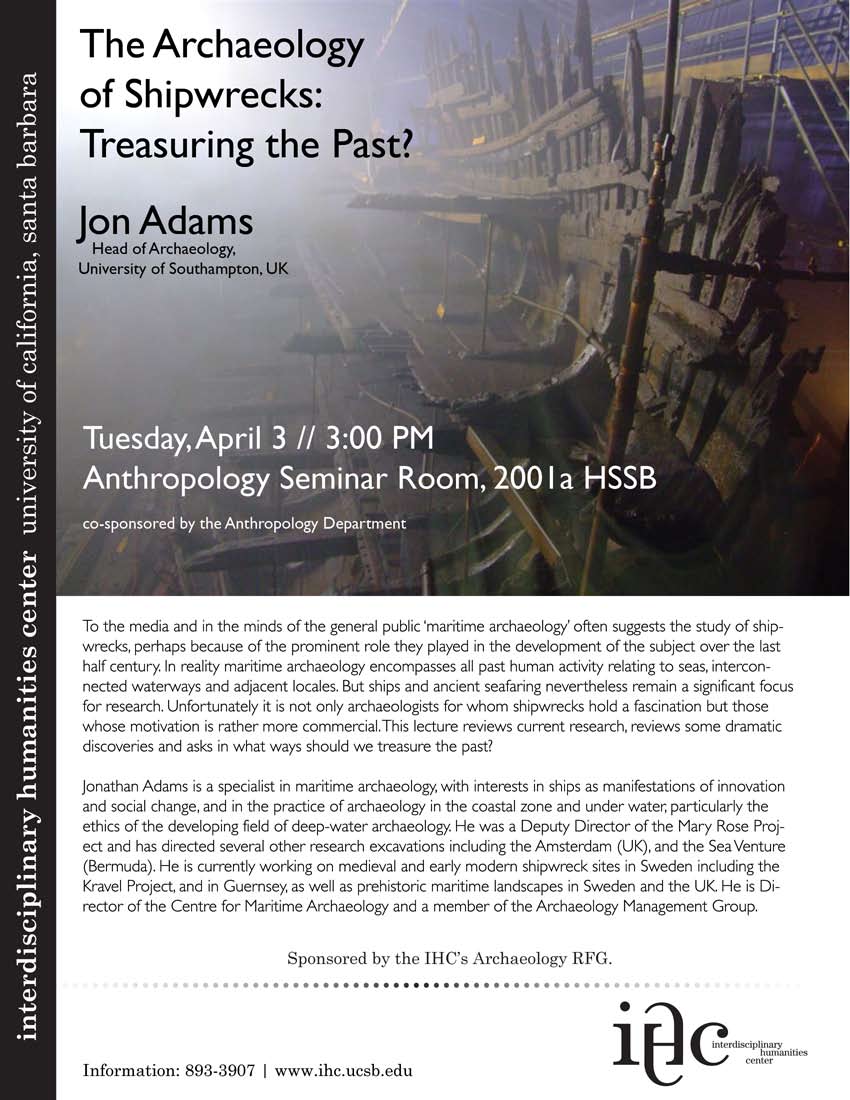 John Adams (Archaeology, University of Southampton, UK)
Tuesday, April 3rd, 2012 / 3:00 PM
HSSB 2001a
To the media and in the minds of the general public 'maritime archaeology' often suggests the study of shipwrecks, perhaps because of the prominent role they played in the development of the subject over the last half century. In reality maritime archaeology encompasses all past human activity relating to seas, interconnected waterways and adjacent locales. But ships and ancient seafaring nevertheless remain a significant focus for research. Unfortunately it is not only archaeologists for whom shipwrecks hold a fascination but those whose motivation is rather more commercial. This lecture reviews current research, reviews some dramatic discoveries and asks in what ways should we treasure the past?
Jonathan Adams is a specialist in maritime archaeology, with interests in ships as manifestations of innovation and social change, and in the practice of archaeology in the coastal zone and under water, particularly the ethics of the developing field of deep-water archaeology. He was a Deputy Director of the Mary Rose Project and has directed several other research excavations including the Amsterdam (UK), and the Sea Venture (Bermuda). He is currently working on medieval and early modern shipwreck sites in Sweden including the Kravel Project, and in Guernsey, as well as prehistoric maritime landscapes in Sweden and the UK. He is Director of the Centre for Maritime Archaeology and a member of the Archaeology Management Group.
Sponsored by the Department of Anthropology. the IHC's Archeology RFG, and the IHC's Public Goods series.