30 Apr

Temple Piety, Temple Power: Vishnu Devotion in Cambodia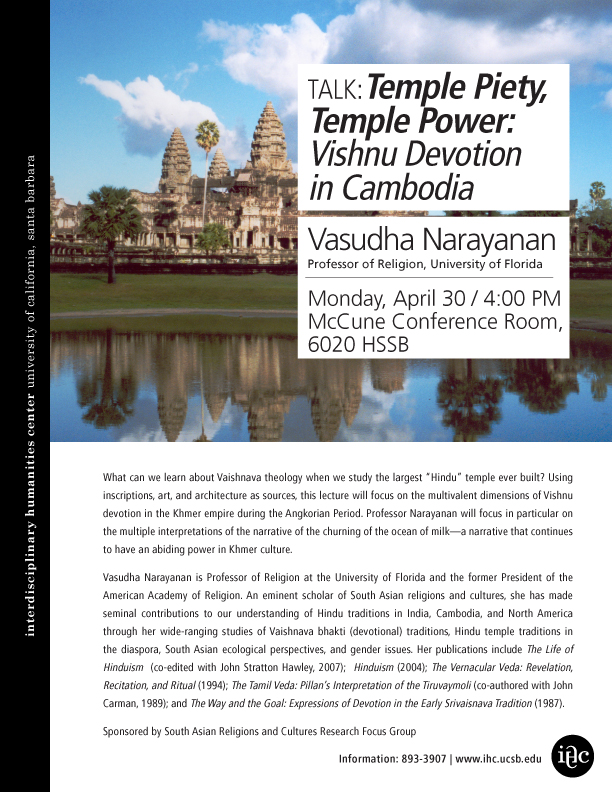 Vasudha Narayanan (Religion, University of Florida)
Monday, April 30 / 4:00 PM
McCune Conference Room, 6020 HSSB
What can we learn about Vaishnava theology when we study the largest "Hindu" temple ever built? Using inscriptions, art, and architecture as sources, this lecture will focus on the multivalent dimensions of Vishnu devotion in the Khmer empire during the Angkorian Period. Professor Narayanan will focus in particular on the multiple interpretations of the narrative of the churning of the ocean of milk—a narrative that continues to have an abiding power in Khmer culture.
Vasudha Narayanan is Professor of Religion at the University of Florida and the former President of the American Academy of Religion. An eminent scholar of South Asian religions and cultures, she has made seminal contributions to our understanding of Hindu traditions in India, Cambodia, and North America through her wide-ranging studies of Vaishnava bhakti (devotional) traditions, Hindu temple traditions in the diaspora, South Asian ecological perspectives, and gender issues. Her publications include The Life of Hinduism  (co-edited with John Stratton Hawley, 2007); Hinduism (2004); The Vernacular Veda: Revelation, Recitation, and Ritual(1994); The Tamil Veda: Pillan's Interpretation of the Tiruvaymoli(co-authored with John Carman, 1989); and  The Way and the Goal: Expressions of Devotion in the Early Srivaisnava Tradition (1987).
Sponsored by  the IHC's South Asian Religions and Cultures RFG.