18 Jan

America and the Holocaust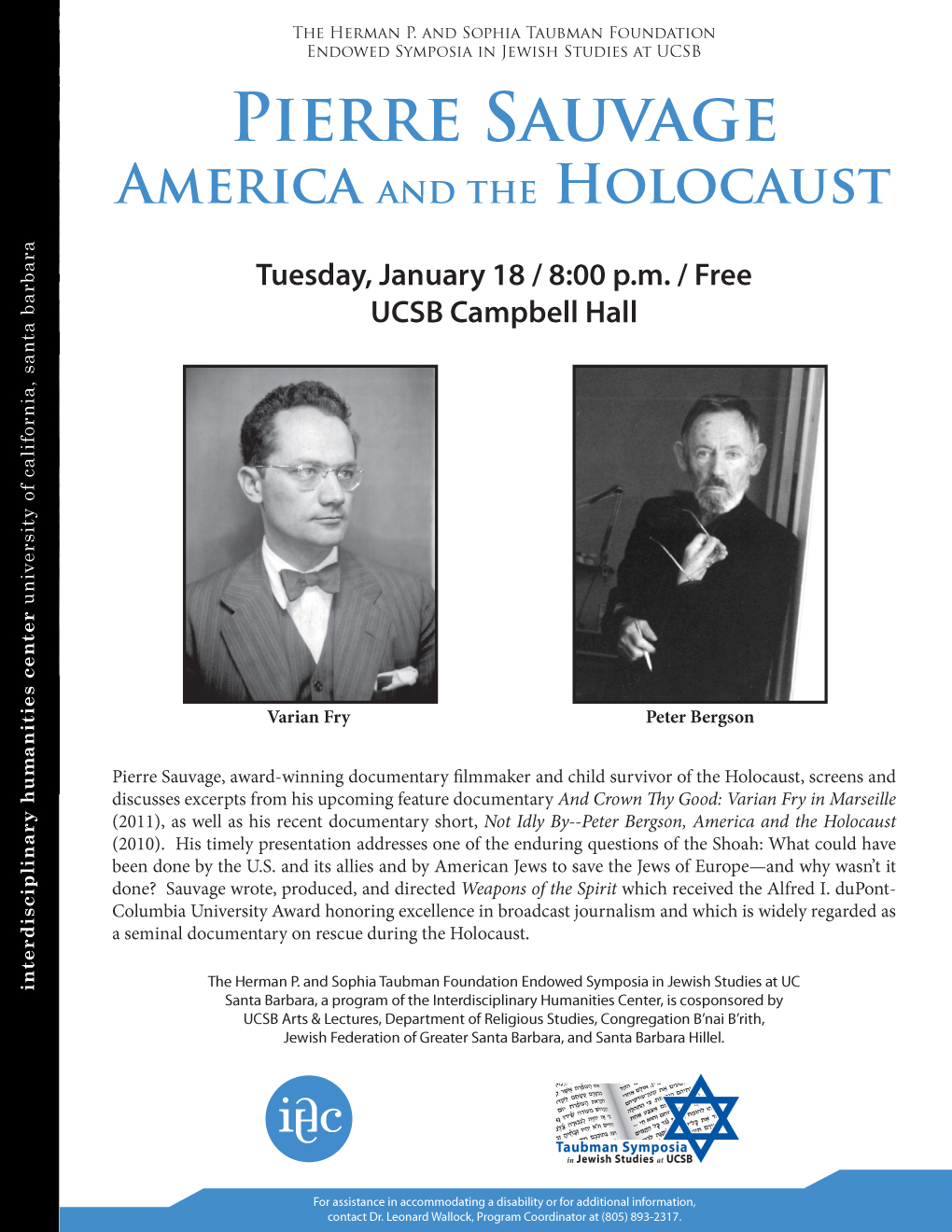 Pierre Sauvage, Documentary Filmmaker of Weapons of the Spirit
Tuesday, January 18 / 8:00 p.m.
Campbell Hall
Pierre Sauvage, award-winning documentary filmmaker and child survivor of the Holocaust, screens and discusses excerpts from his upcoming feature documentary And Crown Thy Good: Varian Fry in Marseille (2011), as well as his recent documentary short, Not Idly By–Peter Bergson, America and the Holocaust (2010).  His timely presentation addresses one of the enduring questions of the Shoah: What could have been done by the U.S. and its allies and by American Jews to save the Jews of Europe—and why wasn't it done?  Sauvage wrote, produced, and directed Weapons of the Spirit which received the Alfred I. duPont-Columbia University Award honoring excellence in broadcast journalism and which is widely regarded as a seminal documentary on rescue during the Holocaust.
Pierre Sauvage is a child survivor of the Holocaust and a child of Holocaust survivors.  An Emmy Award-winning documentary filmmaker, Sauvage is the President of the Chambon Foundation, which he founded in 1982.  The Chambon Foundation was the first nonprofit educational foundation committed to exploring and communicating the necessary and challenging lessons of hope intertwined with the Holocaust's unavoidable lessons of despair.
Sauvage's recent documentary short, Not Idly By: Peter Bergson, America and Holocaust (2010) offers a portrait of a militant Jew born in Palestine who led a controversial American effort to fight the Holocaust.  According to historian Blanche Wiesen Cook, "This brilliant, galvanizing, and profoundly moving documentary celebrates Peter Bergson's vigorous efforts to end the silence and the slaughter that defined the Holocaust."
His latest film, And Crown Thy Good–Varian Fry in Marseille, will be released in 2011.  A feature documentary, it tells the story of a New York intellectual who after the fall of France to the Nazis spent a year in the Southern port city of Marseille leading one of the most remarkable and successful rescue efforts of the Nazi era.  While celebrating some remarkable Americans—Varian Fry, Miriam Davenport, Mary Jayne Gold, Charles Fawcett, Leon Ball and Hiram Bingham IV—the documentary places the story in the context of those challenging times, addressing American policies towards the unwanted refugees.  Both the Jerusalem Cinematheque and New York City's Museum of Jewish Heritage have recently held retrospectives devoted to the filmmaker.
Sauvage is best known for his 1989 feature documentary Weapons of the Spirit, which tells the story the conspiracy of goodness of a mountain community in France that defied the Nazis and took in and saved five thousand Jews, including himself and his parents.  Sauvage was born in this unique Christian oasis, Le Chambon, at a time when much of his family was being tortured and murdered in the Nazi death camps.  Only at the age of 18 did Sauvage learn that he and his family were Jewish and survivors of the Holocaust.  Weapons of the Spirit won numerous awards and received two national prime-time broadcasts on P.B.S., accompanied by Bill Moyers' probing 1989 interview of the filmmaker, and remains one of the most widely used documentary teaching tools on the Holocaust.
A popular lecturer on the Holocaust and its continuing challenges, for over twenty years, Sauvage has been a student of what he calls the American experience of the Holocaust.  He is one of a pioneering handful of experts on rescuers of Jews during the Holocaust—"righteous Gentiles"—and contends that they still have much to teach us.  The son of prominent French journalist and author, Sauvage was 4 when he and his parents moved to New York City in 1948, returning to Paris at 18 to pursue his studies. After working briefly as a journalist, the Sorbonne drop-out fell in love with film at Paris' legendary Cinémathèque Française, becoming a film scholar and landing a job there working for the legendary genius Henri Langlois.  Veteran émigré producer Otto Preminger brought Sauvage back to New York as a story editor. After co-authoring a two-volume critical study of American film directors, American Directors, Sauvage finally got behind the camera himself as a staff producer-reporter for Los Angeles public television station KCET.  While producing over 30 hours of varied programming, his first major success came when he decided to begin exploring those Jewish roots he had never known in Yiddish: the Mame-Loshn (1979).
Sponsors:
The Herman P. and Sophia Taubman Foundation Endowed Symposia in Jewish Studies at UC Santa Barbara, a program of the Interdisciplinary Humanities Center, is cosponsored by UCSB Arts & Lectures, Department of Religious Studies, Congregation B'nai B'rith, Jewish Federation of Greater Santa Barbara, and Santa Barbara Hillel.