27 Jan

Still Alice (2014, 101 min.)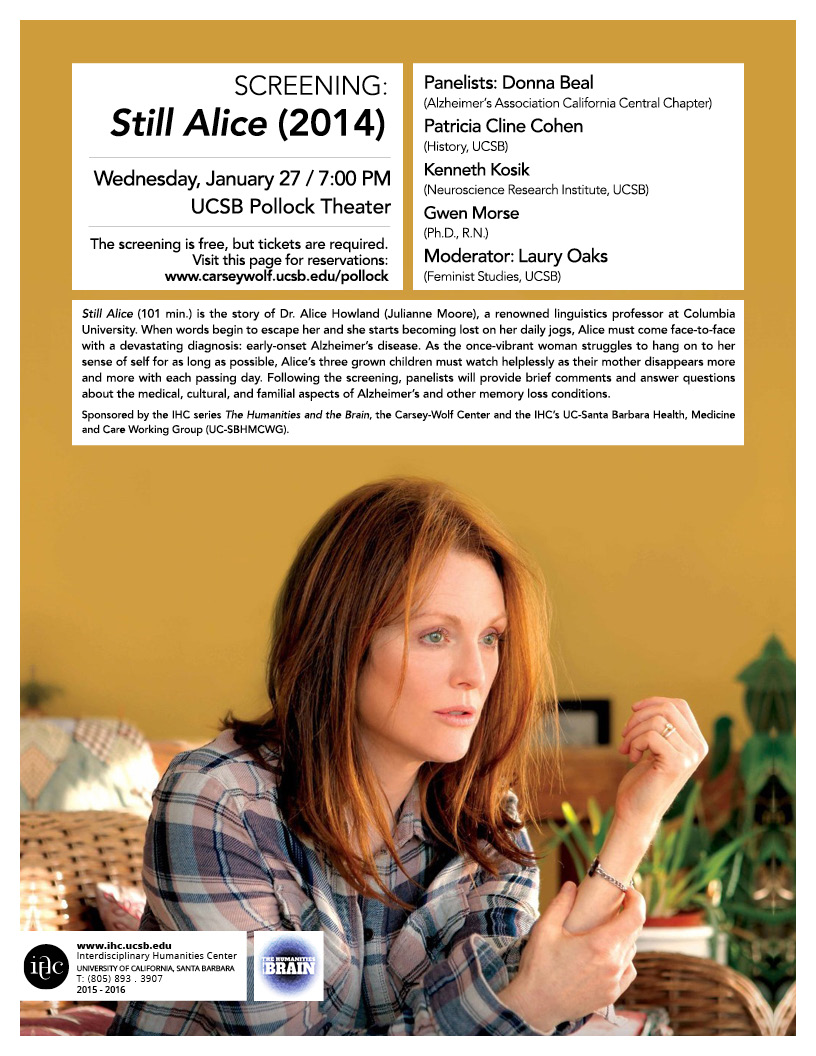 Wednesday, January 27, 2016 / 7:00 PM
Panelists will include:
Donna Beal (MPH, MCHES, Vice President of Program Services and Advocacy, Alzheimer's Association California Central Chapter)
Patricia Cline Cohen (History, UCSB)
Kenneth Kosik (Neuroscience Research Institute, UCSB)
Gwen Morse (Ph.D., R.N.)
Moderator: Laury Oaks (Feminist Studies, UCSB)
UCSB Pollock Theater
The screening is free but tickets are required.
Visit this page for reservations: http://www.carseywolf.ucsb.edu/pollock.
Still Alice is the story of Dr. Alice Howland (Julianne Moore), a renowned linguistics professor at Columbia University. When words begin to escape her and she starts becoming lost on her daily jogs, Alice must come face-to-face with a devastating diagnosis: early-onset Alzheimer's disease. As the once-vibrant woman struggles to hang on to her sense of self for as long as possible, Alice's three grown children must watch helplessly as their mother disappears more and more with each passing day.  Following the screening, panelists will provide brief comments and answer questions about the medical, cultural, and familial aspects of Alzheimer's and other memory loss conditions.
Sponsored by the IHC series The Humanities and the Brain, the Carsey-Wolf Center and the IHC's UC-Santa Barbara Health, Medicine and Care Working Group (UC-SBHMCWG).