20 Oct

From Literal to Spiritual Soldiers of Christ: The Contestation of Space in Late Antique Rome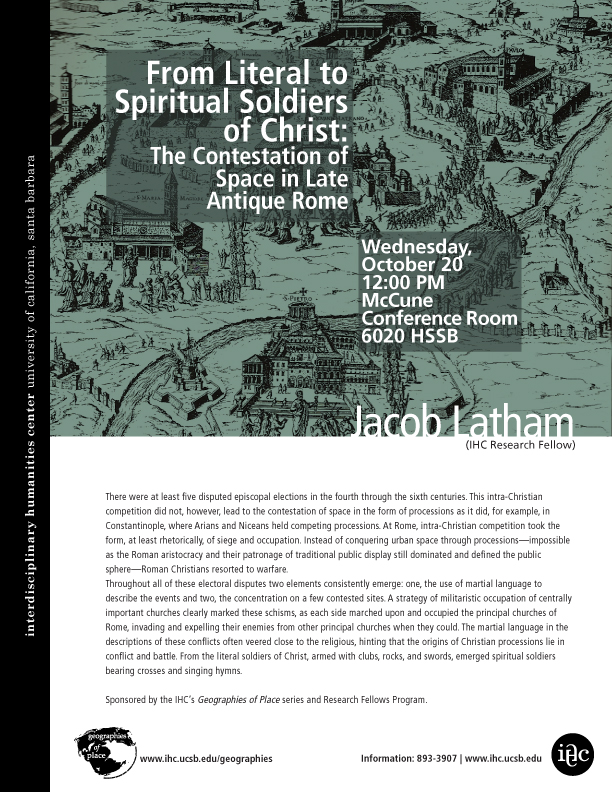 Jacob Latham (IHC Research Fellow)
Wednesday, October 20, 2010 / 12:00 PM
McCune Conference Room, 6020 HSSB
There were at least five disputed episcopal elections in the fourth through the sixth centuries. This intra-Christian competition did not, however, lead to the contestation of space in the form of processions as it did, for example, in Constantinople, where Arians and Niceans held competing processions. At Rome, intra-Christian competition took the form, at least rhetorically, of siege and occupation. Instead of conquering urban space through processions—impossible as the Roman aristocracy and their patronage of traditional public display still dominated and defined the public sphere—Roman Christians resorted to warfare.
Throughout all of these electoral disputes two elements consistently emerge: one, the use of martial language to describe the events and two, the concentration on a few contested sites. A strategy of militaristic occupation of centrally important churches clearly marked these schisms, as each side marched upon and occupied the principal churches of Rome, invading and expelling their enemies from other principal churches when they could. The martial language in the descriptions of these conflicts often veered close to the religious, indicating, hinting, that the origins of Christian processions lie in conflict and battle. From the literal soldiers of Christ, armed with clubs, rocks, and swords, emerged spiritual soldiers bearing crosses and singing hymns.
Sponsored by the IHC's Geographies of Place series and Research Fellows Program.