06 Feb

Sharing Jerusalem's Holy Places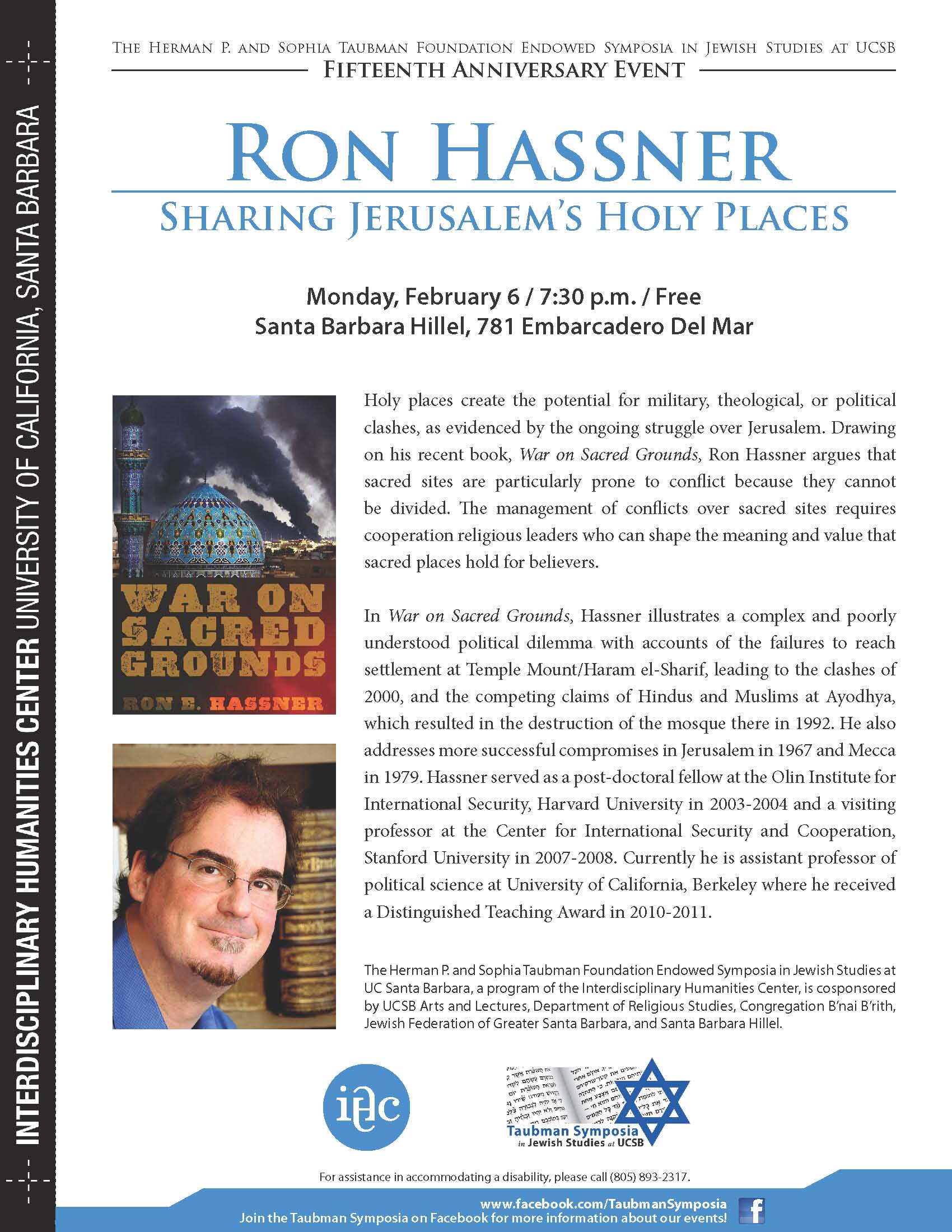 Ron Hassner (Political Science, UC Berkeley)
Monday, February 6 / 7:30 PM
Santa Barbara Hillel, 781 Embarcadero Del Mar
Holy places create the potential for military, theological, or political clashes, as evidenced by the ongoing struggle over Jerusalem. Drawing on his recent book, War on Sacred Grounds, Ron Hassner argues that sacred sites are particularly prone to conflict because they cannot be divided. The management of conflicts over sacred sites requires cooperation religious leaders who can shape the meaning and value that sacred places hold for believers.
In War on Sacred Grounds, Hassner illustrates a complex and poorly understood political dilemma with accounts of the failures to reach settlement at Temple Mount/Haram el-Sharif, leading to the clashes of 2000, and the competing claims of Hindus and Muslims at Ayodhya, which resulted in the destruction of the mosque there in 1992. He also addresses more successful compromises Jerusalem in 1967 and Mecca in 1979. Hassner served as a post-doctoral fellow at the Olin Institute for International Security, Harvard University in 2003-2004 and a visiting professor at the Center for International Security and Cooperation, Stanford University in 2007-2008. Currently he is assistant professor of political science at University of California, Berkeley where he received a Distinguished Teaching Award in 2010-2011.
Sponsored by the Herman P. and Sophia Taubman Foundation Endowed Symposia in Jewish Studies at UC Santa Barbara Arts and Lectures, the Department of Religious Studies, Congregation B'nai B'rith, Jewish Federation of Greater Santa Barbara, and Santa Barbara Hillel.