11 Feb

Sex Workers Unite: A History of the Movement from Stonewall to SlutWalk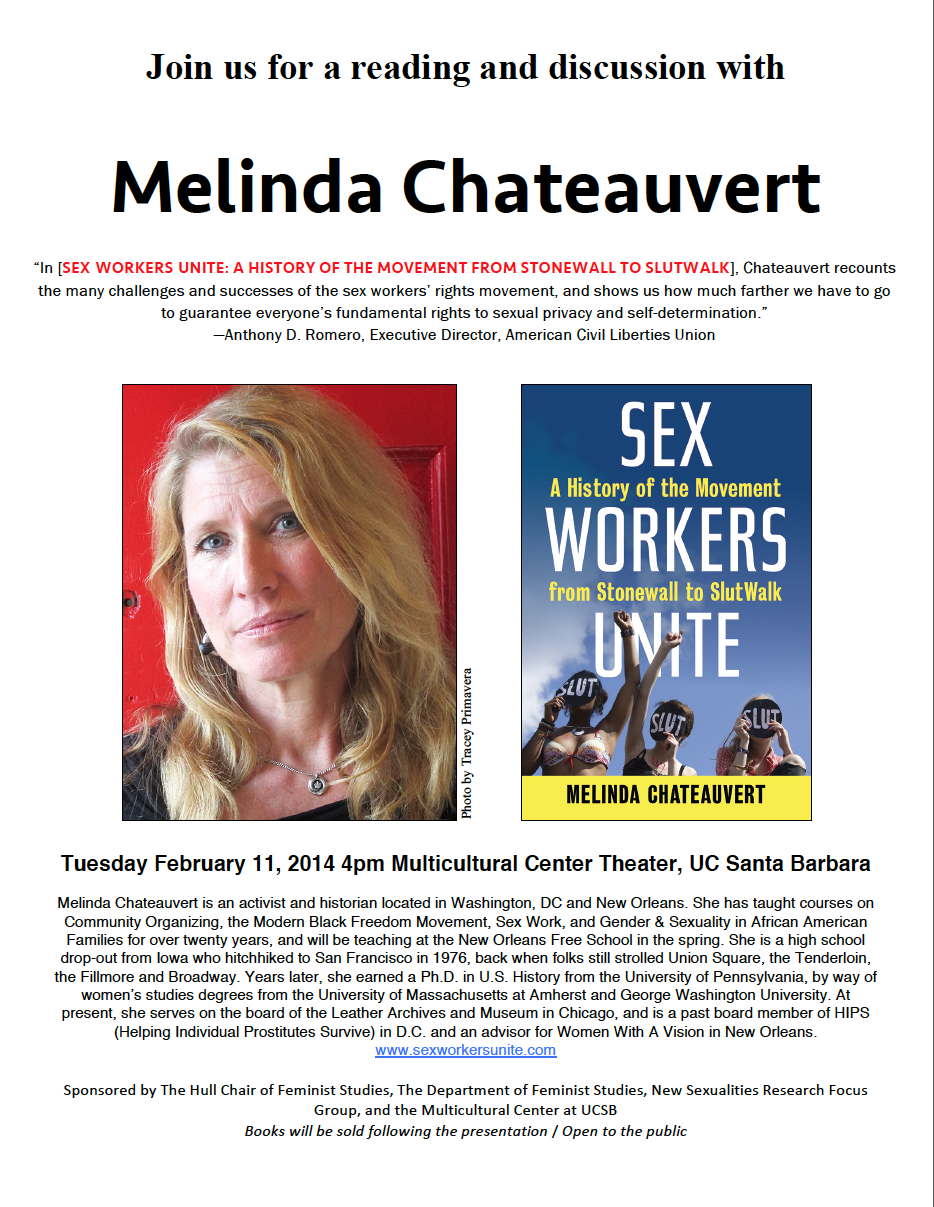 Melinda Chateauvert (New Orleans Free School)
 Tuesday, February 11  / 4:00 PM
 Multicultural Center Theater
Melinda Chateauvert examines the ways that women working in the sex industry—following activism in the African American and Gay liberation movements of the 1960s and 70s—have organized through an identity framework known as "Hookers' Lib." This talk charts the challenges sex worker activists have faced over time, from their efforts to ally with radical and mainstream feminists in the 1970s, to finding (some) acceptance among AIDS activists in the 1980s, to claiming their rights as workers in the 1990s through labor actions. Though the collective identity "sex workers" remains strong, the movement has in recent years shifted its emphasis to a human rights framework. The demand for human rights for sex workers recognizes that citizenship is not enough, because that paradigm tends to prioritize the civil rights and civil liberties of a privileged few, rather than to make more expansive claims for the human rights of all. Chateauvert critiques the dominance of citizenship discourses in recent anti-prostitution campaigns, which she argues are disguised as calls to abolish sex trafficking.
Chateauvert is an activist and historian located in Washington, DC and New Orleans. She has taught courses on Community Organizing, the Modern Black Freedom Movement, Sex Work, and Gender & Sexuality in African American Families for over twenty years, and will be teaching at the New Orleans Free School in the spring. She is a high school drop-out from Iowa who hitchhiked to San Francisco in 1976, back when folks still strolled Union Square, the Tenderloin, the Fillmore and Broadway. Years later, she earned a Ph.D. in U.S. History from the University of Pennsylvania, by way of women's studies degrees from the University of Massachusetts at Amherst and George Washington University. At present, she serves on the board of the Leather Archives and Museum in Chicago, and is a past board member of HIPS (Helping Individual Prostitutes Survive) in D.C. and an advisor for Women With A Vision in New Orleans. www.sexworkersunite.com
Sponsored by The Hull Chair of Feminist Studies, The Department of Feminist Studies, The IHC's  New Sexualities Research Focus Group, and the Multicultural Center.