02 Mar

Sacred Attunement: Judaism and the Cultivation of Mindfulness in the Everyday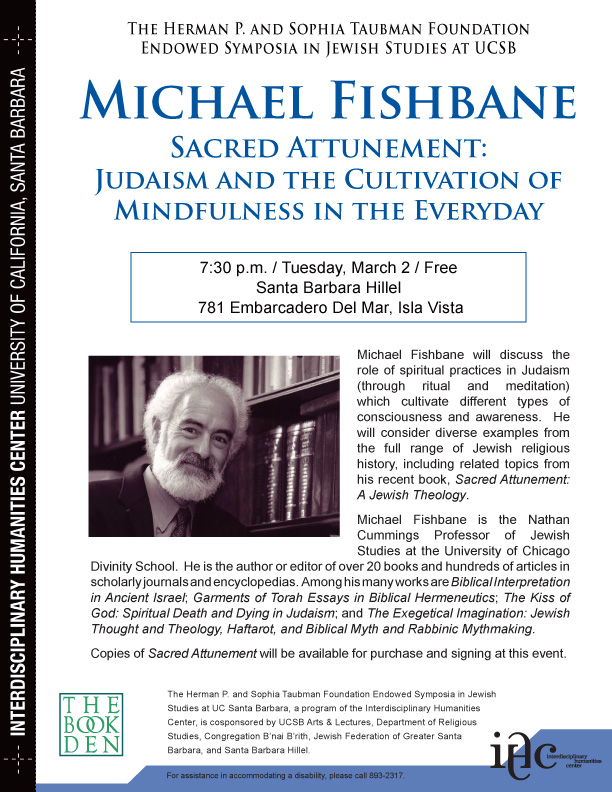 Michael Fishbane (Jewish Studies, University of Chicago)
Tuesday, March 2 / 7:30 PM
Santa Barbara Hillel, 781 Embarcadero Del Mar, Isla Vista
Michael Fishbane will discuss the role of spiritual practices in Judaism — through ritual and meditation — which cultivate different types of consciousness and awareness. He will consider diverse examples from the full range of Jewish religious history, including related topics from his recent book Sacred Attunement: A Jewish Theology.  Fishbane is the Nathan Cummings Professor of Jewish Studies at the University of Chicago Divinity School and the author or editor of over twenty books and hundreds of articles in scholarly journals and encyclopedias. Among his many works are Biblical Interpretation in Ancient Israel; Garments of Torah Essays in Biblical Hermeneutics; The Kiss of God: Spiritual Death and Dying in Judaism; and The Exegetical Imagination: Jewish Thought and Theology, Haftarot, and Biblical Myth and Rabbinic Mythmaking. Copies of Sacred Attunement will be available for purchase and signing at this event.
Website: https://www.ihc.ucsb.edu/events/endowed/taubman
The Herman P. and Sophia Taubman Foundation Endowed Symposia in Jewish Studies at UC Santa Barbara, a program of the Interdisciplinary Humanities Center, is cosponsored by UCSB Arts & Lectures, Department of Religious Studies, Congregation B'nai B'rith, Jewish Federation of Greater Santa Barbara, and Santa Barbara Hillel.