04 May

Renaissance Publics, Material Goods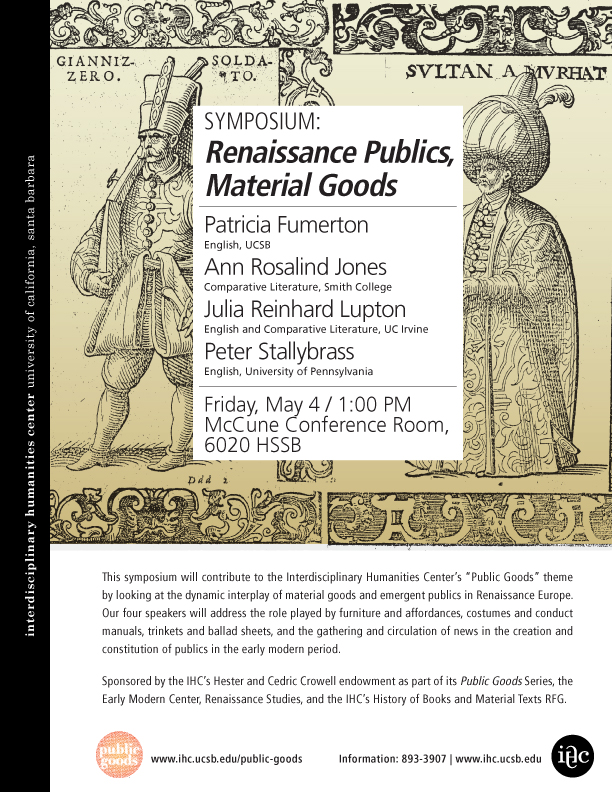 Patricia Fumerton (English, UCSB)
Ann Rosalind Jones (Comparative Literature, Smith College)
Julia Reinhard Lupton (English, UC Irvine)
Peter Stallybrass (English, University of Pennsylvania)
Friday, May 4, 2012 / 1:00 PM
McCune Conference Room, 6020 HSSB
This symposium will contribute to the Interdisciplinary Humanities Center's "Public Goods" theme by looking at the dynamic interplay of material goods and emergent publics in Renaissance Europe.  Our four speakers will address the role played by furniture and affordances, costumes and conduct manuals, trinkets and ballad sheets, and the gathering and circulation of news in the creation and constitution of publics in the early modern period.
1:00: Panel 1
Peter Stallybrass:  "Gathering and Circulating News"
Patricia Fumerton:  "The Pack of Autolycus"
3:00: Panel 2
Ann Rosalind Jones: "The Emperor's Clothes: Costume Books as Conduct Manuals, 1560-1600"
Julia Reinhard Lupton: "Furnitura: Reading Shakespearean Affordances"
5:00 Reception
Sponsored by the IHC's Hester and Cedric Crowell endowment as part of its Public Goods Series, the Early Modern Center, Renaissance Studies, and the IHC's History of Books and Material Texts RFG.
Click here to listen to a recording of this symposium from the IHC series Public Goods.