12 Apr

The Story of Making Change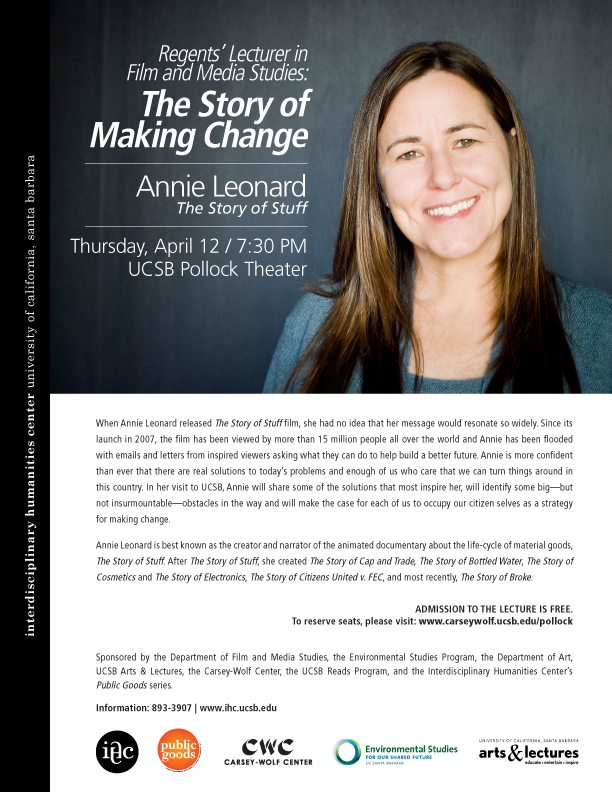 Annie Leonard (The Story of Stuff, Regents' Lecturer in Film and Media Studies )
Thursday, April 12, 2012 / 7:30 PM
Pollock Theater
When Annie Leonard released The Story of Stuff film, she had no idea that her message would resonate so widely. Since its launch in 2007, the film has been viewed by more than 15 million people all over the world and Annie has been flooded with emails and letters from inspired viewers asking what they can do to help build a better future. Annie is more confident than ever that there are real solutions to today's problems and enough of us who care that we can turn things around in this country. In her visit to UCSB, Annie will share some of the solutions that most inspire her, will identify some big—but not insurmountable—obstacles in the way and will make the case for each of us to occupy our citizen selves as a strategy for making change.
Annie Leonard is best known as the creator and narrator of the animated documentary about the life-cycle of material goods, The Story of Stuff. The documentary began as an hour-long talk, and was made into a condensed film version based on popular demand. After The Story of Stuff, she created The Story of Cap and Trade, The Story of Bottled Water, The Story of Cosmetics and The Story of Electronics, The Story of Citizens United v. FEC, and most recently, The Story of Broke. Annie is currently the director of the Story of Stuff Project, and serves on the boards of the International Forum for Globalization and GAIA (Global Alliance for Incinerator Alternatives).
Admission to the lecture is free.  To reserve seats, please visit: http://www.carseywolf.ucsb.edu/pollock
Sponsored by the Department of Film and Media Studies, the Environmental Studies Program, the Department of Art, UCSB Arts & Lectures, the Carsey-Wolf Center, the UCSB Reads Program, and the Interdisciplinary Humanities Center's Public Goods series.