22 Oct

Conditions of the Brain: Meaning, Metaphor, and Mechanism in Illness and Healing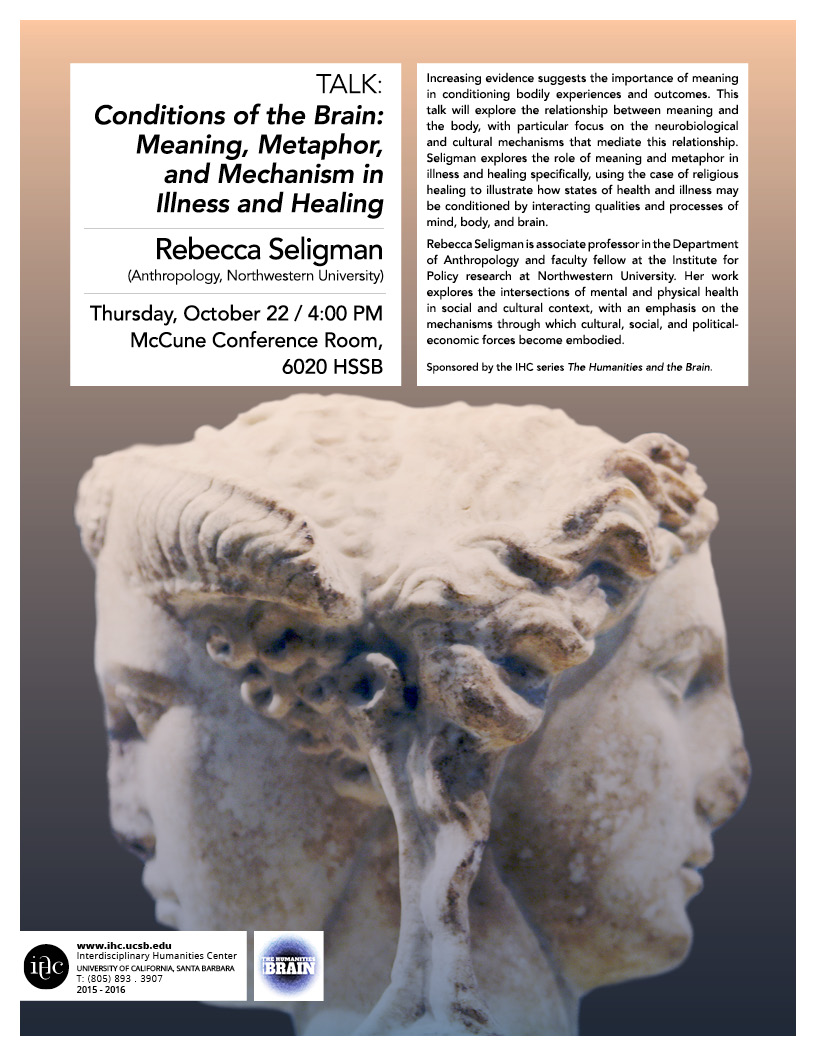 Rebecca Seligman (Anthropology, Northwestern University)
Thursday, October 22, 2015 / 4:00 PM
McCune Conference Room, 6020 HSSB
Increasing evidence suggests the importance of meaning in conditioning bodily experiences and outcomes. This talk will explore the relationship between meaning and the body, with particular focus on the neurobiological and cultural mechanisms that mediate this relationship. Seligman explores the role of meaning and metaphor in illness and healing specifically, using the case of religious healing to illustrate how states of health and illness may be conditioned by interacting qualities and processes of mind, body, and brain.
Rebecca Seligman is associate professor in the Department of Anthropology and faculty fellow at the Institute for Policy research at Northwestern University. Her work explores the intersections of mental and physical health in social and cultural context, with an emphasis on the mechanisms through which cultural, social, and political-economic forces become embodied. Seligman also incorporates and critically evaluates relevant neurobiological research in these areas as a means to better understand how cultural beliefs and practices operate within bodies. Her book, Possessing Spirits and Healing Selves: Embodiment and Transformation in an Afro-Brazilian Religion, investigates the connections among mental health, embodied experience, and religious participation in northeastern Brazil.

Click here to listen to a recording of Rebecca Seligman's talk for the IHC series: The Humanities and the Brain.
Sponsored by the IHC series The Humanities and the Brain.