27 Jan

Radical Bodies: Anna Halprin; Simone Forti; Yvonne Rainer in CA and NY 1955 – 1972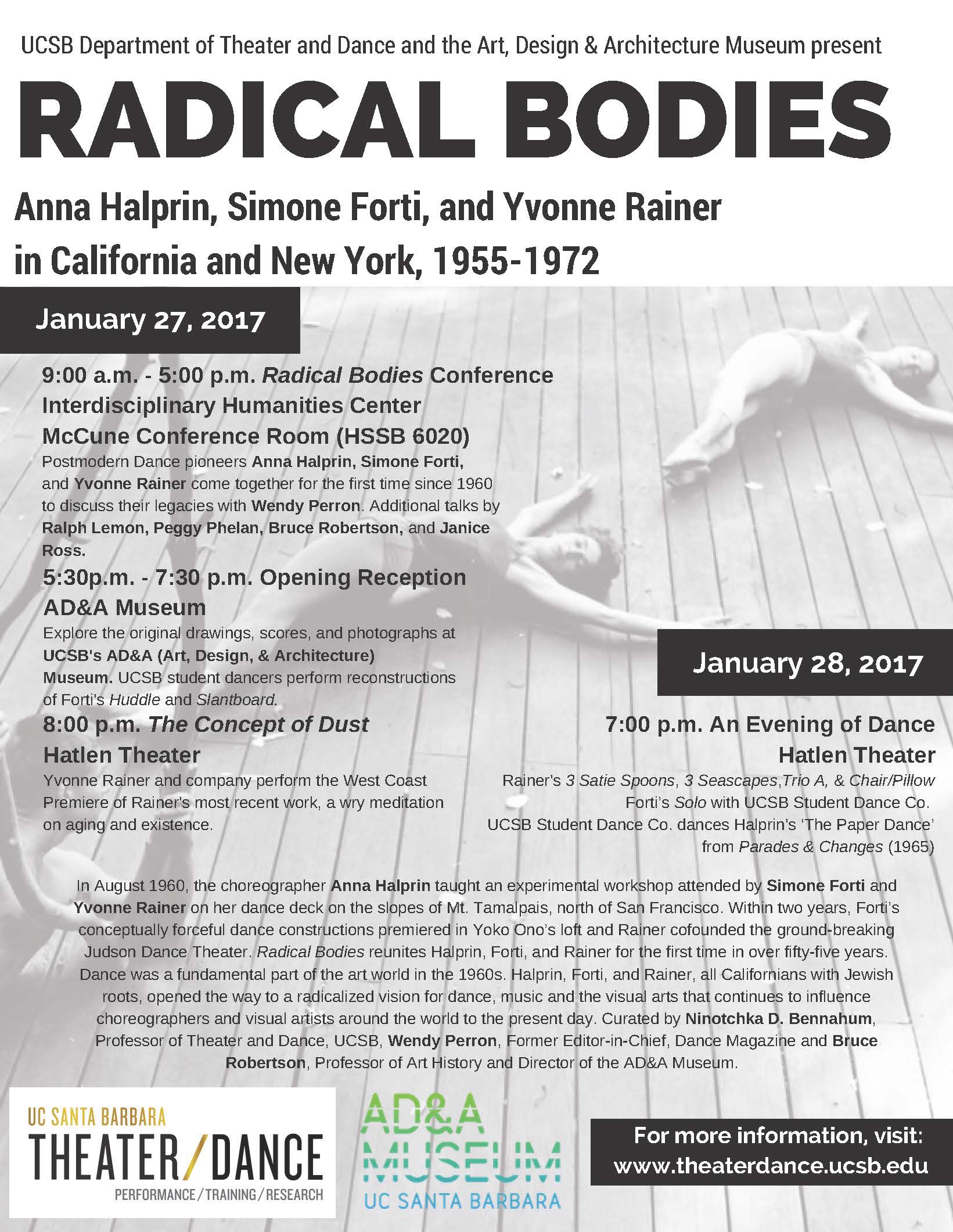 Friday, January 27, 2017 / 9:00 AM-5:00 PM
McCune Conference Room, 6020 HSSB
In the summer of 1960, dancer-choreographer and social activist Anna Halprin taught a revolutionary workshop on her open-air dance deck located on the slopes of Mt. Tamalpais north of San Francisco. A natural environment within civic view, the dance deck had long drawn celebrated collaborators Merce Cunningham and John Cage. The 1960 summer dance workshop catalyzed the improvisational art of what is today known as the Judson Dance Theater and change forever how, where and by whom contemporary dance is made, performed and installed. Among the dancers attending the now famed workshop were Simone Forti, then married to the artists Robert Morris, and Yvonne Rainer. Within two years, Forti's forceful dance constructions had premiered in Yoko Ono's loft and Rainer had helped found Judson Dance Theater. Radical Bodies reunites Halprin, Forti, and Rainer for the first time in over 45 years.
Radical Bodies: Anna Halprin, Simone Forti, and Yvonne Rainer California and New York, 1955-1972, a day-long conference, reunites all 3 artists for the first time since 1960. Together, in conversation with Judson Scholar Wendy Perron, Anna, Simone and Yvonne will discuss the roots of postmodernism in dance and the visual arts. These up close and personal discussions will be surrounded by scholarly papers and film showings and conclude with the grand opening of the exhibition at UCSB's Museum of Art, Architecture & Design and the Santa Barbara premiere of Yvonne Rainer's MoMa-curated work, Concept of Dust (2014).
For more information please visit: http://www.theaterdance.ucsb.edu/
Sponsored by the Art, Design & Architecture Museum, the Division of Humanities and Fine Arts, the Dept.of Theater and Dance, the Dept. of Feminist Studies, the Department of Film Studies, and the IHC's Community Matters series.