12 Nov

Nature Spends the Past Few Million Years Experimenting with a Prosocial Brain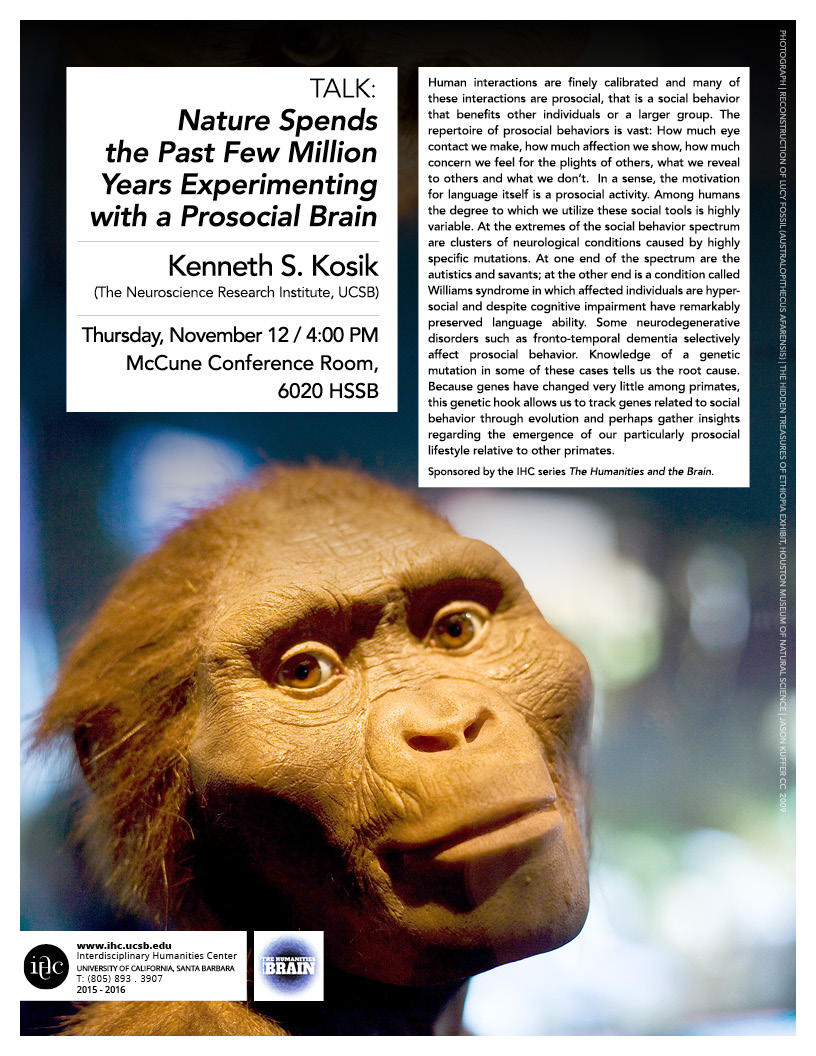 Kenneth S. Kosik (The Neuroscience Research Institute, UCSB)
Thursday, November 12, 2015 / 4:00 PM
McCune Conference Room, 6020 HSSB
Human interactions are finely calibrated and many of these interactions are prosocial, that is a social behavior that benefits other individuals or a larger group. The repertoire of prosocial behaviors is vast: How much eye contact we make, how much affection we show, how much concern we feel for the plights of others, what we reveal to others and what we don't.  In a sense, the motivation for language itself is a prosocial activity. Among humans the degree to which we utilize these social tools is highly variable. At the extremes of the social behavior spectrum are clusters of neurological conditions caused by highly specific mutations. At one end of the spectrum are the autistics and savants; at the other end is a condition called Williams syndrome in which affected individuals are hyper-social and despite cognitive impairment have remarkably preserved language ability. Some neurodegenerative disorders such as fronto-temporal dementia selectively affect prosocial behavior. Knowledge of a genetic mutation in some of these cases tells us the root cause. Because genes have changed very little among primates, this genetic hook allows us to track genes related to social behavior through evolution and perhaps gather insights regarding the emergence of our particularly prosocial lifestyle relative to other primates.
Kenneth S. Kosik completed a B.A. and M.A. in English literature from Case Western Reserve University in 1972 and an M.D. from the Medical College of Pennsylvania in 1976. He served as a resident in neurology at Tufts New England Medical Center and was Chief Resident there in 1980. Beginning in 1980 he held a series of academic appointments at the Harvard Medical School and achieved the rank of full professor there in 1996. He also held appointments at McLean Hospital, Brigham and Women's Hospital, the Massachusetts General Hospital and the Dana-Farber Cancer Institute. In 2004, Kosik became the Harriman Professor of Neuroscience Research and Co-Director of the Neuroscience Research Institute at the University of California, Santa Barbara. He founded and serves as Medical Director of the non-profit center, Cottage Center for Brain Fitness (CCBF).

Click here to listen to a recording of Kenneth Kosik's talk for the 2015-16 IHC series: The Humanities and the Brain.
Sponsored by the IHC series The Humanities and the Brain.