21 Nov

Problems with the Anthropocene: A View from Rural Amazonia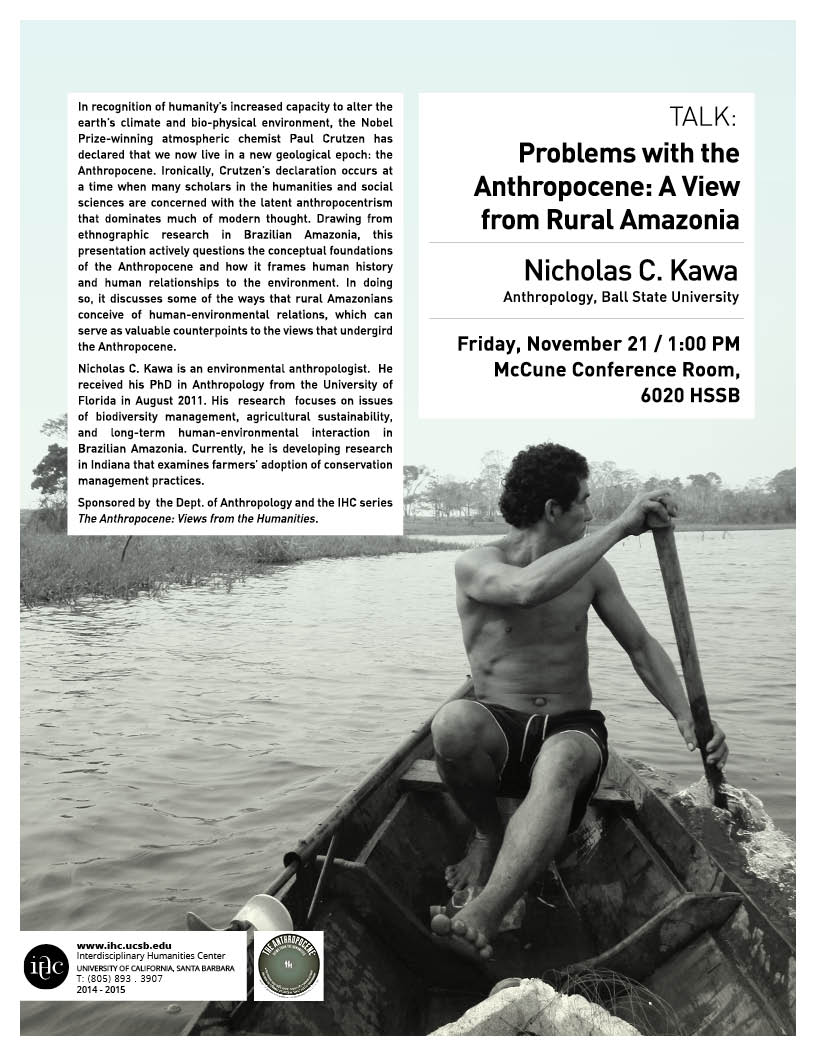 Nicholas C. Kawa (Anthropology, Ball State University)
Friday, November 21, 2014 / 1:00 PM
McCune Conference Room, 6020 HSSB

In recognition of humanity's increased capacity to alter the earth's climate and bio-physical environment, the Nobel Prize-winning atmospheric chemist Paul Crutzen has declared that we now live in a new geological epoch: the Anthropocene. Ironically, Crutzen's declaration occurs at a time when many scholars in the humanities and social sciences are concerned with the latent anthropocentrism that dominates much of modern thought. Drawing from ethnographic research in Brazilian Amazonia, this presentation actively questions the conceptual foundations of the Anthropocene and how it frames human history and human relationships to the environment. In doing so, it discusses some of the ways that rural Amazonians conceive of human-environmental relations, which can serve as valuable counterpoints to the views that undergird the Anthropocene.
Nicholas C. Kawa is an environmental anthropologist.  He received his PhD in Anthropology from the University of Florida in August 2011. His  research  focuses on issues of biodiversity management, agricultural sustainability, and long-term human-environmental interaction in Brazilian Amazonia. Currently, he is developing research in Indiana that examines farmers' adoption of conservation management practices.
Sponsored by  the Dept. of Anthropology and the IHC series The Anthropocene: Views from the Humanities.
Nicholas Kawa- "Problems with the Anthropocene: A View from Rural Amazonia" from Environmental Humanities Center on Vimeo.