13 May

Quoting and Action Formation in Prime Minister's Questions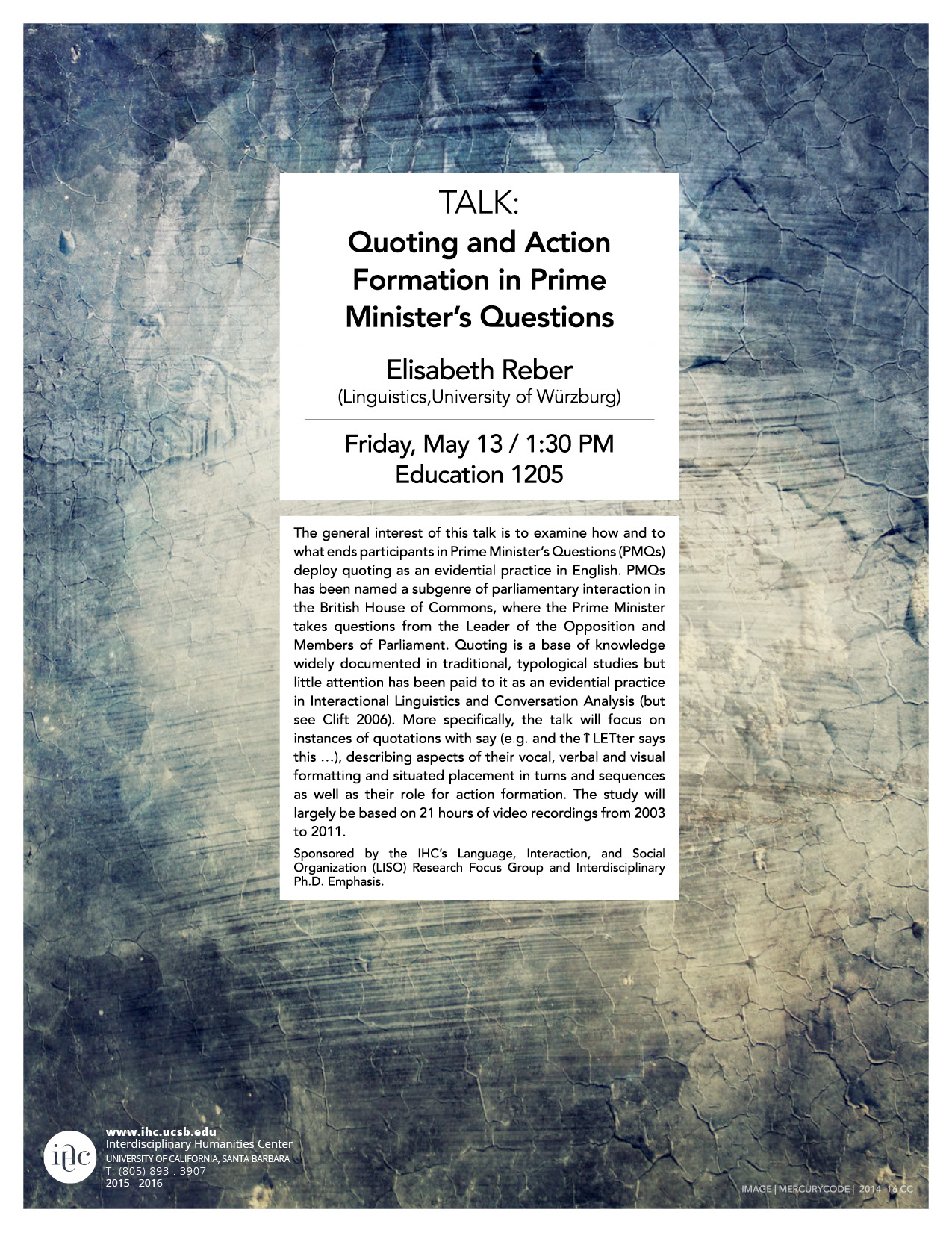 Elisabeth Reber (Linguistics,University of Würzburg)
Friday, May 13, 2016  / 1:30 PM
Education 1205
The general interest of this talk is to examine how and to what ends participants in Prime Minister's Questions (PMQs) deploy quoting as an evidential practice in English. PMQs has been named a subgenre of parliamentary interaction in the British House of Commons, where the Prime Minister takes questions from the Leader of the Opposition and Members of Parliament. Quoting is a base of knowledge widely documented in traditional, typological studies but little attention has been paid to it as an evidential practice in Interactional Linguistics and Conversation Analysis (but see Clift 2006). More specifically, the talk will focus on instances of quotations with say (e.g. and the ↑LETter says this …), describing aspects of their vocal, verbal and visual formatting and situated placement in turns and sequences as well as their role for action formation. The study will largely be based on 21 hours of video recordings from 2003 to 2011.
Dr. Elisabeth Weber is a Researcher and Lecturer in English Linguistics within the Institute of Modern Languages at the University of Würzburg in Germany. Dr. Weber is the author of Affectivity in Interaction: Sound Objects in English (John Benjamins, 2012) and the coeditor of volumes on prosody and embodiment in interaction. Her research on political interaction is supported by the German Research Foundation.
Sponsored by the IHC's Language, Interaction, and Social Organization (LISO) Research Focus Group and Interdisciplinary Ph.D. Emphasis.