20 Oct

Pathways to Peace: America and the Arab-Israeli Conflict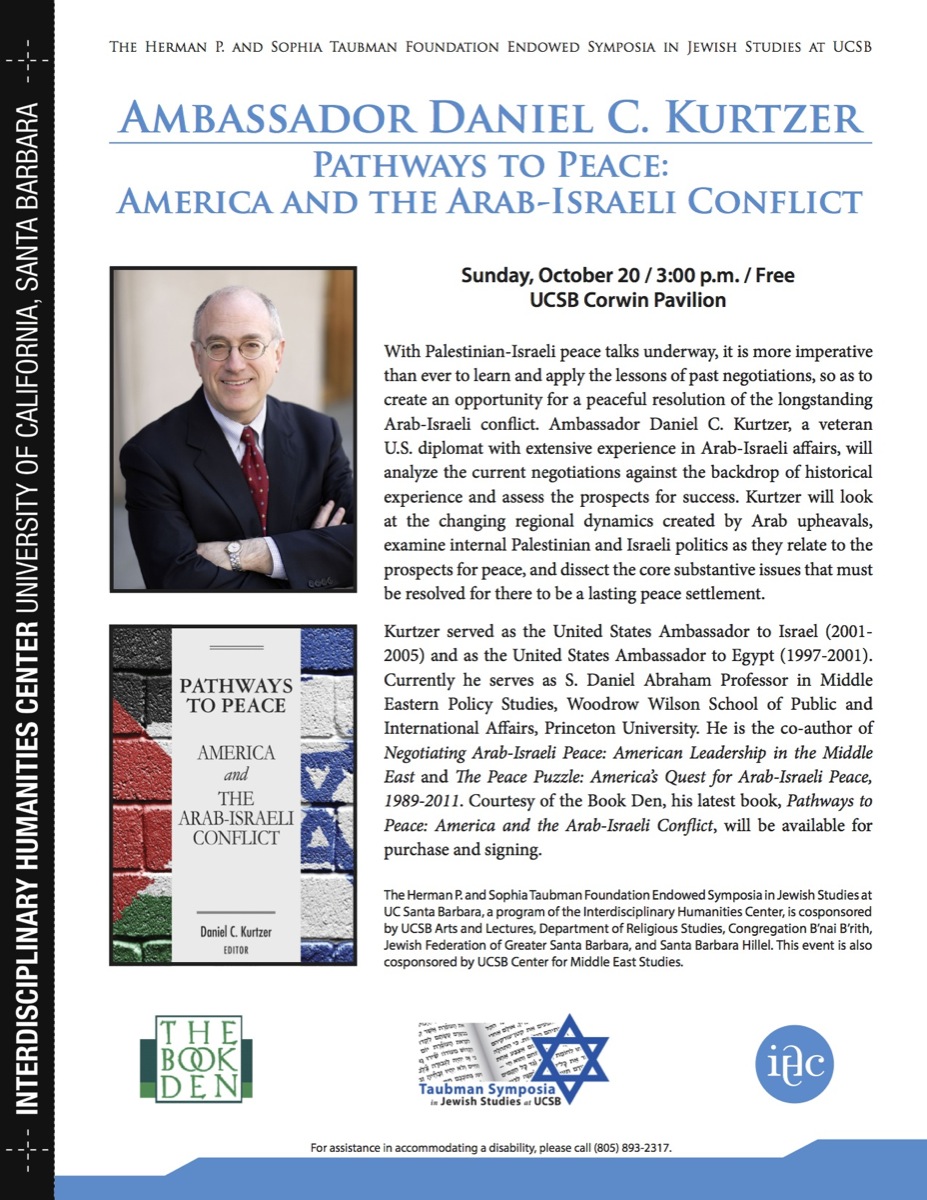 Ambassador Daniel C. Kurtzer
Sunday, October 20 / 3:00 PM
UCSB Corwin Pavilion
With Palestinian-Israeli peace talks underway, it is more imperative than ever to learn and apply the lessons of past negotiations, so as to create an opportunity for a peaceful resolution of the longstanding Arab-Israeli conflict.  Ambassador Daniel Kurtzer, a veteran U.S. diplomat with extensive experience in Arab-Israeli affairs, will analyze the current negotiations against the backdrop of historical experience and assess the prospects for success.  Kurtzer will look at the changing regional dynamics created by Arab upheavals, examine internal Palestinian and Israeli politics as they relate to the prospects for peace, and dissect the core substantive issues that must be resolved for there to be a lasting peace settlement.  Courtesy of The Book Den, copies of Pathways to Peace will be available for purchase and signing.
Daniel C. Kurtzer is the S. Daniel Abraham Professor of Middle East Policy Studies at Princeton University's Woodrow Wilson School of Public and International Affairs. During a 29-year career in the U.S. Foreign Service, Ambassador Kurtzer served as the United States Ambassador to Israel (2001-2005) and as the United States Ambassador to Egypt (1997-2001). He retired in 2005 with the rank of Career Minister.
Since leaving government service, Kurtzer has authored numerous articles on U.S. policy.  He is the co-author of Negotiating Arab-Israeli Peace: American Leadership in the Middle East (2008), co-author of The Peace Puzzle: America's Quest for Arab-Israeli Peace, 1989-2011(2013), and editor of Pathways to Peace: America and the Arab-Israeli Conflict (2012).  Kurtzer served as an advisor to the Iraq Study Group, and currently serves as a member of the Board of Trustees of the American University in Cairo, member of the Board of The Middle East Institute; and as a member of the New Jersey-Israel Commission.  He is on the Editorial Board of The Cairo Review of Global Affairs and Israel Studies Review.
Sponsored by The Herman P. and Sophia Taubman Foundation, Arts and Lectures,  the Dept. of Religious Studies, Congregation B'nai B'rith, the Jewish Federation of Greater Santa Barbara, and Santa Barbara Hillel.
www.facebook.com/TaubmanSymposia
Join the Taubman Symposia on Facebook for more information about our events!