29 Jan

On Streaming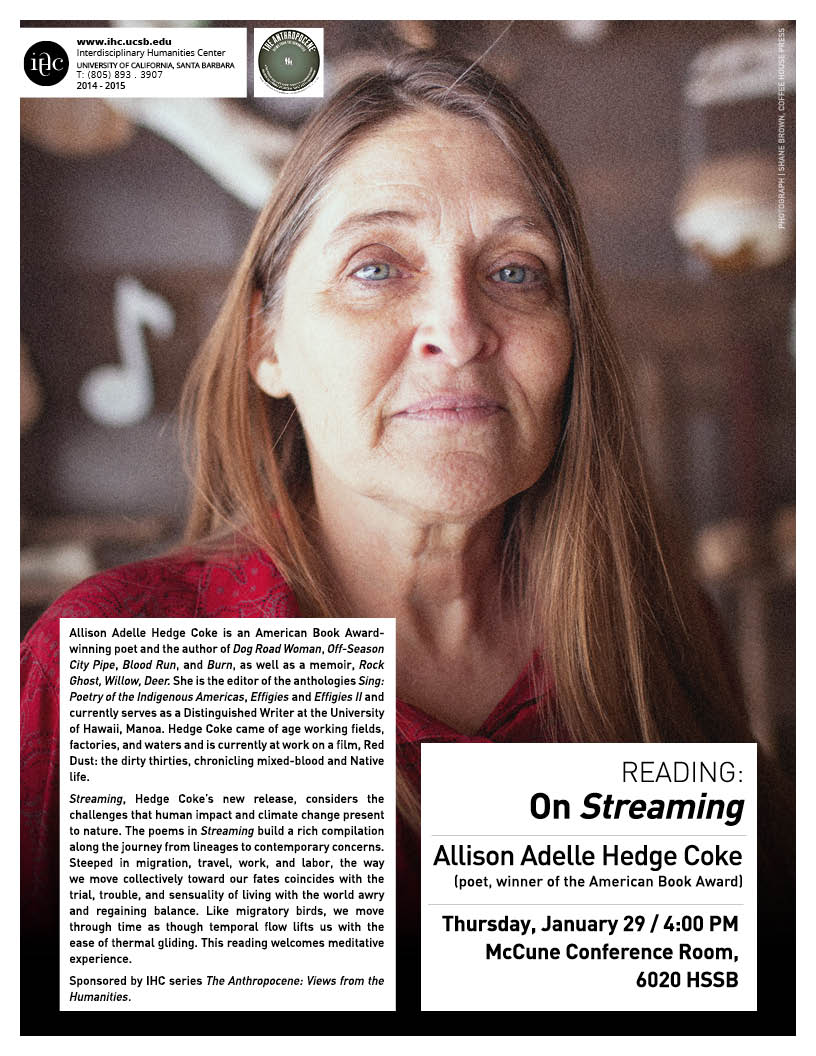 Allison Adelle Hedge Coke (poet, winner of the American Book Award)
Thursday, January 29, 2015 / 4:00 PM
McCune Conference Room, 6020 HSSB

Allison Adelle Hedge Coke is an American Book Award-winning poet and the author of Dog Road Woman, Off-Season City Pipe, Blood Run, and Burn, as well as a memoir, Rock Ghost, Willow, Deer. She is the editor of the anthologies Sing: Poetry of the Indigenous Americas, Effigies and Effigies II and currently serves as a Distinguished Writer at the University of Hawaii, Manoa. Hedge Coke came of age working fields, factories, and waters and is currently at work on a film, Red Dust: the dirty thirties, chronicling mixed-blood and Native life.
Streaming, Hedge Coke's new release, considers the challenges that human impact and climate change present to nature. The poems in Streaming build a rich compilation along the journey from lineages to contemporary concerns. Steeped in migration, travel, work, and labor, the way we move collectively toward our fates coincides with the trial, trouble, and sensuality of living with the world awry and regaining balance. Like migratory birds, we move through time as though temporal flow lifts us with the ease of thermal gliding. This reading welcomes meditative experience.
Sponsored by the IHC series The Anthropocene: Views from the Humanities.