20 Feb

Narrative Care, Ancient and Modern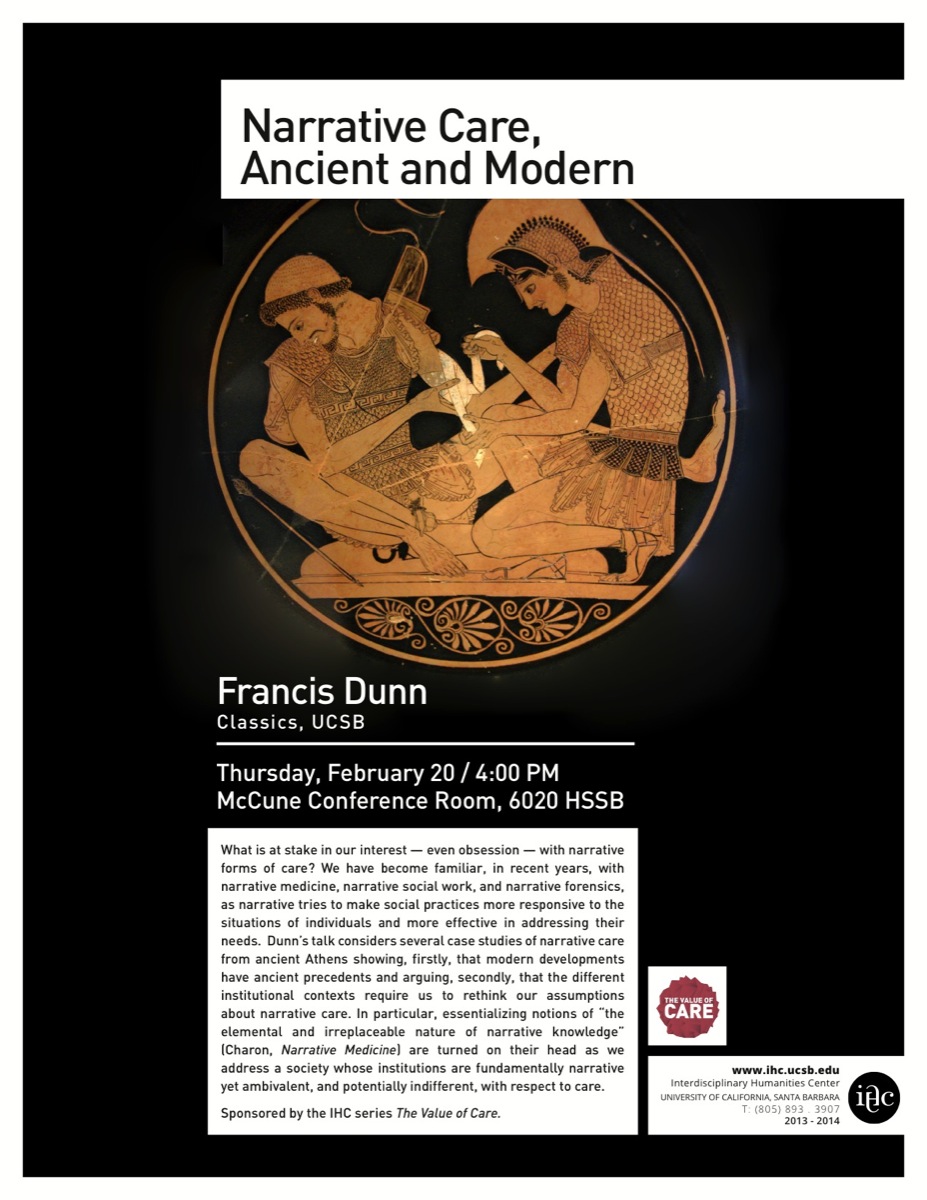 Francis Dunn (Classics, UCSB)
Thursday, February 20, 2014 / 4:00 PM
McCune Conference Room, 6020 HSSB
What is at stake in our interest — even obsession — with narrative forms of care?  We have become familiar, in recent years, with narrative medicine, narrative social work, and narrative forensics, as narrative tries to make social practices more responsive to the situations of individuals and more effective in addressing their needs.  Dunn's talk considers several case studies of narrative care from ancient Athens showing, firstly, that modern developments have ancient precedents and arguing, secondly, that the different institutional contexts require us to rethink our assumptions about narrative care.  In particular, essentializing notions of "the elemental and irreplaceable nature of narrative knowledge" (Charon, Narrative Medicine) are turned on their head as we address a society whose institutions are fundamentally narrative yet ambivalent, and potentially indifferent, with respect to care.
Francis Dunn's research centers upon Greek literature of the fifth century BCE, with special interests in Greek tragedy, concepts of time, and narrative theory, and has been supported by awards from the National Endowment for the Humanities and the American Council of Learned Societies. He is the author of two books, Tragedy's End: Closure and Innovation in Euripidean Drama, which explores connections between closural devices and Euripidean experiments with the limits of tragedy, and Present Shock: An Episode in Ancient Greek Culture (forthcoming), which traces a shift from the authority of the past to present uncertainties in the late fifth century, ranging from civic calendars to drama and from philosophy to medical theory. He has edited three books, Beginnings in Classical Literature, with Thomas Cole, Classical Closure: Reading the End in Greek and Latin Literature, with Deborah Roberts and Don Fowler, and Sophocles' Electra in Performance. His current project is a commentary on Sophocles' Electra for the Fondazione Lorenzo Valla.
Sponsored by the IHC's series The Value of Care.
Click here to listen to a recording of Francis Dunn's talk from the IHC's The Value of Care series.