10 Mar

Sexual Violence and the Politics of Forgiveness in Guinea: Musical Interventions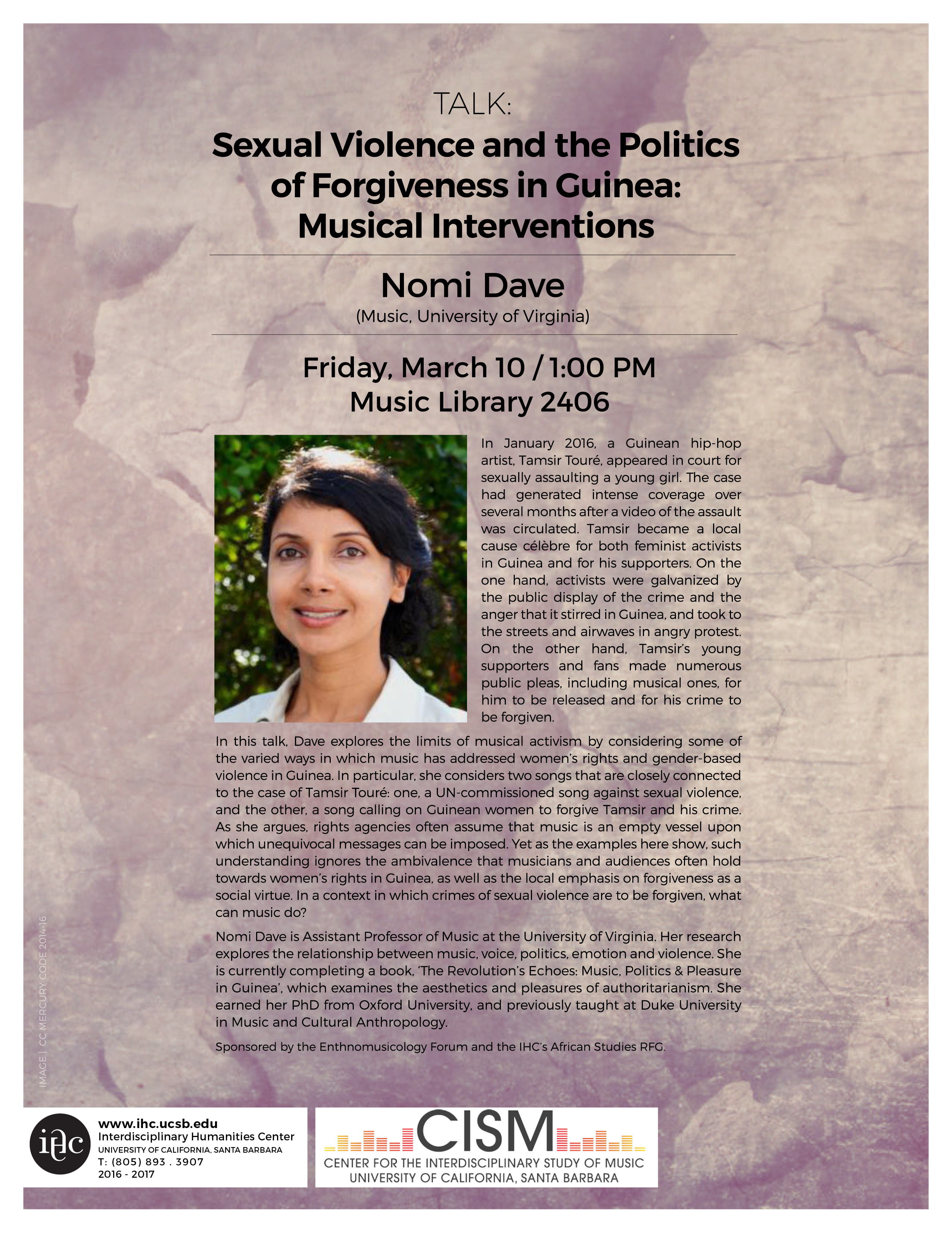 Nomi Dave (Music,University of Virginia)
Friday, March 10, 2017 / 1:00 PM
Music Library 2406

In January 2016, a Guinean hip-hop artist, Tamsir Touré, appeared in court for sexually assaulting a young girl. The case had generated intense coverage over several months after a video of the assault was circulated. Tamsir became a local cause célèbre for both feminist activists in Guinea and for his supporters. On the one hand, activists were galvanized by the public display of the crime and the anger that it stirred in Guinea, and took to the streets and airwaves in angry protest. On the other hand, Tamsir's young supporters and fans made numerous public pleas, including musical ones, for him to be released and for his crime to be forgiven.
In this talk, Dave explores the limits of musical activism by considering some of the varied ways in which music has addressed women's rights and gender-based violence in Guinea. In particular, she considers two songs that are closely connected to the case of Tamsir Touré: one, a UN-commissioned song against sexual violence, and the other, a song calling on Guinean women to forgive Tamsir and his crime. As she argues, rights agencies often assume that music is an empty vessel upon which unequivocal messages can be imposed. Yet as the examples here show, such understanding ignores the ambivalence that musicians and audiences often hold towards women's rights in Guinea, as well as the local emphasis on forgiveness as a social virtue. In a context in which crimes of sexual violence are to be forgiven, what can music do?
Nomi Dave is Assistant Professor of Music at the University of Virginia. Her research explores the relationship between music, voice, politics, emotion and violence. She is currently completing a book, 'The Revolution's Echoes: Music, Politics & Pleasure in Guinea', which examines the aesthetics and pleasures of authoritarianism. She earned her PhD from Oxford University, and previously taught at Duke University in Music and Cultural Anthropology.
Sponsored by the Enthnomusicology Forum and the IHC's African Studies RFG.