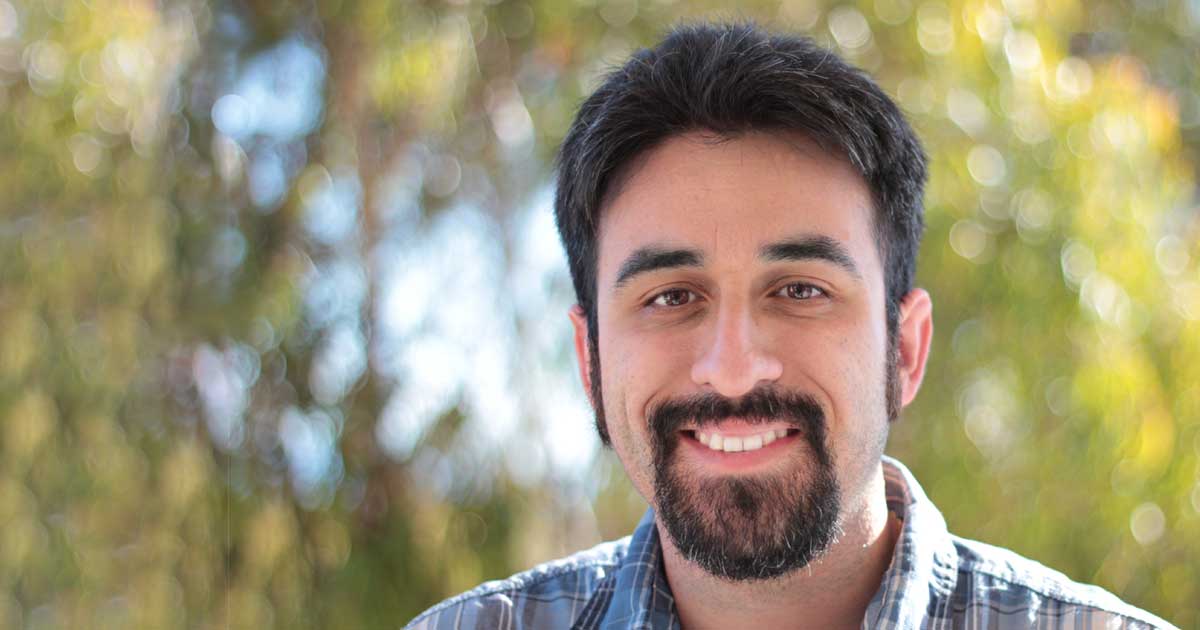 17 Apr

Meet IHC Public Fellow Intern Francisco Beltrán

April 17, 2019

Francisco Beltrán is a PhD candidate in the Department of History at UC Santa Barbara. He focuses on U.S. history with an emphasis on Chicana/o history, the U.S.-Mexico borderlands, Immigration, Comparative Race and Ethnicity, and Latin America. His dissertation, "Voices of the People: The Mexican American Alternative Press in San Diego, 1963-1978" analyzes the diverse strands of the San Diego Mexican American Civil Rights Movement thru the lens of community newspapers. Beltrán is completing a 2018-19 IHC public fellow internship with the Digital Delano project housed at Bakersfield College.

Can you tell us a little more about the Digital Delano project?

Digital Delano: Preserving an International Community's History is a National Endowment for the Humanities (NEH) funded project that aims to collect and digitize the history of diverse agricultural communities that reside in California's Central Valley.

What drew you to the internship with Digital Delano?

As a scholar of Chicana/o history, and race and ethnicity, I am particularly interested in community histories and learning about how ordinary people make and are a part of U.S. history. In my dissertation, I examine how San Diego's Mexican descent community mobilized to demand equal rights in the 1960s and 1970s. Its members often used distinct political tactics to achieve this goal. Some of these histories challenge our understanding of the type of activism, thinking, and organizational work usually associated with this community during the Civil Rights Movement period. My findings have taught me more about the diversity of thinking within the Mexican community of San Diego, which has greatly expanded my understanding of social histories. Thus Digital Delano's emphasis on community narratives and centering the voices of people often left out of traditional accounts of the Central Valley really spoke to me.

What work have you done with Digital Delano thus far and what is next for the internship?

This past October I traveled to Bakersfield for the first time and met with Dr. Oliver Rosales and Dr. Reggie Williams, leaders of the project. Knowing that it was my first time visiting the Central Valley, Dr. Rosales took me on a tour of region. I went to Delano, the birthplace of the United Farm Workers union, and saw with my own eyes the sites of cross-racial activism that I only knew from reading books and articles. It was truly an amazing feeling to finally see in person one of the most important places where working-class folk fought to be treated with dignity and respect. During my visit I learned more about Bakersfield's history and its people, culture, and politics, which was important in order to understand the sources I would be examining. I was then given access to everything that has been digitized thus far (personal photographs, newspaper clippings, letters, and oral history recordings and transcripts). My job was to analyze all of these sources and come up with ideas for how they can be incorporated into classroom curricula to help students learn their community's history and encourage community involvement. This curricula and my suggested pedagogical approaches to it will be discussed in detail in an article I am preparing for publication this summer in the Levan Humanities Review.  Some of the questions my article will address include: What can we learn about the Central Valley, California, and the United States from the histories of these communities? How can these local accounts help us better understand race, ethnic, class, labor, and gender relations? How has immigration shaped California in the twentieth century? What can students gain from using these sources as part of their education? This April, I will travel to Bakersfield to discuss my work with Digital Delano and to present my findings about Mexican American Republicans in the fight for civil rights in San Diego.

In addition to your content knowledge, how has your academic expertise and training contributed to the mission, goals, and success of the public facing elements of Digital Delano?

As an interdisciplinary historian of Chicana/o, race, ethnicity, and immigration, my goal has been to highlight voices often left out of U.S. history. Similarly, the goal of Digital Delano is to show the plurality of narratives that have been central in the making of the Central Valley in California. There is more than one version of the past, and perspectives are often influenced by a number of different factors (including time and place, race, generation, immigration status, gender, etc.). The contributors and organizers of Digital Delano understand this, and all efforts have been made to make sure everyone's story is recorded and treated as a building block of the Central Valley. My knowledge of U.S. race histories and experience as a community historian mesh well with the aims of Digital Delano, which allows me to contribute significantly to the project.

What are some of the new skills that you have gained through this internship?

Looking at the digitized material collected for Digital Delano has given me an opportunity to expand my analytical lens with regards to race and community identity construction. Time and place are two factors that can heavily shape individual and collective identification, and Digital Delano has allowed me to see how this has taken place in a rural, agricultural, and diverse environment over a considerable length of time.

How do you see this program contributing to your career readiness?

Working with Digital Delano has been a remarkable experience thus far. Having the opportunity to learn about how diverse racial communities, in a completely different environment from where I grew up and did my work, mobilized for inclusion, equality, and representation in local memory has helped me honed my skills as a community and oral historian. To me, local voices are the driving force of history. The past begins with personal memory.

What is the impact of this project for the public or the local community?  For the university?

When I visited Bakersfield College last October, I was told that the majority of students that attend the college were local residents (over 75% are of Latina/o background). Many of them continued to live and work in the area while in school. When they graduated, many transferred to Cal State Bakersfield. Their lives revolved around Bakersfield. In order to better support the students, and to show the campus' connection to and respect for the social and cultural fabric of the region, the effort was made to tie student education with its surrounding community. Digital Delano is one of many initiatives by the campus's community-oriented faculty to make the university work for the students it serves. It validates the backgrounds and experiences of Bakersfield's diverse communities, and they become part of the educational material that will help students become more socially-engaged members of their community.

More information on Francisco's April 2019 presentation at Bakersfield College can be found here.