04 Nov

Marwencol (2010, 83 min.)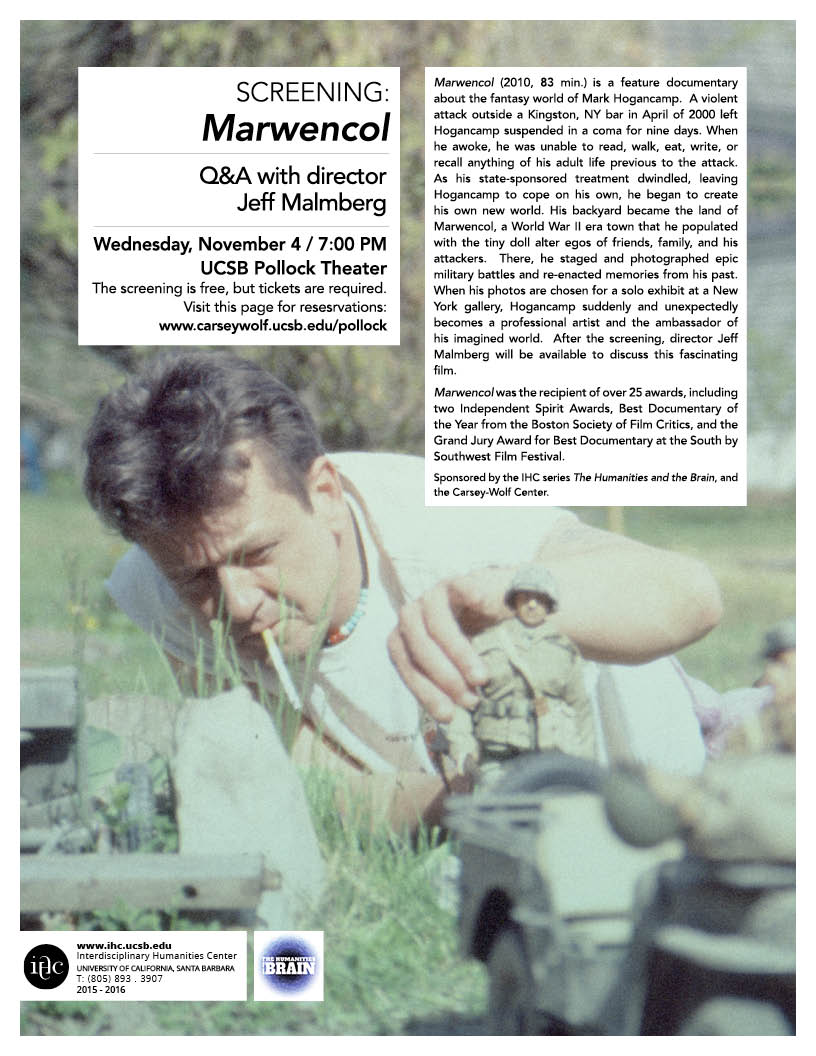 Q&A with director Jeff Malmberg
Wednesday, November 4, 2015 / 7:00 PM
UCSB Pollock Theater
The screening is free but tickets are required. Visit this page for reservations:
http://www.carseywolf.ucsb.edu/pollock
Marwencol is a feature documentary about the fantasy world of Mark Hogancamp.  A violent attack outside a Kingston, NY bar in April of 2000 left Hogancamp suspended in a coma for nine days. When he awoke, he was unable to read, walk, eat, write, or recall anything of his adult life previous to the attack. As his state-sponsored treatment dwindled, leaving Hogancamp to cope on his own, he began to create his own new world. His backyard became the land of Marwencol, a World War II era town that he populated with the tiny doll alter egos of friends, family, and his attackers.  There, he staged and photographed epic military battles and re-enacted memories from his past. When his photos are chosen for a solo exhibit at a New York gallery, Hogancamp suddenly and unexpectedly becomes a professional artist and the ambassador of his imagined world.  After the screening, director Jeff Malmberg will be available to discuss this fascinating film.
Marwencol was the recipient of over 25 awards, including two Independent Spirit Awards, Best Documentary of the Year from the Boston Society of Film Critics, and the Grand Jury Award for Best Documentary at the South by Southwest Film Festival.
Sponsored by the IHC series The Humanities and the Brain, and the Carsey-Wolf Center.