13 Apr

Mapping Dissent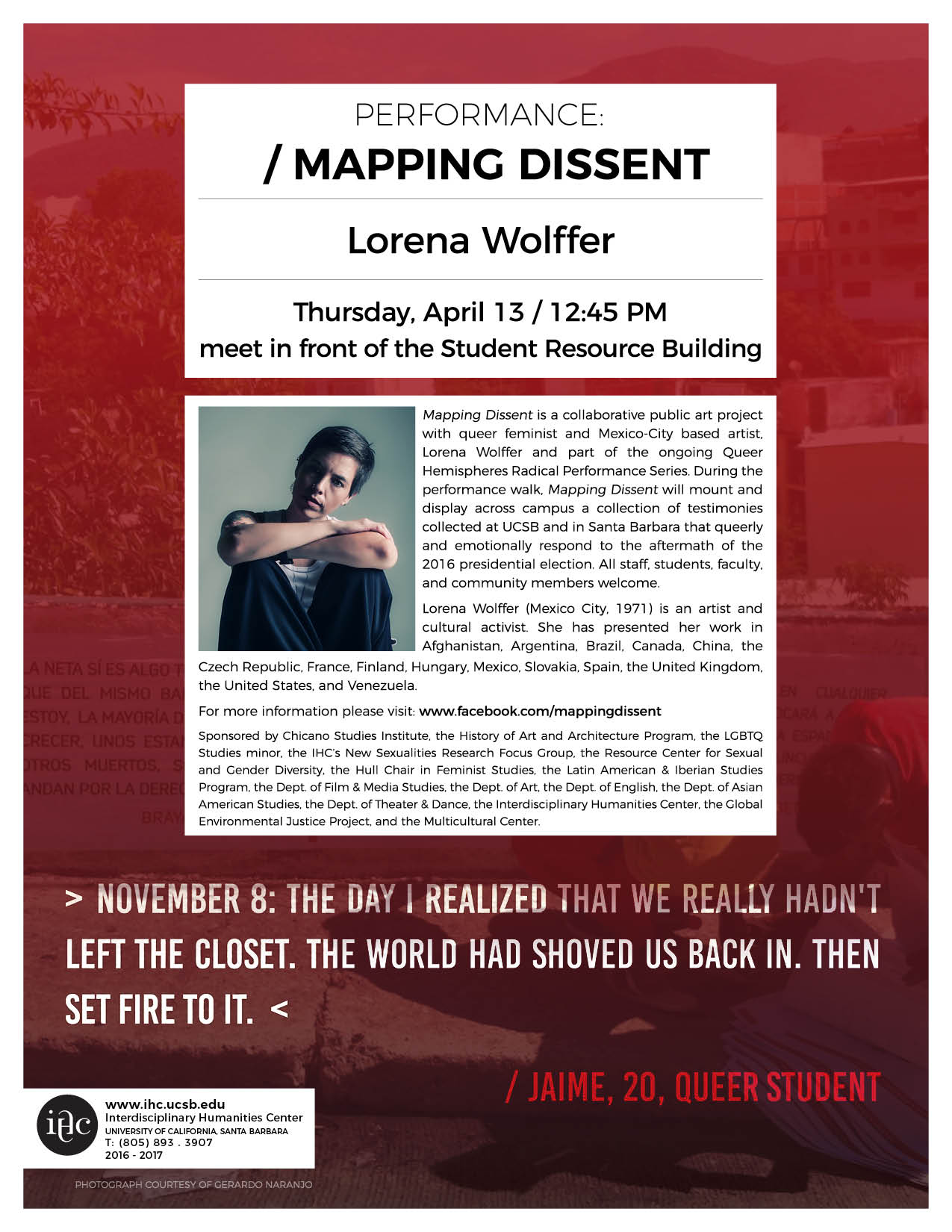 Lorena Wolffer (Artist)
Thursday, April 13, 2017 / 12:45 PM
meet in front of the Student Resource Building

Mapping Dissent is a collaborative public art project with queer feminist and Mexico-City based artist, Lorena Wolffer and part of the ongoing Queer Hemispheres Radical Performance Series. During the performance walk, Mapping Dissent will mount and display across campus a collection of testimonies collected at UCSB and in Santa Barbara that queerly and emotionally respond to the aftermath of the 2016 presidential election. Join us! All staff, students, faculty, and community members welcome.
Lorena Wolffer (Mexico City, 1971) is an artist and cultural activist. She has presented her work in Afghanistan, Argentina, Brazil, Canada, China, the Czech Republic, France, Finland, Hungary, Mexico, Slovakia, Spain, the United Kingdom, the United States, and Venezuela.
Sponsored by Chicano Studies Institute, the History of Art and Architecture Program, the LGBTQ Studies minor, the IHC's New Sexualities Research Focus Group, the Resource Center for Sexual and Gender Diversity, the Hull Chair in Feminist Studies, the Latin American & Iberian Studies Program, the Dept. of Film & Media Studies, the Dept. of Art, the Dept. of English, the Dept. of Asian American Studies, the Dept. of Theater & Dance, the Interdisciplinary Humanities Center, the Global Environmental Justice Project, and the Multicultural Center.