14 Feb

LISO Symposium IV: Multiple Engagements: Complexity in Human Involvement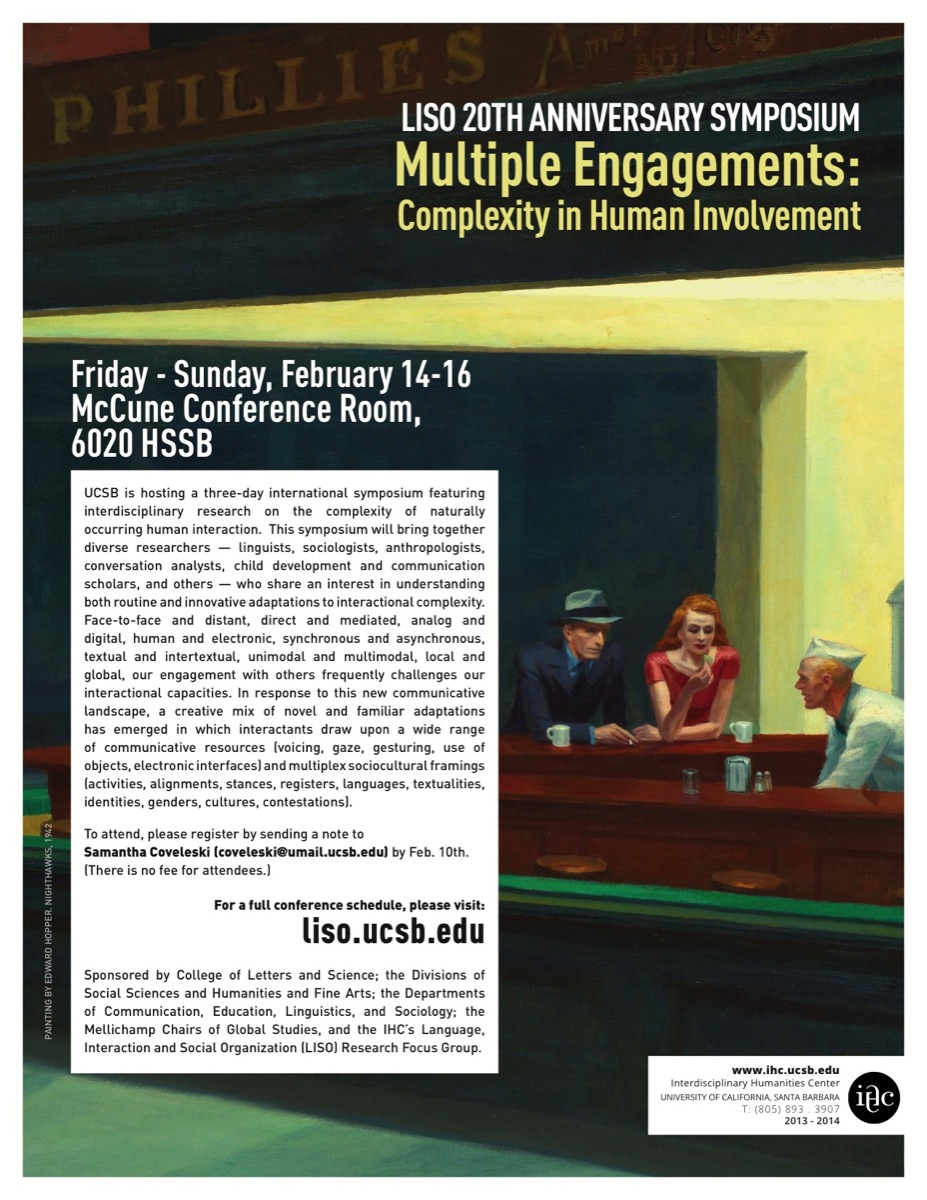 Friday, February 14- Sunday, February 16
McCune Conference Room, 6020 HSSB
UCSB is hosting a three-day international symposium featuring interdisciplinary research on the complexity of naturally occurring human interaction.  This symposium will bring together diverse researchers — linguists, sociologists, anthropologists, conversation analysts, child development and communication scholars, and others — who share an interest in understanding both routine and innovative adaptations to interactional complexity.  Face-to-face and distant, direct and mediated, analog and digital, human and electronic, synchronous and asynchronous, textual and intertextual, unimodal and multimodal, local and global, our engagement with others frequently challenges our interactional capacities. In response to this new communicative landscape, a creative mix of novel and familiar adaptations has emerged in which interactants draw upon a wide range of communicative resources (voicing, gaze, gesturing, use of objects, electronic interfaces) and multiplex sociocultural framings (activities, alignments, stances, registers, languages, textualities, identities, genders, cultures, contestations).
This two-and-a-half day meeting will thus emphasize empirically derived evidence of the tasks and resources; practices and patterns; as well as the bodies, minds, materialities, voices and identities that comprise human social life when managing the complexity of involvement in social interactions today.
If you would like to attend the LISO Symposium, you can register by sending a note to Samantha Coveleski (coveleski@umail.ucsb.edu) by Feb. 10th. Please indicate which days (Friday, Saturday, Sunday) you are planning to attend. (There is no fee for attendees.)
For a full conference program, please click here.
Sponsored by College of Letters and Science, the Divisions of Humanities and Fine Arts and Social Sciences, the Dept. of Communication, the Dept. of Education, the Dept. of Linguistics, the Dept. of Sociology, the Mellichamp Chairs of Global Studies, and the IHC's LISO RFG.
Website: http://www.liso.ucsb.edu/