28 Feb

Life in the Age of Drones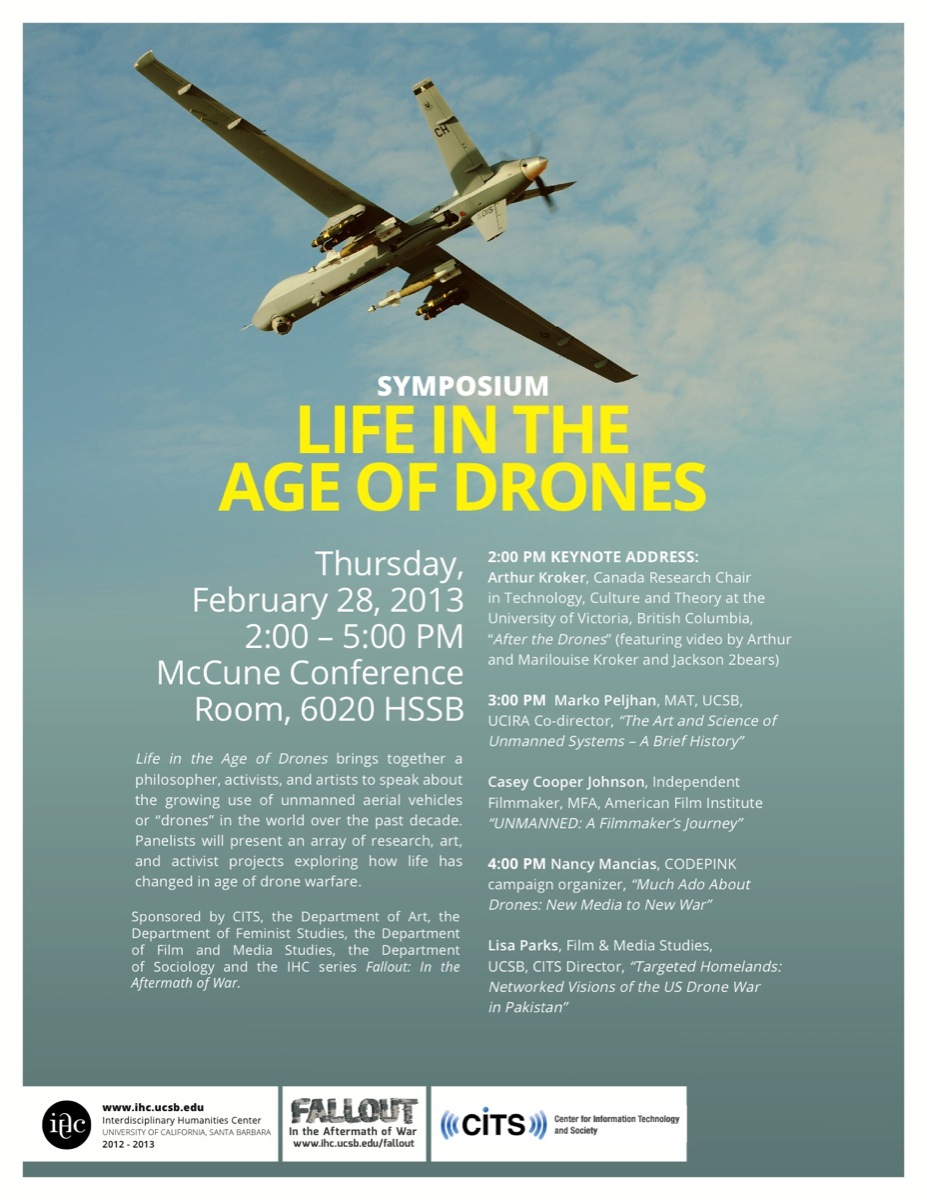 Thursday, February 28, 2013 / 2:00 – 5:00 PM
McCune Conference Room, 6020 HSSB
Casey Cooper Johnson (filmmaker, "UNMANNED: A Filmmaker's Journey")
Arthur Kroker (Canada Research Chair in Technology, Culture and Theory, Professor of Political Science, and Director of the Pacific Centre for Technology and Culture at the University of Victoria in British Columbia)
Nancy Mancias (CODEPINK, Coordinator of the Ground the Drones and War Criminals campaigns)
Lisa Parks (Film & Media Studies, UCSB)
Marko Peljhan  (MAT, UCSB)
Life in the Age of Drones brings together a philosopher, activists, and artists to speak about the growing use of unmanned aerial vehicles or "drones" in the world over the past decade. Panelists will present an array of research, art, and activist projects exploring how life has changed in age of drone warfare. Topics to be addressed include: the US drone war in Pakistan and practices of targeted killing; anti-drone protest movements; artistic interventions using drones; filmmaking and drone warfare; and DIY drones. Speakers' presentations will be followed by discussion with audience members.
Sponsored by CITS, the IHC series Fallout: In the Aftermath of War, the Dept. of Art, the Dept. of Feminist Studies, the Dept. of Film and Media Studies, the Global Studies Program and the Dept. of Sociology.
Symposium Schedule
2:00 PM Welcome
 2:15 PM Keynote address
Arthur Kroker, Canada Research Chair in Technology, Culture and Theory at the University of Victoria, British Columbia: "After the Drones" (featuring video by Arthur and Marilouise Kroker and Jackson 2bears)
3:00 PM  Panel 1
Marko Peljhan, MAT, UCSB, UCIRA Co-director: "The Art and Science of Unmanned Systems – A Brief History"
Casey Cooper Johnson, Independent Filmmaker, MFA, American Film Institute
"UNMANNED: A Filmmaker's Journey"
4:00 PM Panel 2
Nancy Mancias, CODEPINK campaign organizer
"Much Ado About Drones: New Media to New War"
Lisa Parks, Film & Media Studies, UCSB, CITS Director
"Targeted Homelands: Networked Visions of the US Drone War in Pakistan"
5:00 PM Reception
Participant Bios:
Casey Cooper Johnson – Before completing his MFA at the American Film Institute, Casey spent ten years working in post-war Kosovo as a documentary filmmaker and political satirist. While there, he produced dozens of docs and an internationally syndicated current affairs program, LIFE IN KOSOVO. Casey is best known in the region for his satirical TV sketches, "KOSOVA'S SON IN LAW".  After a decade of covering issues of conflict in the Balkans, he moved to Los Angeles for film studies and grew fascinated with the new ways that his own nation fights wars today.   While at AFI, Johnson wrote and directed his first fiction film, UNMANNED, a short about the surreal life of a commuter drone operator, which screened at AFI Fest and Tribeca Film Festival.   He currently produces non-fiction content for WIGS, a new digital channel created by Jon Avnet and Rodrigo Garcia, while developing UNMANNED into a feature length movie, scheduled for release in 2014.  For more info about UNMANNED,visit:  www.unmannedthemovie.com
Arthur Kroker is the author, among others, of _Body Drift: Butler, Hayles, Haraway_, _The Will to Technology: Heidegger, Marx, Nietzsche_ and _Born Again Ideology_. Co-editor with Marilouise Kroker of the acclaimed online scholarly journal, CTheory.net, he is Canada Research Chair in Technology, Culture and Theory at the University of Victoria,Canada.
Nancy L. Mancias is a campaign organizer for CODEPINK. An anti-war, gay and women's rights advocate, Mancias has been actively trying to bring the troops home from their overseas misadventures and waging peace and equality across the country. She has also been part of the movement against torture and a proponent of closing the prison in Guantánamo. Like many in the anti-war movement, Mancias views her work against drone warfare as a natural extension of her peace efforts. She is a contributing writer to "Beautiful Trouble: A toolbox for revolution", a book that puts the accumulated wisdom of decades of creative protest into the hands of the next generation of change-makers.
Lisa Parks  is a Professor and former Department Chair of Film and Media Studies at UC Santa Barbara, and an affiliate of the Department of Feminist Studies. She also currently serves as the Director of the Center for Information Technology and Society at UC Santa Barbara). Parks has conducted research on the uses of satellite, computer, and television technologies in different national contexts. Her work is highly interdisciplinary and engages with fields such as geography, art, international relations, and communication studies. She has published on topics ranging from secret satellites to drones, from the mapping of orbital space to political uses of Google Earth, from mobile phone use in post-communist countries to the visualization of communication infrastructures.
Marko Peljhan  founded the arts and technology organization Projekt Atol in the early 90's and cofounded one of the first media labs in Eastern Europe, LJUDMILA in 1995. In the same year, the founded the technology branch of Projekt Atol called PACT SYSTEMS where he developed the Global Positioning System based participatory networked mapping project, the Urban Colonisation and Orientation Gear 144, one of the first works in the s.c. "locative media" genre. He has been working on the Makrolab, a project that focuses on telecommunications, migrations and weather systems research in an intersection of art and science from 1997-2007, the Interpolar Transnational Art Science Constellation during the International Polar Year (project 417) and is currently, together with Matthew Biederman, coordinating the Arctic Perspective Initiative art/science/tactical media project focused on the global significance of the Arctic geopolitical, natural and cultural spheres.