04 Mar

Much Ado About Liberal Education: What It is and How to Get One, Clio's Mischief Notwithstanding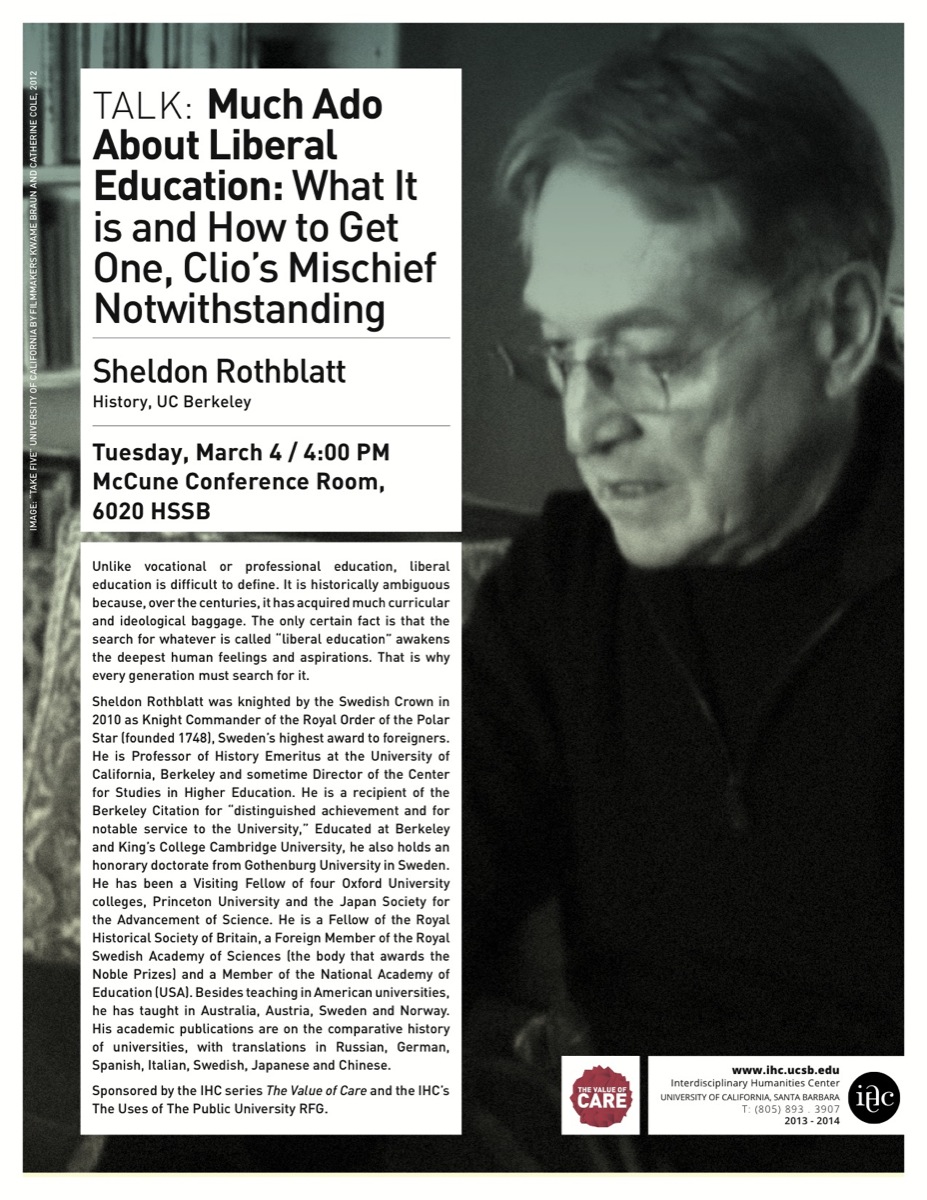 Sheldon Rothblatt (History, UC Berkeley)
Tuesday, March 4 / 4:00 PM
McCune Conference Room, 6020 HSSB
Unlike vocational or professional education, liberal education is difficult to define. It is historically ambiguous because, over the centuries, it has acquired much curricular and ideological baggage. The only certain fact is that the search for whatever is called "liberal education" awakens the deepest human feelings and aspirations. That is why every generation  must search for it.
Sheldon Rothblatt  was knighted by the Swedish Crown in 2010 as Knight Commander of the Royal Order of the Polar Star (founded 1748), Sweden's highest award to foreigners. He is Professor of History Emeritus at the University of California, Berkeley and sometime Director of the Center for Studies in Higher Education. He is a recipient of the Berkeley Citation for "distinguished achievement and for notable service to the University," Educated at Berkeley and King's College Cambridge University, he also holds an honorary doctorate from Gothenburg University in Sweden. He has been a Visiting Fellow of four Oxford University colleges, Princeton University and the Japan Society for the Advancement of Science. He is a Fellow of the Royal Historical Society of Britain, a Foreign Member of the Royal Swedish Academy of Sciences (the body that awards the Noble Prizes) and a Member of the National Academy of Education (USA). Besides teaching in American universities, he has taught in Australia, Austria, Sweden and Norway. His academic publications are on the comparative history of universities, with translations in Russian, German, Spanish, Italian, Swedish, Japanese and Chinese.
Sponsored by the IHC series The Value of Care and the IHC's The Uses of The Public University RFG.
Click here to listen to a recording of Sheldon Rothblatt's talk for the IHC's Value of Care series.