21 Oct

From 1973 Photo Documentary to 2010 Cyber-Infrastructure Cultural Atlas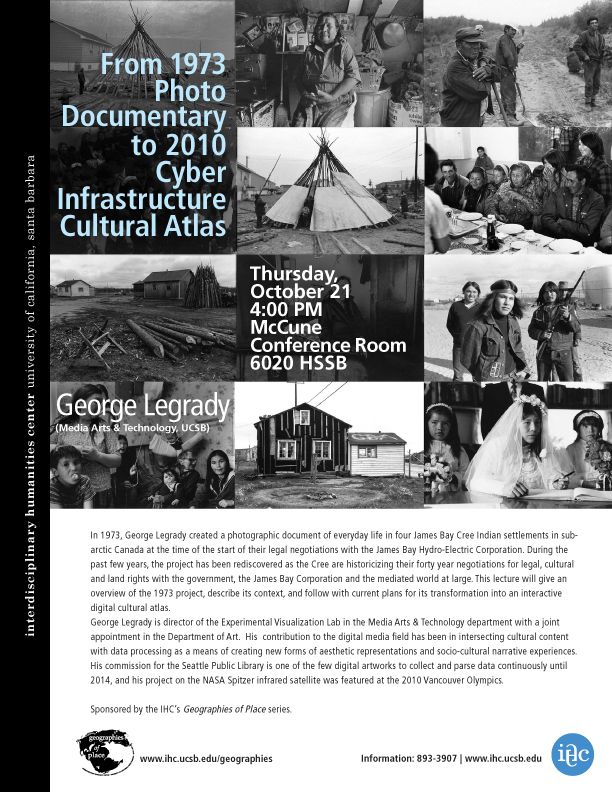 George Legrady (Media Arts & Technology, UCSB)
Thursday, October 21, 2010 / 4:00 PM
McCune Conference Room, 6020 HSSB
In 1973, George Legrady created a photographic document of everyday life in four James Bay Cree Indian settlements in sub-arctic Canada at the time of the start of their legal negotiations with the James Bay Hydro-Electric Corporation. This project was a mix of journalistic, ethnographic, and fine arts photography and resulted in a collection of 3200 black and white and color images that represented a personalized overview of the Cree indigenous culture as Legrady encountered it in his day-to-day life over an eight week period. The images include rituals, housing, hunting, people, interaction with nature, and the transition to Western ways. During the past few years, the project has been rediscovered as the Cree are historicizing their forty year negotiations for legal, cultural and land rights with the government, the James Bay Corporation and the mediated world at large. The period between 1973 to now has been a significant transition for the Cree as the culture shifted from hunter trappers to a politically conscious culture which has managed to define their own identity, and cultural focus throughout the years of external and cultural intrusion. The lecture will give an overview of the 1973 project Legrady, describe its context, and follow with current plans for its transformation into an interactive digital cultural atlas.
George Legrady is director of the Experimental Visualization Lab in the Media Arts & Technology department with a joint appointment in the Department of Art. He received his MFA in photography from the San Francisco Art Institute. Legrady's early artistic work focused on a conceptual and semiotic analysis of the photographic image, and is one of the first generation of artists in the 1980's to integrate computer processes into their artistic work, producing pioneering projects in interactive digital installations. His contribution to the digital media field has been in intersecting cultural content with data processing as a means of creating new forms of aesthetic representations and socio-cultural narrative experiences. His commission for the Seattle Public Library is one of the few digital artworks to collect and parse data continuously until 2014, and his project on the NASA Spitzer infrared satellite was featured at the 2010 Vancouver Olympics.
Sponsored by the IHC's Geographies of Place series.
Click here to listen to a recording of this talk for the IHC's series Geographies of Place.