19 Feb

Journey of the Universe (2011)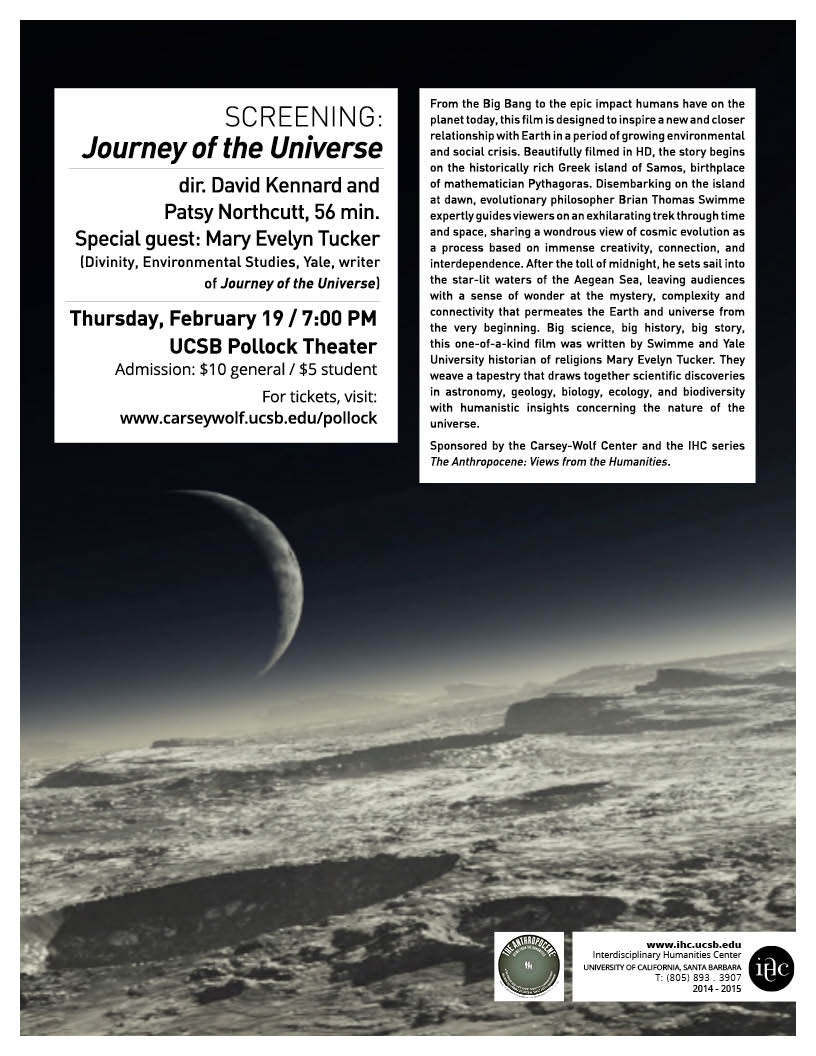 Dir. David Kennard and Patsy Northcutt, 56 min.
Special guest: Mary Evelyn Tucker (Divinity, Environmental Studies, Yale, writer of Journey of the Universe)
Thursday, February 19, 2015 / 7:00 PM
UCSB Pollock Theater
Admission: $10 general / $5 students
For tickets, visit http://www.carseywolf.ucsb.edu/pollock.
From the Big Bang to the epic impact humans have on the planet today, this film is designed to inspire a new and closer relationship with Earth in a period of growing environmental and social crisis. Beautifully filmed in HD, the story begins on the historically rich Greek island of Samos, birthplace of mathematician Pythagoras. Disembarking on the island at dawn, evolutionary philosopher Brian Thomas Swimme expertly guides viewers on an exhilarating trek through time and space, sharing a wondrous view of cosmic evolution as a process based on immense creativity, connection, and interdependence. After the toll of midnight, he sets sail into the star-lit waters of the Aegean Sea, leaving audiences with a sense of wonder at the mystery, complexity and connectivity that permeates the Earth and universe from the very beginning. Big science, big history, big story, this one-of-a-kind film was written by Swimme and Yale University historian of religions Mary Evelyn Tucker. They weave a tapestry that draws together scientific discoveries in astronomy, geology, biology, ecology, and biodiversity with humanistic insights concerning the nature of the universe.
Sponsored by the Carsey-Wolf Center and the IHC series The Anthropocene: Views from the Humanities.