30 Apr

From the Orange to the Gold Coast – Irvine to Accra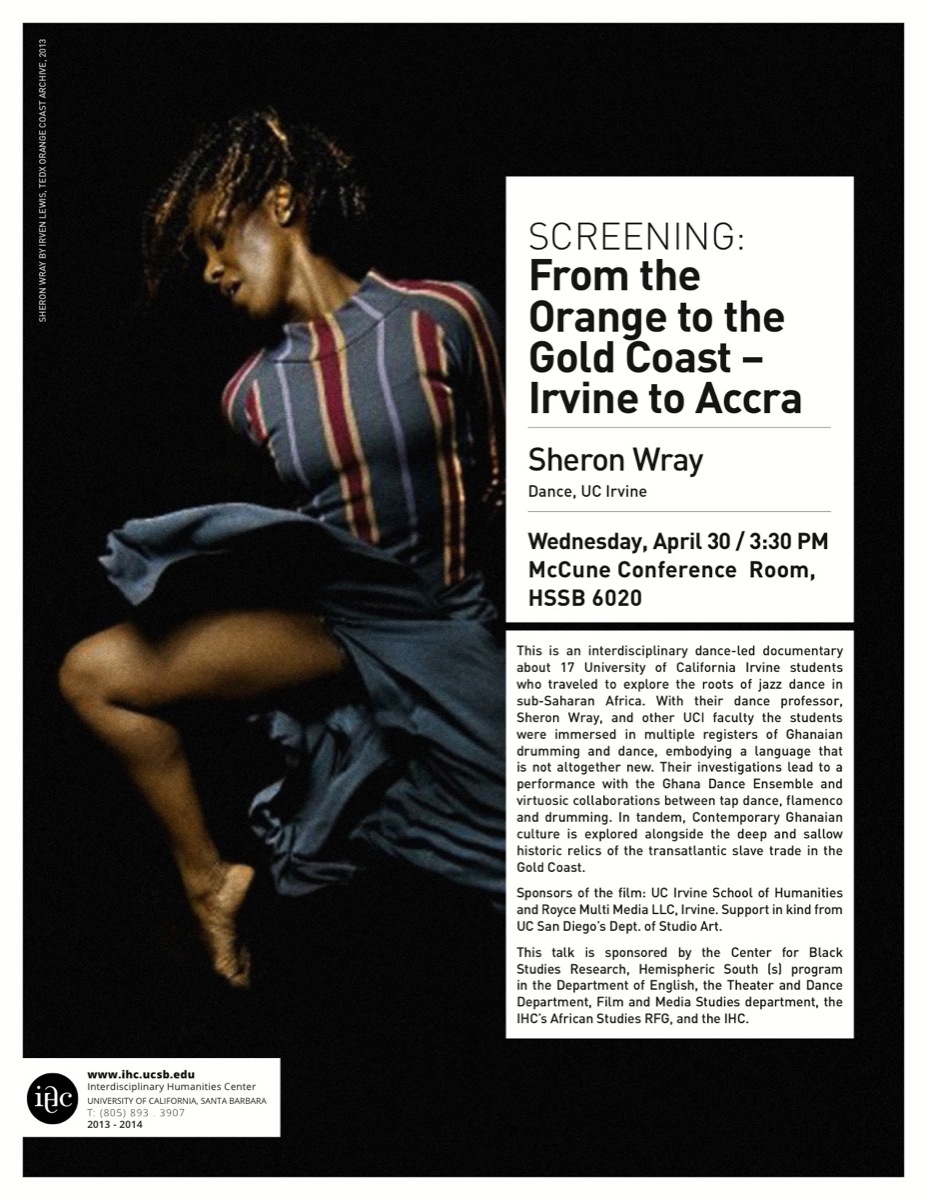 Sheron Wray (Dance, UC Irvine)
Wednesday, April 30 / 3:30 PM
McCune Conference  Room, HSSB 6020
This is an interdisciplinary dance-led documentary about 17 University of California Irvine students who traveled to explore the roots of jazz dance in sub-Saharan Africa. With their dance professor, Sheron Wray, and other UCI faculty the students were immersed in multiple registers of Ghanaian drumming and dance, embodying a language that is not altogether new. Their investigations lead to a performance with the Ghana Dance Ensemble and virtuosic collaborations between tap dance, flamenco and drumming. In tandem, Contemporary Ghanaian culture is explored alongside the deep and sallow historic relics of the transatlantic slave trade in the Gold Coast.
Sheron Wray is an Assistant Professor of Dance UC Irvine. She performed with the leading contemporary dance companies Rambert and London Contemporary Dance Theatre between 1988 and 2001 and founded JazzXchange Music and Dance Company, creating work with Wynton Marsalis and Byron Wallen. Her recent Ted talk embodies her philosophy and current practice. In 2013, she re-launched JazzXchange in the USA. Her current research centers on improvisation within African performance. In 2013, she was appointed guest curator of contemporary performance for the Ghana Museums and Monuments Board. She holds an award from the Arts Council of England and has published chapters in Jazz Dance: A History of the Roots and Branches (2014).
Sponsors of the film: UC Irvine School of Humanities and Royce Multi Media LLC, Irvine. Support in kind from UC San Diego's Dept. of Studio Art.
This talk is sponsored by the Center for Black Studies Research, Hemispheric South (s) program in the Department of English, the Theater and Dance Department, Film and Media Studies department, the IHC's African Studies RFG, and the IHC.