13 Oct

Insubordinate Spaces for Intemperate Times: Why Civic Engagement Matters Now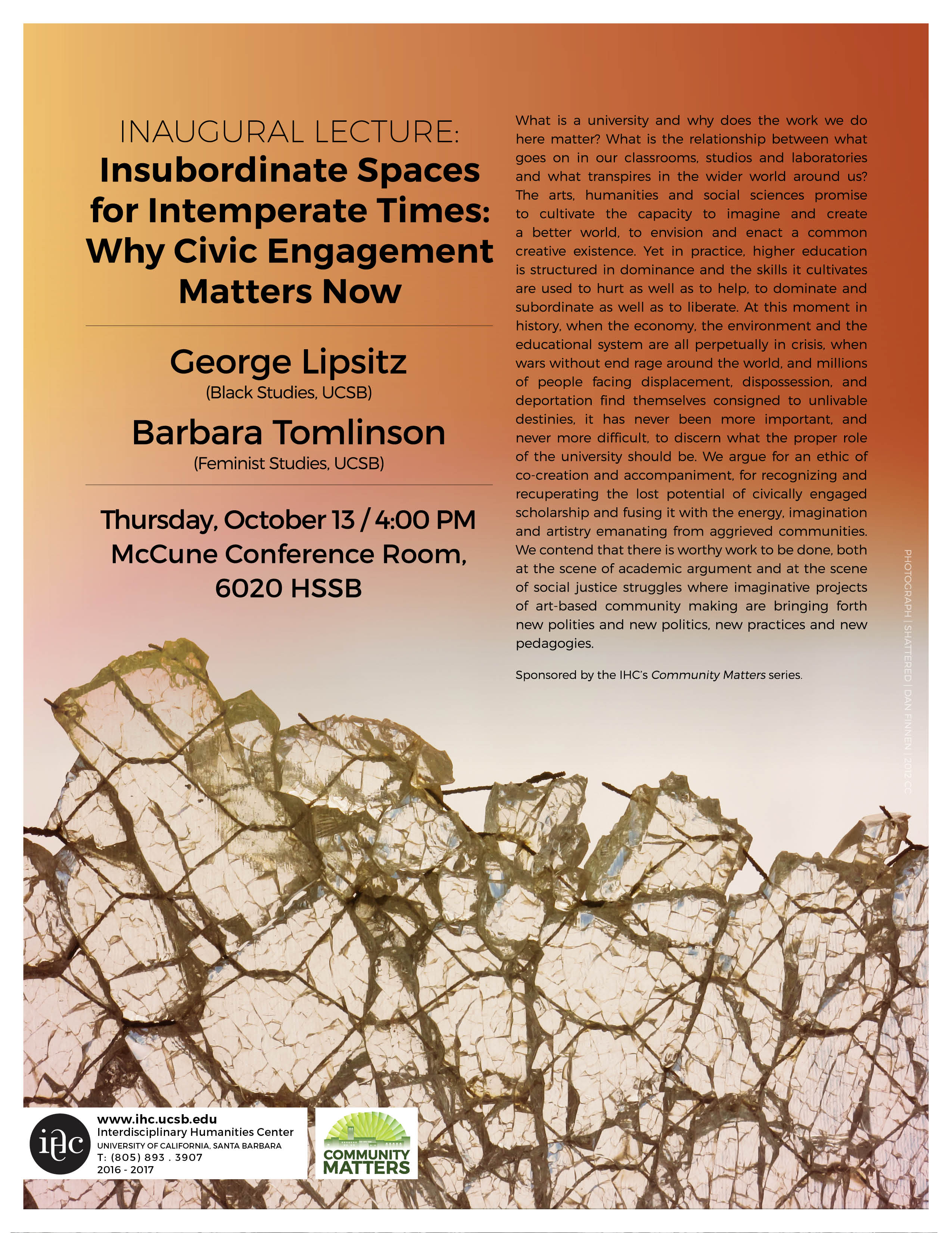 George Lipsitz (Black Studies, UCSB)
Barbara Tomlinson (Feminist Studies, UCSB)
Thursday, October 13, 2016 / 4:00 PM
McCune Conference Room, 6020 HSSB
What is a university and why does the work we do here matter? What is the relationship between what goes on in our classrooms, studios and laboratories and what transpires in the wider world around us? The arts, humanities and social sciences promise to cultivate the capacity to imagine and create a better world, to envision and enact a common creative existence. Yet in practice, higher education is structured in dominance and the skills it cultivates are used to hurt as well as to help, to dominate and subordinate as well as to liberate. At this moment in history, when the economy, the environment and the educational system are all perpetually in crisis, when wars without end rage around the world, and millions of people facing displacement, dispossession, and deportation find themselves consigned to unlivable destinies, it has never been more important, and never more difficult, to discern what the proper role of the university should be. We argue for an ethic of co-creation and accompaniment, for recognizing and recuperating the lost potential of civically- engaged scholarship and fusing it with the energy, imagination and artistry emanating from aggrieved communities. We contend that there is worthy work to be done, both at the scene of academic argument and at the scene of social justice struggles where imaginative projects of art-based community making are bringing forth new polities and new politics, new practices and new pedagogies.
George Lipsitz studies social movements, urban culture, and inequality. His books include Midnight at The BarrelHouse, Footsteps in The Dark, The Posessive Investment in Whiteness, and Time Passages. Lipsitz serves as chairman of the board of directors of the African American Policy Forum and is a member of the board of directors of the National Fair Housing Alliance. He received his Ph.D in history at the University of Wisconsin.
Barbara Tomlinson's work on rhetoric and affect in feminist and antifeminist argument in sociolegal studies, feminist musicology, and feminist science studies has appeared in Signs: A Journal of Women in Culture and Society, Cultural Critique, Medical Anthropology Quarterly, Configurations: A Journal of Literature, Science, and Technology, Journal of American Studies, and Literatura e Estudos Culturais/ Literature and Cultural Studies. Other work, particularly on metaphor and composing processes, has appeared in Cultural Sociology, Written Communication, Metaphor and Symbolic Activity, the Journal of College Reading and Learning and edited collections. She received her Ph.D from University of California Riverside.

 Click here to listen to a recording of George Lipsitz and Barbara Tomlinson's inaugural lecture from the 2016-17 IHC series: Community Matters.
Sponsored by the IHC's Community Matters series.