17 Apr

Inhabiting the Space of Empathy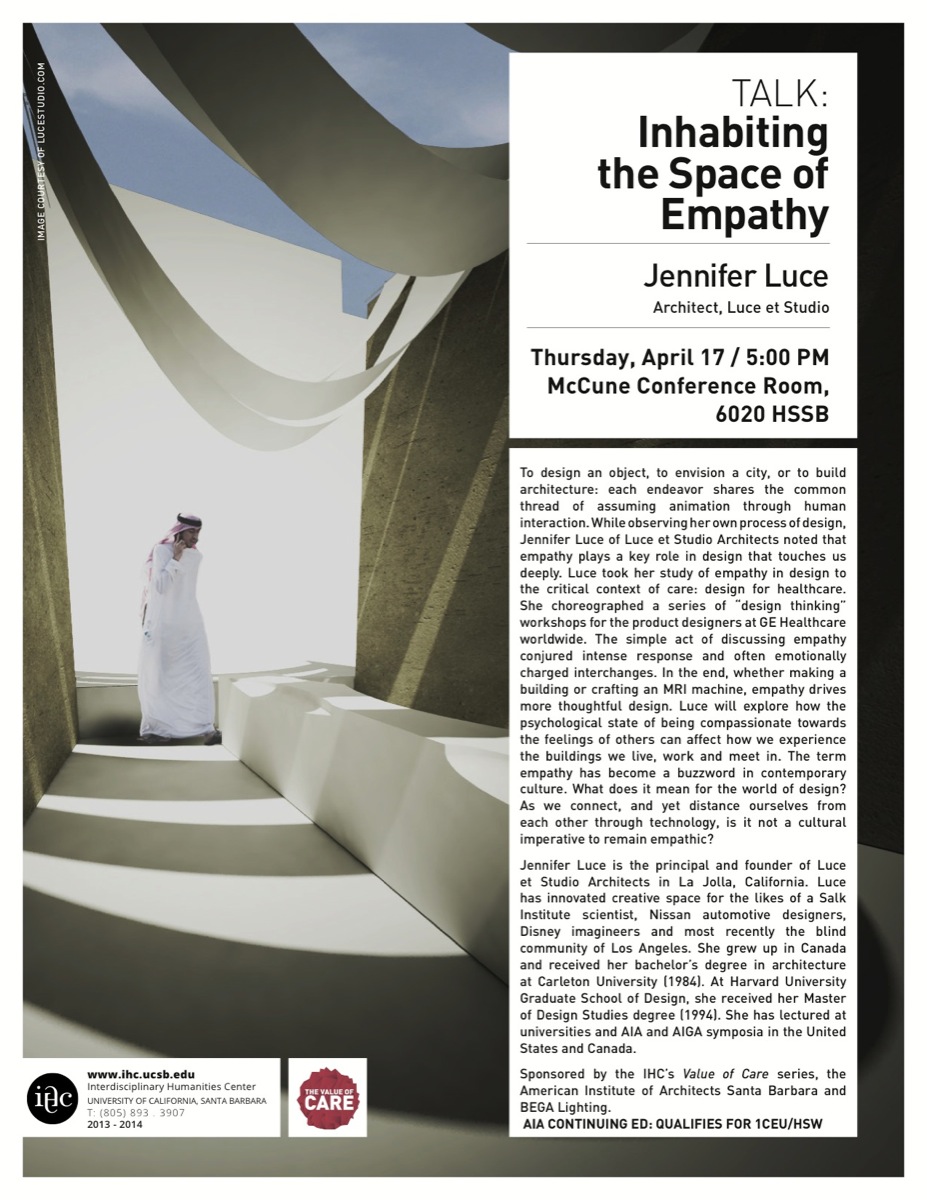 Jennifer Luce  (architect, Luce et Studio)
Thursday, April 17, 2014 / 5:00 PM
McCune Conference Room, 6020 HSSB
To design an object, to envision a city, or to build architecture: each endeavor shares the common thread of assuming animation through human interaction. While observing her own process of design, Jennifer Luce of Luce et Studio Architects noted that empathy plays a key role in design that touches us deeply. Luce took her study of empathy in design to the critical context of care: design for healthcare. She choreographed a series of "design thinking" workshops for the product designers at GE Healthcare worldwide. The simple act of discussing empathy conjured intense response and often emotionally charged interchanges. In the end, whether making a building or crafting an MRI machine, empathy drives more thoughtful design. LUCE will explore how the psychological state of being compassionate towards the feelings of others can affect how we experience the buildings we live, work and meet in. The term empathy has become a buzzword in contemporary culture. What does it mean for the world of design? As we connect, and yet distance ourselves from each other through technology, is it not a cultural imperative to remain empathic?
Jennifer Luce is the principal and founder of Luce et Studio Architects in La Jolla, California. Luce has innovated creative space for the likes of a Salk Institute scientist, Nissan automotive designers, Disney imagineers and most recently the blind community of Los Angeles. She grew up in Canada and received her bachelor's degree in architecture at Carleton University (1984). At Harvard University Graduate School of Design, she received her Master of Design Studies degree (1994). She has lectured at universities and AIA and AIGA symposia in the United States and Canada.
Sponsored by the IHC's Value of Care series, the American Institute of Architects Santa Barbara and BEGA Lighting.
AIA Continuing Ed: Qualifies for 1CEU/HSW
Click here to listen to a recording of Jennifer Luce's talk for the IHC's Value of Care series.