15 Apr

An Authentic Performance of Fishing: Indigenismo, Tourism, Music, and Dance on Lake Pátzcuaro, Michoacán, Mexico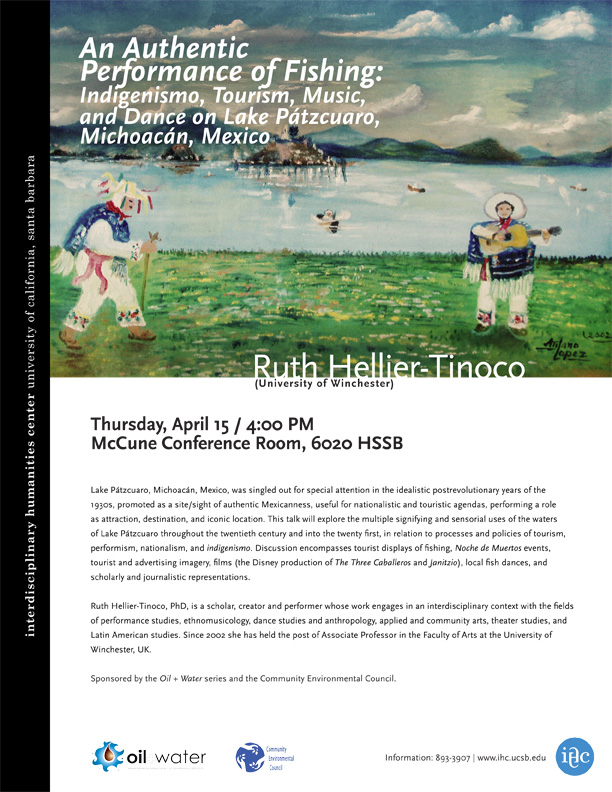 Ruth Hellier-Tinoco (University of Winchester)
Thursday, April 15, 2010 / 4:00 PM
McCune Conference Room, 6020 HSSB
Lake Pátzcuaro, Michoacán, Mexico, was singled out for special attention in the idealistic postrevolutionary years of the 1930s, promoted as a site/sight of authentic Mexicanness, useful for nationalistic and touristic agendas, performing a role as attraction, destination, and iconic location. This talk will explore the multiple signifying and sensorial uses of the waters of Lake Pátzcuaro throughout the twentieth century and into the twenty first, in relation to processes and policies of tourism, performism, nationalism, and indigenismo. Discussion encompasses tourist displays of fishing, Noche de Muertos events, tourist and advertising imagery, films (the Disney production of The Three Caballeros and Janitzio), local fish dances, and scholarly and journalistic representations.
Ruth Hellier-Tinoco, PhD, is a scholar, creator and performer whose work engages in an interdisciplinary context with the fields of performance studies, ethnomusicology, dance studies and anthropology, applied and community arts, theater studies, and Latin American studies. Since 2002 she has held the post of Associate Professor in the Faculty of Arts at the University of Winchester, UK.
Sponsored by the IHC's Oil + Water series and the Community Environmental Council.